Why should we care about a car race in France?
It is the oldest motorsport race:

courtesy of www.carbuildindex.com

To put it into layman's terms, The 24 hours of Le Mans is a race in Le Mans, France that last 24 hours. But, in reality the Le Mans race is so much more. For starters, Le Mans is the oldest active race, first held in 1924 in the town of Le Mans, France.
It is Disney land for automotive engineer lovers:

Like Formula 1, most technological developments created in Le Mans filter down on to production cars or as aftermarket products. Because Le Mans regulations are more liberal with the automotive design, we get to see some real innovation, like diesel race cars, refined development on hybrid supercars and the most outlandish and iconic designs ever to set a tire on a race course.
The famous Hollywood actor, Steve McQueen raced in Le Mans:
Toyota vs Porsche:

What? In 2016, Toyota nearly took the championship from the perennial winner; Porsche, leading the entire race only to lose engine power with only 6 minutes left on the clock. Even Porsche acknowledged the Japanese automaker's outstanding achievement. For 2017, Porsche plans on running the 919 from last year's race. Toyota has assured us that their TS050 race car has been fixed and is stronger than ever, setting the fastest-ever lap during practice. It is surely to be a close race between these two automotive giants.
Multiple races in one:

In 2017, Le Mans will consist of the modern-day standard which is LMP1, LMP2, GTe-Pro, and GTE-AM. LMP1-2 stands for Le Mans Prototype,

courtesy of Porsche

which as of 2011, its divided into 1 and 2, decided by weight and power output. LMP1 consists of the big names such as: Porsche, Toyota, and Audi (A strong competitor who surprisingly dropped out for 2017). In 2011 the GT2 Categories was Named GTE (Grand Touring Endurance), GTE is divided into two categories: Pro (profession) and Am (amateur). The difference being money invested, the GTE is often a favorite, because it features race prepared versions of production cars such as; mid-engine Ferrari, Porsche 911's, the much loved Ford GT, also known as "The comeback kid," and the Chevrolet Corvette among others. While the GTE AM consists of smaller, private teams.
The regulations for categories are as follows:
Biofuels, specifically petrol with 10% ethanol and biodiesel (BTL), are allowed in both LMP1 and LMP2 categories. The main technical regulations for LMP class cars are:
LMP1
The fuel tank size and minimum weight for non-hybrid cars may get adjusted to reduce the difference in performance between hybrid and non-hybrid cars.
There are no limits on the number of cylinders for any type of engine.
Bodywork is required to cover all mechanical elements of the car, so that it cannot be visible when the car is viewed directly from the front, side, or top.
The LMP1 cars are generally the most powerful, with faster straight-line speeds.
Hybrid
Non-hybrid
Minimum weight
870 kilograms (1,920 lb)
850 kilograms (1,870 lb)
Maximum length
4,650 millimeters (183 in)
Minimum width
1,800 millimeters (71 in)
Maximum width
1,900 millimeters (75 in)
Engine displacement
Free
Maximum 5.5 litres (340 in3)
Fuel tank size for petrol engines
68.3 liters (18.0 US gal)
for diesel engines
54.2 liters (14.3 US gal)
Maximum wheel diameter
28 inches (710 mm)
Maximum wheel width
14 inches (360 mm)
LMP2
Until 2016, LMP2 allows both open and closed-cockpit designs (closed cars must have a windscreen, a roof, and doors on each side), while only closed-cockpit design is allowed for LMP1 as it is much faster and for safety. As of 2011, all cars must have fins on the rear bodywork to prevent them from rolling over in the air during crashes. Although a passenger seat is not used, cars must be designed to carry two people. The empty area of the cockpit is usually used to hold electronic devices and cooling equipment. Only production-based engines were allowed in LMP2 with diesel engines permitted from 2013 onwards.
From 2017, in order to limit the costs, FIA will introduce a new set of regulations, which will be locked in through 2020, aiming a significant power increase, to the range of 150 horsepower (which is expected to lead to a four-second decrease in lap time at Le Mans). Gibson Technology will be the exclusive engine supplier, producing a four-litre normally-aspirated V8.[5]
Dallara, Onroak Automotive (Ligier), Oreca and the joint-venture Riley Tech/Multimatic were selected by FIA as the four exclusive chassis constructors,[6] which must be closed-cockpit designs
 Minimum weight
 930 kg
 Width of rear wing
 1800 mm maxi
 Fuel tank capacity
 75 liters
 Gearbox
 Max 6 gears + reverse
 Carbon brake discs max diameter
 15'' (380mm)
 Overall length
 4750mm maxi (including rear wing)
 Overall width
 1900 mm maxi
 Wheels and tires
 Max width
 14″
 Max diameter
 28″
LMGTE
Grand Touring cars are part of the tradition of endurance racing. To be homologated, a GTE (E for Endurance) must be based around a production road car of which 100 examples have been built (25 for a "small manufacturer", 300 for a carbon chassis). The "race" version must retain the shape of the road-going model from which it is derived. The engine must retain its original location, orientation, and its original position. However, it may be re-positioned for cars of which a minimum number of 2500 examples are produced in a consecutive 12-month period.
As opposed to the category with the suffix "Pro" (entered in the FIA WEC and the 24 Hours of Le Mans), "Am" designates the GTE class reserved for amateur drivers.
Technically, the cars in the GTE Am class correspond to the same regulations as the GTE Pros, but they must be at least one year old. Thus, they cannot benefit from the latest developments.
For the LMGTE and GTC classes, the composition of driver line-ups must adhere to the Drivers' Categorization List. A crew of 2 or 3 drivers must have no more than one Gold or Platinum rated driver.
Race Number Background Color: ORANGE.
LMGTE technical specifications:
 Minimum weight
 1245 kg can be adjusted with BOP
 Fuel tank capacity
 Mini 50 liters / Maxi 90 liters can be adjusted with BOP
 Engine
Cubic Capacity (max)
 Normally aspirated
 8
 5500 cm3
 Turbocharged
 6
 3200 cm3
 Gearbox
 6 gears max + reverse
 Overall maximum length
 4800 mm (including rear wing)
Overall maximum width
2050 mm
 Wheels and tires
 Max width
 14″
 Max diameter
 28″
Now that you are a Le Mans expert, it's time to look it up on your local TV listings and cancel your plans for this weekend. Which car are you rooting for?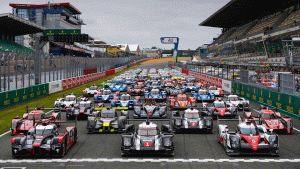 Share this
9

0

0

0