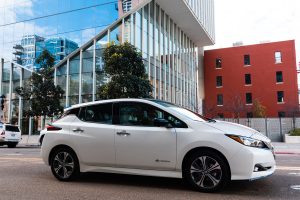 It doesn't rank up in medical history with the discovery of penicillin or the creation of the polio vaccine, but Nissan has found a common remedy for owners of all-electric vehicles: range anxiety.
I remember when a few years ago I was sent a Nissan Leaf for week. Much of my time was spent calculating how far away it was that I wanted to go and if I would have enough charge to get back home later.
The Leaf at that time had a maximum range of about 90 miles, if I remember correctly, and on one trip I periodically would turn off the A/C to extend the range a couple of miles just to make sure I could get back home later.
But I had no such concern with the latest version of the Leaf I experienced.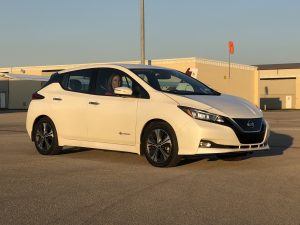 The PLUS version of the Nissan Leaf that debuted for 2019 has an extended range that the company declares at 226 miles, though overnight charging on the one delivered to me indicated a range of 239 miles when in Normal mode and 251 when turned to Eco, at least based on my experience. That's about 100 extra miles over the advertised 150-mile EPA range offered by the standard Leaf.
Range anxiety? What range anxiety?
The new high-capacity battery pack (62 kWh) and more powerful electric motor (62kW) in PLUS version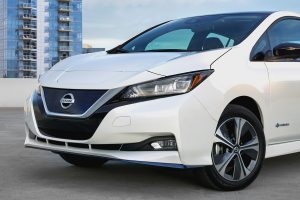 Leafs also delivers more punch than the standard Leaf in the way of driving experience.
That combination results in 214 horsepower, an increase of 45 percent over the base Leaf, and a whopping 250 pound-feet of torque, available at an instant and a big number for a compact hatchback.
With a 100 kW Quick Charge Port and portable charge cable, charging time also is more efficient. I easily got it to full range overnight, which hasn't always been my experience with older electric vehicles.
You can feel the full effect of the extra torque when you shift from Eco to Normal mode.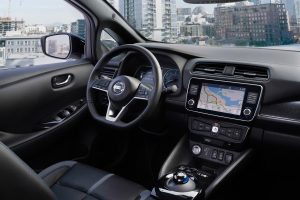 The jump in acceleration is very noticeable. Nissan estimates that the Leaf Plus gets from 50 to 75 mph about 13 percent quicker than the standard Leaf.
The Leaf and the Leaf Plus each come in three trim levels — S, SV, and SL. This review is based on the SL PLUS that is at the top of the MSRP chart at $43,545 including the $995 destination and delivery charge.
That's a pretty big jump over the standard Leaf S ($30,985) but within range of the SPLUS ($37,545) and SV PLUS ($39,505) and worth the extra cost.
The 2019 Leaf SL PLUS features such standard equipment Nissan's ProPILOT assist with steering assist and adaptable cruise control, an around-view camera monitor,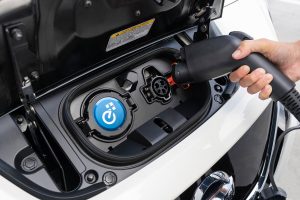 Intelligent Driver Alerts, automatic temperature control, leather-appointed seating surfaces, heated front seats, 8-way power driver's seat with 2-way lumbar support, leather-wrapped steering wheel, 8-inch color display for the standard navigation system, Apple CarPlay and Android Auto, voice recognition, Bluetooth hands-free phone, 7-speaker Bose audio system, NissanConnect services, 17-inch wheels, LED headlights and fog lights, LED daytime running lights, and more.
Standard safety features include automatic emergency braking with pedestrian detection, Intelligent lane intervention, blind-spot warning, electronic brake distribution and assist, rear cross-traffic alert and more.
Extras like splash guards, premium paint, carpeted floor mats and cargo bay area, and a safety kit ran the total for my test Leaf SV PLUS to $44,315. But don't forget, you also get tax credits that can lower that cost.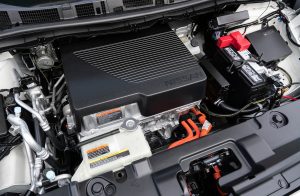 What I liked about the 2019 Nissan Leaf SL PLUS: This is a fun car to drive with significant torque and throttle response. This trim also is packed with many standard features with infotainment functions easy to operate. It's a small thing, but the placement of the charging port at the very front is a nice touch. It gives you more flexibility when it comes to parking your car for charging.
What I didn't like about the 2019 Nissan Leaf SL PLUS: The e-pedal feature that basically combines acceleration when pressing the "gas" pedal and braking when easing off is a feature I can live without. It can be useful when backing up and slow speeds, but it is kind of annoying when driving under normal conditions. Also, the gear shifter is a little too funky for me. Basically, it's a round knob in the center of the console that you must tug to the left and then move up (for reverse) or down (for drive). The steering wheel is adjustable tilt only, not telescoping.
Would I buy the 2019 Nissan Leaf SL PLUS? This version of the Leaf is the first all-electric vehicle that I would actually consider buying.
*Photos furnished by Nissan