Mercedes-Benz AMG E63s (2018)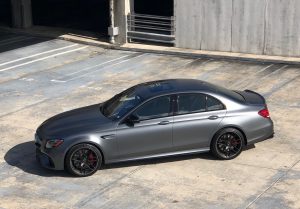 Want to make a car enthusiast salivate? Simply say, "AMG!"  Ok I admit, it was me and not only did I salivate, I started drooling once the gentleman on the other side of the phone ended the sentence with AMG E63s. Oh boy! It's going to be fun!
True, a lot of people say that the sedan is slowly dying, being replaced by the ubiquitous SUV. However, there is a vibrant niche within the segment that is alive and well and the AMG E63s is the perfect example of this sought-after, niche sedan. The current E-Class had a design refresh recently and out of this came the latest and most powerful version in the family, the E63s. With 603 HP and 627 Lb/Ft of torque. This is, without a doubt, a four-door rocket!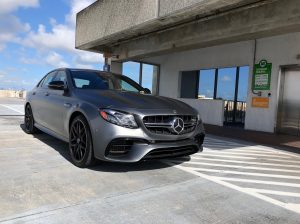 Our test car featured the striking optional "Designo Selenite Grey Magno"matte silver-grey finish together with black wheels, making it look uber-sporty, almost sinister! Behind the 20" AMG Black forged Cross-Spoke wheels, there are giant Brembo brakes which for the connoisseurs, mean this car is serious about performance. The front and rear lower bumpers are different, offering a more aggressive look without being "boy-racer". The quad exhaust tips are noticeable yet understated and the trunk lid does feature an elegant lip spoiler, rounding out the sporty appearance.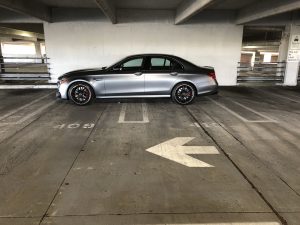 Once inside, the driver is ensconced in a premium interior filled with technology as well as elegance. The standard front seats are much sportier than the regular seats in an E Class and I loved them for being perfect all-around. Rear seat is typical for a mid-sized sedan and the trunk is surprisingly large and well appointed.
After one week with the E63s, I realized that it truly is one of the most capable cars on the road today and the reason is simple, it does everything extremely well. Drive it in stop-and-go traffic lazily and its compliant and smooth. Feeling frisky? Then try shooting out of an on-ramp, by squeezing the throttle to the floor, creating an engine sound that is so beautiful, an aria should be written around it. The whole experience is simply sublime.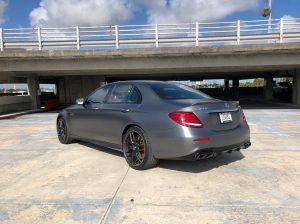 Day in and day out, ok-ok, for just seven short days, I would feel like either blending in, or even better, effortlessly beat almost anything that pulled up next to me at a red light. Ah, what a delight the feeling of being effortless is! Choices and ability, that's what it's all about really and I loved every choice I made during this all too brief sojourn with the AMG E63s.
The latest Mercedes-Benz infotainment has been slightly tweaked without losing the intuitiveness in its use. There are some nice custom touches for suspension and interior accent lighting, and I enjoyed setting up these to my individual taste. As with most infotainments, this one is not perfect, but its certainly better than most others in the market.
Competitors include: BMW M5, Cadillac CTS-V, Audi RS7, Tesla Model S P100D
A car like this is simply the perfect expression of "I have it because I can." Lastly, I leave you with this thought: We are currently living the third and possibly last golden age of the automobile and the Mercedes-Benz AMG E63s is proof of this. I am blessed that over the last decade, I have gotten a chance to drive hundreds, maybe even thousands of cars and the AMG E63s comes close to being the perfect   performance sedan. Hmm, I wonder if I could cash in part of my 401k and get one for myself!
The Essentials:
MSRP: $104,400.00                                          MSRP (As tested): $122,060.00
Engine: Handcrafted, AMG 4.0 liter, Biturbo V8 with 603 HP
0-60 Time: 3.0 seconds
Fuel Economy (Observed): 16 MPG
Popular Options & Packages Include: Designo Selenite Grey Magno paint, AMG Premium, Advanced lighting and Night Packages, AMG Black Forged 20" Wheels, performance exhaust and others.
Please visit: www.mbusa.com
Share this
0

0

0

0