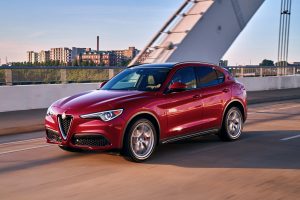 Alfa Romeo Stelvio (2018)
Mention the phrase "I am driving an Italian car" and the words Dramatic… Troublesome… Stylish… Unreliable… Sporty and I would add, Fun could come to mind. Alfa has had a spotty history in the United States and one could argue that is now going to change with the all new Stelvio SUV.
Together with the Giulia sports sedan, Alfa Romeo is now getting serious about the US Market. The Stelvio, mid-sized SUV, is exactly what you would expect from Alfa Romeo. This all-new SUV, is one of the prettiest and sportiest out there, only the sumptuous Jaguar F-Pace is arguably better looking. The front grill has the dramatic Alfa Romeo corporate design which, even if you don't know what it is, you instantly realize it's something special.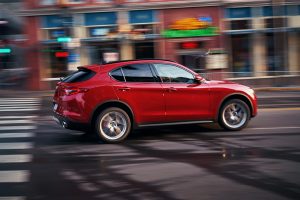 The side profile is all about the stand-out, red Brembo performance brakes, as well as the stunning 20" aluminum wheels, which are sports car derived, low profile tires. The rear portion is a bit less dramatic, but still offering a sleek and elegant design. The Stelvio is most definitely not a stuffy, run of the mill SUV.
Once inside, you are greeted with an interior like the Giulia's. Instantly you notice the beautiful paddle shifters done in real metal (Are you listening German luxury brands?) as well as the thick-rimmed, quite sporty steering wheel. The two front seats are surprisingly comfortable and well bolstered. There are ample storage spaces and cubby holes in the doors and console as well as the center dash.
On the Friday when I received the Stelvio, I had clients for lunch and I offered to drive. Everyone liked the vehicle until we started moving. For some reason, the proximity sensors picked up everything along the way and the annoying beeping was almost constant. I shrugged it off to "hey, its Italian" and everyone laughed. (Turns out, when I started the car again, this phantom annoyance was banished from the electronics and the sensors worked as they should). One of the disappointing items was a smaller than expected Nav/Back up camera screen, making matters worse, the quality of what is seen of the display was about as good as a 1903 silent movie camera. Come on Alfa, its 2018, HD cameras are not expensive. I chalked it up to "Its Italian and it's endearing," the clients laughed again. Regardless, they walked away impressed with the new Alfa Romeo SUV.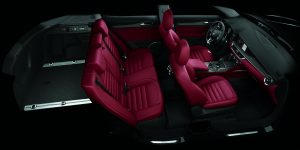 Rear seat passenger comfort is typical for a midsized SUV. Which is to say, comfortable for two, a smidge tight for three. Rear cargo room seemed slightly smaller than expected, but still quite capable and easy to load and unload. Fit and finish throughout the cabin looked and felt good.
So, how does it drive? Easy to sum up: An unexpected nice surprise. The biggest being the ultra-responsive steering. This thing is telepathic! I kept saying. "Think left" and it goes left. The four-cylinder engine is powerful, direct and incredibly fun to rev. Brakes felt typical Brembo, powerful, linear and assuring regardless of how hard you use them. I kept imagining how this sporty SUV would handle on a race track and I am sure I would not be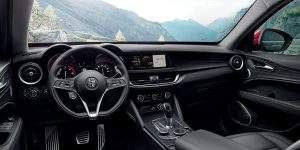 disappointed.
During my week with the Stelvio I was impressed by how many people noticed this new SUV, more so from a luxury-centric car city that is Miami. I got several thumbs up and smiles, even from the toughest type of critic out there, a 15-year-old kid!
Is the Stelvio perfect? No. Is it leaps and bounds over what we remembered Alfa Romeo to be?  Absolutely yes. Competitors include: Jaguar F-Pace, Volvo XC60, Mercedes-Benz GLC, Audi Q5, BMW X3.
Want an SUV but crave sportiness, style and fun? Then Alfa Romeo Stelvio should be on your short list of potential candidates.
The Essentials:
MSRP: $43,795.00                                             MSRP (As tested): $53,585.00
Fuel Economy (observed):  24 MPG
Engine: 2.0 Liter, Inline 4 cylinder turbo, 280 HP
Popular Options: Driver Assistance Static Package with front sensors, 8.8" display with Nav, HK Premium Sound, Dual-pane sunroof, 20" aluminum wheels,  gloss red brake calipers with white Alfa Romeo script.
Visit: www.alfaromeo.com