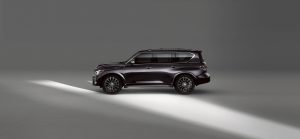 Infiniti QX80 AWD Limited (2017)
Large SUV's in the United States are de ri·gueur these days and the QX80 does not disappoint in size, luxury and driving experience.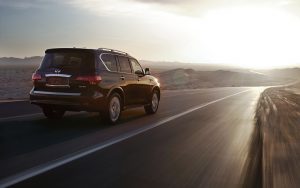 During my week with the QX80 I had an invitation to an annual aviation extravaganza called "Sun N Fun" that takes place in Lakeland, Florida which is 235 miles from Miami. Ha! The perfect opportunity to really try out this luxury SUV on the highway and see how it really is during a long drive.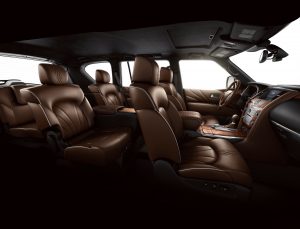 Before the drive starts, let's have a walk-around the QX80. Instantly you notice how tall and imposing this vehicle really is, the large hood, the jewel-like lights and upright fascia are all loud-and-clear design statements that resonate throughout the vehicle. The side profile is elegant and modern, with a thoughtful, comfort rocker panel-step for easy entry and exit. The rear of the QX80 features an elegantly placed, sculpted metal guard above the bumper which clearly conveys luxury. There are two sculpted exhaust tips that blend nicely within the rear bumper.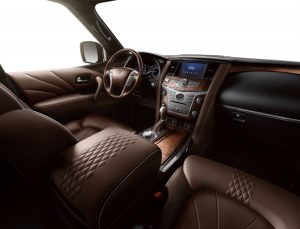 Once inside the QX80, you instantly notice the Infiniti elegance and luxury without any of it feeling like it's over the top. There is a sense of understated elegance throughout the interior, thanks to the quality of the trim, materials used, switchgear and design execution. As the driver, you sit up high, with a commanding and expansive view of the road.
My drive to Lakeland would take over three hours and I wanted to pay attention to how the seating position and comfort over the journey felt to me. Verdict? Very comfortable and enjoyable. One thing I like to do with the different vehicles I drive, is to set up a destination on the onboard GPS without having to use the owner's manual. I went ahead and entered the destination on the GPS and frankly it was a bit more difficult to use than I expected. However, I'm sure that as an owner with a bit of practice, it's a snap to use. So, on an intuitive scale, it's a five out of 10. The QX80 has intelligent cruise control and it does a good job maintaining distance and speed, a nice feature for highway driving. The Bose sound system, ventilation and various other controls are easy to manage and understand. I appreciate the good, old fashioned knobs for the volume and station selection. Maybe I sound old, but why change a good thing?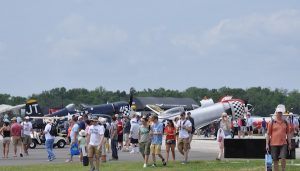 The drive was uneventful and we arrived in Lakeland just as a rain storm ended, making the grass field parking area into a giant mud pit. Aha! Perfect timing to try out the all-wheel drive function, I thought. Verdict? The QX80 handled it flawlessly. I'll admit, I wanted to fling the QX80 in all different muddy directions but simply couldn't. I'm sure that would have been a blast!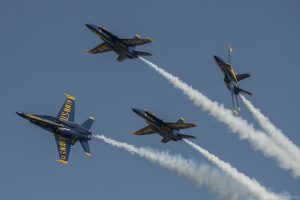 Sun and Fun was a huge success this year, with great weather and interesting displays. The Blue Angels as well as a host of classic P-51 Mustangs did ongoing flying displays. I had an enjoyable time getting up close to the warbirds and antique aircraft. It's a great event, one worth attending.
My return was a more leisurely one and I enjoyed a more sedate pace and routing with the
QX80. Having the beefy, 5.6-liter engine really does give it the power a big SUV like this deserves. Passing is a non-event and being smooth on the stops as well as crawling in traffic is surprisingly easy. Yes, this is a big SUV and at times it does feel a bit ponderous, that's no surprise. Guess what, you don't have to give anything up with the QX80. It's easy to park and it does fit into a standard one car garage, albeit snugly. The test vehicle had a complete second row entertainment system with dual screens as well as a comfortable and stylish center arm rest with ample storage. Rear seating is adequate, but would rather not have to do a three-hour trip back there, as an adult.
Would I own one? If I had a reason to own one, I would, without a doubt. The QX80 is easy to live with, extremely comfortable to drive and be driven in. What else can you ask for?
The Essentials:
MSRP: $89,450.00                                         MSRP (As tested): $90,445.00 (includes destination charge)
Fuel Economy (Observed): 17.5 MPG in mixed, mainly highway driving
Engine: V8, 5.6 liter, 400 HP
Popular Options and Packages our test vehicle brought: NonePHP as it's the Limited edition
Visit: www.infiniti.com