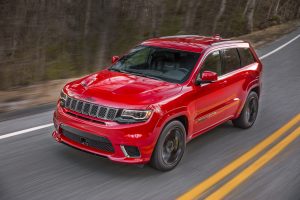 Jeep Grand Cherokee Trackhawk (2018)
Imagine taking a traditional SUV, put in the now famous Hellcat 6.2 liter 707 HP motor, upgraded Brembo brakes, gorgeous 20" wheels shod with high performance, low profile tires and what do you get? A mix of Nirvana and Insanity! I simply kept mumbling the word Insanity! Over and over. I hope the guys in the white coats did not overhear me.
I tell everyone that will listen, we are currently living through the third and possibly the last golden age of the automobile and it's without a doubt, the best one yet. But as with all periods, things don't last forever. Hybrids and electric vehicles are gaining fast traction (excuse the pun) and the age of a large displacement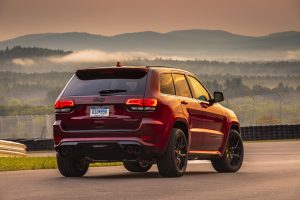 , supercharged American V8 is sadly limited. All of this was made even more relevant when I recently got my weekly call announcing the car of the week. I had to repeat several times to the gentleman on the other side of the phone…. Trackhawk? As in 707 HP Trackhawk? "Yes sir, that's what you will be driving for the coming week." Frankly, I was like a little kid on Christmas morning after letting the incredible news sink in.
The tester I drove was heavily optioned, featuring a sumptuous, over-the-top red leather interior. When I mean leather, I MEAN leather. There was leather in almost every piece of real estate inside the Grand Cherokee and it made for a perfect marriage between performance and luxury. One nice thing about this special SUV is that it is somewhat low key to the untrained eye. Yes, there are discrete "Trackhawk" and "Supercharged" badges on the doors and rear hatch.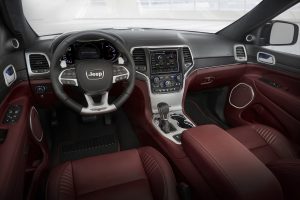 The front and rear bumpers are modified to fit larger corner holes which house both the cold air intake and the large oil cooler. Additionally, there is the quad exhaust tips at the rear and of course, the yellow Brembo brakes and larger wheels and tires. This is not an "in your face" high performance vehicle like a Lamborghini Huracan or a Ferrari 488 but make no mistake, this is a special SUV. During my time with the Trackhawk, I took it to my weekly Cars and Coffee event in a swanky part of Miami called Midtown. Our friendly car group includes guys with car collections that number in the dozens, many of which are made up of very-high-end exotica from Italy and Germany, so without a doubt, this is a jaded crowd. As it turns out, having the Trackhawk there attracted most of them like kids to an ice-cream truck. I have to say, that after a thorough once-over, both inside as well as the engine compartment, they came away amazed!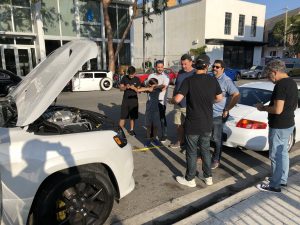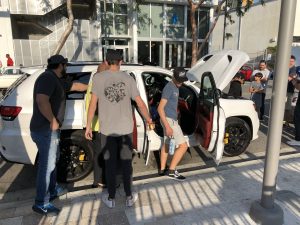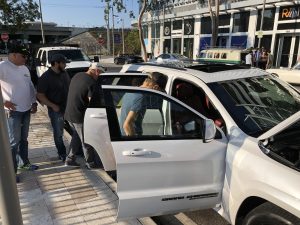 The first impression once you sit in the driver's seat, is one of command as well as comfort. The layout is typical Grand Cherokee, which is surprisingly nice and tidy. I like the easy to use infotainment system as well as the large and intuitive climate controls. The comfortable second row of seats, features the optional rear-seat entertainment with individual screens and headsets which is easy to use and offers excellent quality in both picture and sound. Cargo space is large and spacious, thanks to the more upright design of the rear window. Fit and finish throughout, including the cargo area is top notch. Bravo Jeep!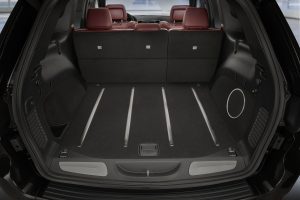 Press the start button and a wonderful, deep growl tells you this is not your mom's SUV. There are several programs that are available which cater to the type of driving you would like to do, including rock, sand and off-road, although I would be surprised if anyone would take the Trackhawk on any of these off-road excursions. For me, the Sports setting is best. This selection gives all the systems a heightened sense of response and it simply made driving a bit crisper. There is also the amazing "Launch" button which I admit to trying it one time during my all too brief of a week with the Trackhawk. Using this mode is easy. Left foot brake, go to full throttle and the set up will hold a pre-set RPM level, (I Chose 2,400 RPM's) and as soon as the boost has built up it tells you to release the brake. I now know what the Space Shuttle astronauts felt when they blasted off into space! Without a doubt, it's truly breathtaking. Being all-wheel drive, the Trackhawk delivers "all hell has broken loose" acceleration! I loved it!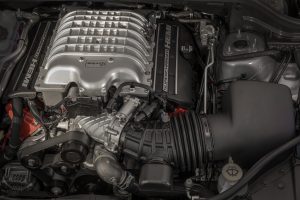 Similar SUV's in this segment include: The BMW X5 M and the Mercedes-Benz AMG GLE63. Neither have the horsepower numbers that start with seven, but they are comparable in other ways.
The 2018 Trackhawk. It's a crazy, insane SUV that is totally over the top and you know what? I loved it!
The Essentials:
MSRP: $85,900.00                                             MSRP (As tested): $101,555.00
Engine: 6.2 liter, Supercharged V8 with 707 HP
Fuel Economy (Observed): 12.4 MPG
Options: Rear seat, dual screen Blu-Ray DVD, Signature Leather Wrapped Interior Package, High Performance Audio, Dual-Pane Panoramic Sunroof, Suede-Like Premium Headliner
Please Visit: www.Jeep.com
Share this
0

0

0

0