BMW i3 Sport with Range Extender
I'm not a mom and I loved the i3 Sport. Why? Because it has personality, its different, did everything I needed perfectly and it will probably do the same for most people. They simply have to drive it in order to understand.
I could not quite figure out what this car is. It's not an SUV yet you do sit higher than a typical sedan or coupe. It's not a sedan because it doesn't have the typical four doors, yet it does have rear doors and it's not a sports car because of the size and height yet you could out maneuver most cars on the street with ease. Maybe it's this outside of the box approach that really caused me to really like this car.
From any angle, this is a car that is not typical. Short nose, uneven window line, tall, yet narrow wheels and tires and unique tail lights all make up this cool BMW. If you have never been in an i3, when you pull on the door handle you instantly realize, this is a special BMW. Once inside, the interior is unlike anything the German auto maker offers. The i3 has reclaimed materials and finishes that I have never seen used in a car before and you know what? It works perfectly in this car.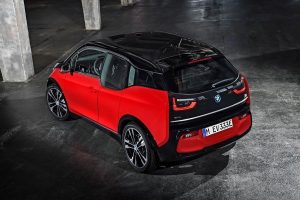 Seats are comfortable and supportive, offering a nice dual material and tone finish that goes perfectly with the car. The overall visibility for both the driver and front seat passenger is excellent. Controls and switchgear are mostly familiar BMW architecture except for the rectangular digital dash in front of the driver. Rear seats are both accessible through mid-sized rear-hinged doors which give good access to these seats. Trunk is via a large hatch and offers typical SUV-like space, plus the additional cargo space obtained by folding the rear seats forward. There is a small storage area in the front "boot" which is useful for the charger cable or a small tool bag.
Driving the i3 is sheer simplicity. The "On/Off" switch shares space on the odd-looking stalk that has the gear selector. A bit odd but easy to get used to. One of the most unique experiences driving the i3 is the aggressive battery regeneration system that kicks on when you come off the accelerator pedal. Initially I thought this was unusual but then you realize that with some practice, you use the brake pedal only to come to a full stop.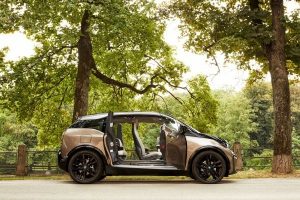 Not to worry, BMW did think of automatically turning on the brake lights when you come off the pedal. If you want to coast, then you keep a little bit of pedal input, which is easy to do and manage thanks to the dash indicator. I enjoyed driving the i3 in traffic. Being electric, the instant torque offers immediate response thus making it easy to find a hole in traffic and go for it. The i3 handles all kinds of driving perfectly. From heavy traffic, urban stop and go crawl to 70+ MPH on the highway, the i3 simply showed perfected manners throughout. We also loved the London Taxi-like turning radius. Perfect for tight maneuvering and parking. Steering inputs and feedback feels typical BMW. The Sport version offers 11 more HP and 15 more Lb/Ft torque versus the standard model as well as a spruced up interior and 20" wheels.
Charging and range: This is the question everyone asked. First, a summary of my daily commute and parking: I put all the press cars in my home garage overnight. The commute is 20 miles each way, 90% is highway and my office has several 110v plugs within the range of the charging cable. The car comes with a standard 110v plug that is usable with any outlet found in a wall, it does offer level 2 and wireless charging capabilities but I did not have access to either.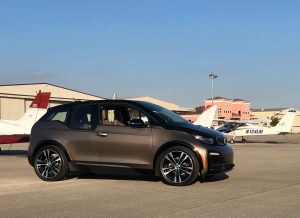 I received the car with about 110 miles electric range remaining. So that 1st evening I arrived home and I let it charge about 11 hrs. I got about 140 miles range showing in the indicator the next morning. I unplugged, threw the charging cable in the trunk and set off to work. I parked in one of the spots that is close to one of the wall outlets and simply plugged in. By the time I left work I had gained the range I had used in the morning and some additional miles. Eventually I could get it to its 100% range, which showed 170+ miles. The i3 version I drove is the REX version, offering a small gas-powered engine under the rear cargo space which is good for about 80 miles of range. I never dipped into using the REX engine as I had plenty of range the entire week and 360 miles I used the i3, although, it is nice to know you have that safety range in case you need it. If I owned one, I would buy and install the optional 220v home charger and would probably charge it every 2nd or 3rd day.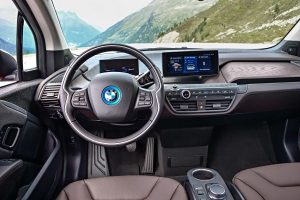 So, at the end, the question is: Would I own one? The answer is yes! I loved the size, the power, the flexibility and the overall package. I wasn't particularly crazy about how it looks, but after a week with it, I really learned to love its unique and quirky design that simply works in this type of car.
So, go ahead, try an i3 out, I am convinced you will like it.
The Essentials:
MSRP: $51,500.00                                                             MSRP (As tested): $58,695.00
Fuel Economy (Observed): 100 MPGe
Engine: 2 cylinder gasoline engine and 42 kWh lithium-ion battery pack
Popular Options: Giga Word: $1,800.00, Tech Driving Assist: $2,350.00, Moonroof: $1,000.00, Wireless Charging: $500.00
Please visit: www.bmwusa.com