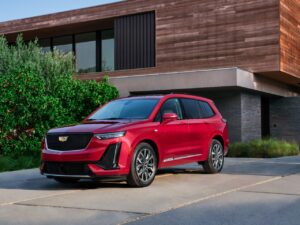 Cadillac XT6 AWD (2021)
Cadillac. Mention this single word and for many, it means high-end styling and luxury. For others, typically a younger segment, it really doesn't say much other than maybe my mom or dad drove one. That's what GM is trying to change by offering more exciting, stylized and well-equipped SUV's and sedans. The XT6 is Cadillac's full sized three-row SUV offering that is smaller than the Escalade.
Looking at the XT6 from all sides, it shows off quite successfully, the current, chiseled and angular Cadillac corporate design language. The front has an elegant grill as well as modern headlights that wrap around the sides and extend towards the middle of the fender and hood.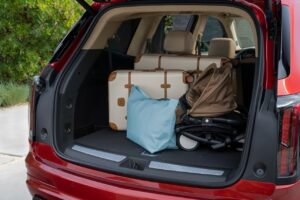 The side profile, which looks a bit BMW X5-esque, prominently shows a rear-sloping roof that ends in a sharply angled rear hatch design, making the XT6 look elegant, yet sporty. Tough to do with an SUV and Cadillac did a good job with that. The 2021 XT6 is offered in three trim levels: Luxury, Premium Luxury and Sport (This is the one we drove).
Stepping into the cabin, the Cadillac design language is noticeable throughout. The well-appointed leather seats are easy to get comfortable in and offer all kinds of accoutrements, such as ventilation, massage and an almost dizzying array of adjustments.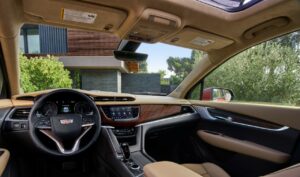 The CUE (Cadillac User Experience) infotainment is an intuitive system, featuring Apple CarPlay and Android Auto Integration. The 8" screen is sharp and easy to view in all kinds of light. There is also Wi-Fi as well as wireless phone charging. Surprisingly, Navigation is optional which is understandable, as Apple CarPlay gives you access to your favorite navigation apps. Although the cabin is well appointed and laid out, it doesn't feel as premium as it should for a car in this segment.
Second row of seats come either as separate captain's chairs (optional) or a three-seat bench. Third row seating is comfortable, especially if the persons using it are younger and or smaller.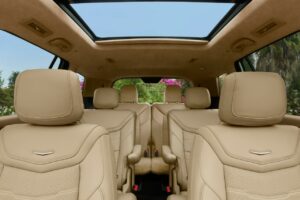 The cargo space, accessed by an electric hatch, is typical for a three-row SUV. A bit tight with the third row in use, cavernous with the seating stowed.
Two engines are offered—a turbocharged four-cylinder and a Sport, which features a V-6, offering a torque-vectoring rear differential. We liked the power of the V6, but again, it didn't feel premium enough. The XT6 does offer a quiet, supple ride around town or on the highway doing 70 MPH. Brakes are strong and direct, inspiring confidence in case they are needed at 100%.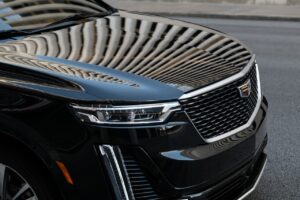 We liked the smooth throttle inputs and the easy way to drive this SUV in a very serene and calm manner that your passengers will applaud you for being a great driver.
The 2021 Cadillac XT6 Sport is a beautiful three-row SUV that does a nice job looking stylish and making the driver feel good when driving. Cadillac is evolving and it shows.
Comparables: Lincoln Aviator, BMW X5, Audi Q7
The Essentials:
MSRP: $57,195.00                                             MSRP (As Tested): $72,165.00
Fuel Economy (Observed): 20 MPG
Engine: V6, 3.6 liter, 310 HP
Popular Options: Enhanced Visibility & Technology Package: $2,350.00, Night Vision: $2,000.00, Driver Assist Pkg: $1,300.00, seating for six with two Capt. Chairs: $800.00, Comfort & Air Quality Pkg: $750.00
Please visit: www.cadillac.com
*Photos furnished by Cadillac