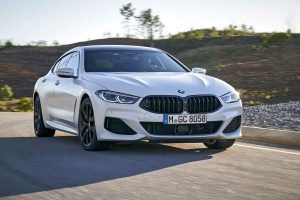 BMW M850i xDrive Gran Coupe (2020)
Just say the name "Gran Coupe" and it automatically conveys an image of something sexy and luxurious yet functional and practical. The all-new BMW M850i is all that and more!
The curvaceous silhouette, wide kidney grille and long, sleek hood make the M850i look elegant and sporty from every angle. There are many purposeful and smart design ideas that come together in the making of this gran coupe and fortunately, the freakishly large kidney grille is not one of them. Thank you, BMW!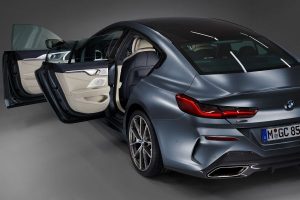 The side profile is modern and simple, with a design element in the form of a modern raked chevron which is functional for ventilation in both front fenders. The doors feature frameless glass which create a nice hint of style every time a door is opened. At the back of the rear doors is the famous "Hofmeister Kink" which is featured in almost every BMW car since 1961 and is an important homage to BMW's past head of design from 1955-1970, Herr Wilhelm Hofmeister. This kink is a signature element for BMW, featuring two angled kinks on the rear most part of the widow and C pillar. In the case of the M850i Gran Coupe, this important feature is modernized and refreshed by being more subtle and stylized. The trunk, tail lights and rear bumper show off a more modern look than the 6 Series Gran Coupe which this car replaces. On the lower part of the bumper, there are two large exhaust openings that create a statement of power and elegance thanks to their design and size.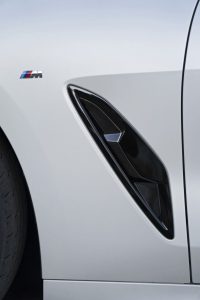 The interior is modern and efficient, featuring many of the same design cues from other, current BMW's. One nice item is the lighted door sill with the elegant font of the M850i and BMW M colors. Seats are noticeably more comfortable than the ones on the now discontinued 6 Series.We love the jewel-like gear selector and the soft touch buttons on the center console area. The latest version of the iDrive system has evolved, offering more inviting graphics and additional features. There is wireless phone charging in the center console as well as plenty of storage space around the cabin. The rear seats are separated by a large center console with USB ports and climate control functions. I am a bit under 6 feet and found these seats to be comfortable and not difficult to get in and out of. We really like the use of bright LED courtesy lights in the trunk and door handle inserts, this is a nice touch that conveys a feeling of luxury in and around the car.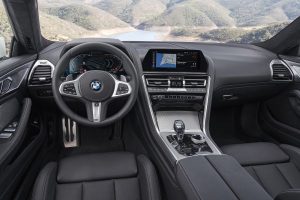 Driving the M850i is a delight. From the baritone-like engine sound at start-up to the perfectly dampened suspension, this Gran Coupe feels at home regardless what you throw at it. Miami traffic can be quite unpredictable and at times even miserable. The incredibly refined manners when you need to go at crawl speeds or in stop-and-go traffic are noticeable and welcomed. Both the brake and throttle are engineered to have the right amount of feedback, thus minute applications of either brake or throttle rewards the driver with excellent smoothness. In fact, some of the family members that ride with me can be quite demanding and picky, yet they managed to fall asleep while on the commute and I still drove normally. Bravo BMW!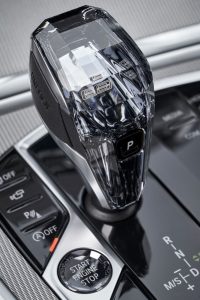 Acceleration is fast and powerful, with a nice throaty V8 sound emanating directly from engine and through the speakers. Yes, it's synthetic. Steering feedback is good but at times it can be a bit numb, especially when driving in a straight line and doing small corrections. Brakes are linear and very precise, offering excellent control and little if any fade after repeated stops. We did notice that the electronic nannies are a bit too intrusive at times. Regardless, for me the M850i has been a huge surprise! I thoroughly enjoyed the look, feel and experience driving this capable grand tourer and I am sure if you drive one, you will too.
Competitors include: Mercedes-Benz CLS, Porsche Panamera & Audi S7.
The BMW M850i is truly a Gran Coupe yet not over the top, or in your face about it. There is a nice blend of elegance, style, luxury and sportiness that will make you feel luxurious and sporty every time you drive it.
The Essentials:
MSRP: $108,900.00                                                          MSRP (As Tested): $121,695.00
Fuel Economy: (Observed): 18 MPG
Engine: V8, 4.4 liter twin turbo, 523 HP & 553 Lb/Ft of torque
Popular Options Include: Drivers Assist and Assistance Pro Pkgs: $1,100.00 & $1,700.00 respectively, Bowers & Wilkins sound system: $3,400.00 M Carbon Exterior Pkg: $4,100.00
Please visit: www.bmwusa.com
*Photos furnished by BMW