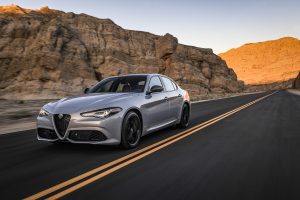 Introduced as a 2017 model, the Alfa Romeo Giulia gets technology updates for 2020 that makes it an even more attractive option for those looking for "something different" in the compact luxury sedan segment.
Its Italian styling and lively handling made it an immediate hit among critics, and now such new features as a new 8.8-inch touchscreen display for infotainment functions and connectivity features like a wi-fi hotspot and SOS call add to its appeal.
The Giulia comes in six flavors starting with the base model and continuing through the top-of-the-line Quadrifoglio trim with its 505-horsepower, twin-turbo V6 engine. The Giulia Ti Sport Carbon trim with all-wheel drive that served as my test vehicle hits a sweet spot around the middle.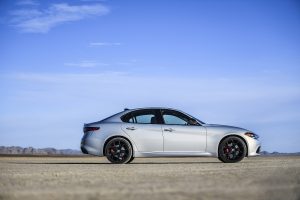 The 2020 Giulia Ti Sport Carbon model comes with a 2.0-liter turbocharged inline 4-cylinder engine that is rated at 280 horsepower and 306 pound-feet of torque as opposed to the 505 hp, 443 lb.-ft. in the Quadrifoglio's V6.
Premium fuel is required for both engines with the 4-banger earning EPA ratings of 24 miles-per-gallon city, 33 highway and 27 combined with rear-wheel drive and 23/31/26 with AWD.
With the extra power, the Quadrifoglio is much thirstier with figures of 17/25/20.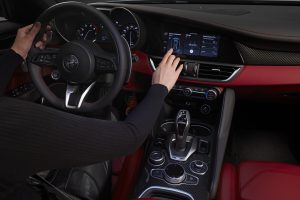 Zero-to-60 mph times, according to the company, are 5.1 seconds for the 4-cylinder and 3.8 for the Quadrifoglio, if you're in a bigger hurry and aren't put off by the $70,000-plus price tag.
Included as standard features on all Giulia trims are leather seating, Apple CarPlay and Android Auto, SiriusXM Radio with complimentary 12-month subscription, keyless entry and push-button start, remote start, bi-xenon headlamps with LED daytime running lights and LED taillights, backup camera with rear parking sensors, and Forward Collision Warning-Plus.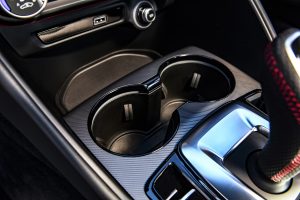 In addition, all models also get a Drive Mode selector that lets you fit your driving experience according to your mood. Settings for the 8-speed automatic transmission are Dynamic, Natural, and All-Weather. Quadrifoglio models also get a Race mode, and, yes, you can select gears via paddle shifters that are mounted to the steering column.
My Giulia Ti Sport Carbon model also included in the base MSRP of $43,345 a carbon-interior carbon fiber trim, carbon-fiber draft shaft, leather-wrapped steering wheel and shift knob, heated steering wheel, heated front seats, and a sport suspension that some may find to be a bit too firm, but adds to the driving performance.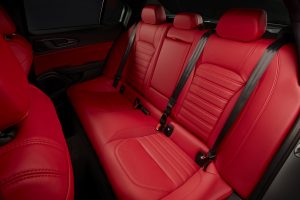 Extras ran that included the Ti Sports package and a driver-assist package for such items as traffic jam and lane-keeping assist, blind-spot assist, adaptive cruise control, and more ran the final total to $59,640 including $1,295 for destination and delivery.
What I liked about the 2020 Alfa Romeo Giulia TI Sport Carbon AWD: It's fun to drive, both from a power and handling standpoint, and the 4-cylinder engine isn't all that thirsty. Sport seats are supportive and comfortable, and the cabin interior is impeccable with premium material aplenty.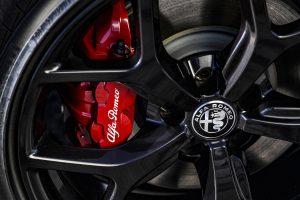 What I didn't like about the 2020 Alfa Romeo Giulia TI Sport Carbon AWD: The trunk is a bit on the small side for its class (13 cubic feet), and the backseat offers only 35.1 inches of legroom. But for me, the biggest negative is the operation of the infotainment system. Having touchscreen capability in addition to the dial on the console does make it easier to make adjustments, but it still doesn't match the simplicity of the UConnect system of its Chrysler cousin.
Would I buy the 2020 Alfa Romeo Giulia TI Sport Carbon AWD? Yes. Though I would prefer a friendlier infotainment system, the positives far outweigh that particular negative.
*Photos furnished by FCA