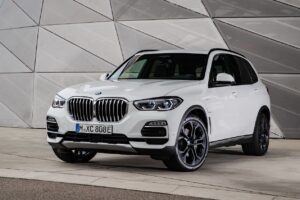 The 2021 BMW X5 xDrive45e represents the company's second go at a plugin hybrid-powered SUV and offers up more power and a longer range for all-electric mod than its predecessor, the xDrive40e that debuted for 2016.
But that isn't to say you are going to be going for long, quiet cruises and snubbing gas stations for the rest of your life. The key phrase here is "longer range," not "long range."
The older X5 xDrive40e has an all-electric range of about 14 miles. The 2021 BMW X5 xDrive45e bumps that up to about 31 miles, give or take on your driving style.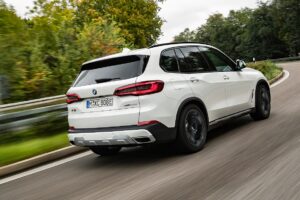 The Germans claim that is enough range to cover most daily commutes. If you grew up in a small town as I did where two miles in about any direction would put you in the middle of a cornfield or watermelon patch, that most certainly is true.
But after seeing typical traffic jams during rush hours where I currently live, the 31-mile limit may be pushing it.
Not that that will created any particular problems on getting to work or back home that night. When the battery is down, the gasoline engine simply takes over the rest of the way.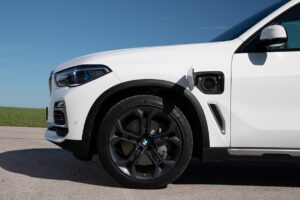 The 3.0-liter inline-6 engine is a beast with a horsepower boost to 389 (81 more than its predecessor) and torque increase to 443 pound-feet, a whopping 111 more than in the older xDrive40e.
That results in a zero-to-60 mph time of 5.3 seconds and towing capacity of 7,200 pounds, according to the company's figures. BMW also claims an increase in top speed from 75 mph to 84 mph when driving in electric only range.
Both models come with an 8-speed automatic transmission with paddle shifters. As indicated by the xDrive designation, it is all-wheel drive.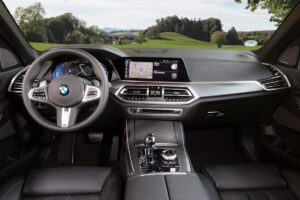 Fuel economy figures for the 2021 BMW X5 xDrive45e are 50 mpge but only 20 mpg when the power runs out and you're driving in electric mode. Obviously, you're going to want to keep it fully charged, but that may not be possible on a long family vacation trip so be prepared for multiple fuel stops. The gasoline powered BMW X5 xDrive40i with its turbo-6 gets 22 mpg combined.
BMW says the the X5 xDrive45e can be set in three drive modes, but that is actually more like five. Sport mode can be adjusted to Standard or configured to your taste, and Hybrid, the default setting at startup, can be tuned to Standard or Eco Pro.
The other setting is Electric (for all-electric driving when the battery is charged), and there is also a button for Adaptive, which adapts to particular situations.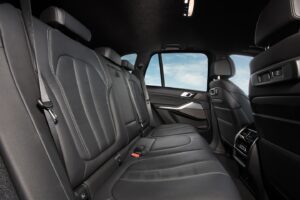 Inside, the cabin is impeccable with numerous technological features that can take a bit of learning but are not as complicated as in past BMW models.
Standard features include 19-inch V-Spoke alloy wheels with all-season run-flat tires, power adjustable steering column with Sport leather steering wheel, two 12.3-inch digital displays with iDrive7, Apple CarPlay and Android Auto, a one-year subscription to SiriusXM satellite radio, keyless entry and push-button start (annoyingly, the button is on the console, not the face of the dash), rearview camera, panoramic sunroof, privacy glass, front and rear heated seats, LED head and fog lights, Harmon Kardon surround sound, and park distance control.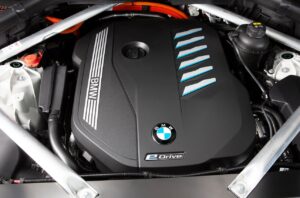 Safety features like blind-spot warning and lane-departure warning are included in the starting MSRP of $66,395 (including destination and delivery).
Extras like an M Sport package and Executive Package (4-zone climate control, head-up display, gesture control, and wireless charging with wifi hotspot) and 21-inch wheels) ran the final bottom line to $81,695 for my test vehicle.
What I liked about the 2021 BMW X5 xDrive45e: The interior is very high class, and the technology, while not the most intuitive to operate, is plentiful. Performance also is impressive, and the ride is quiet and smooth. The size hits a sweet spot for me — not too big, but big enough to meet the core mission of an SUV. Or, as BMW likes to call the X5, a Sports Activity Vehicle.
What I didn't like about the 2021 BMW X5 xDrive45e: The charging cord is a bit short, and you might have issues getting hooked up at home for recharging if you don't have a dedicated charting outlet. If you don't keep the battery charged, the turbo-6 is on the thirsty side when driving in gasoline-only mode.
Would I buy the 2021 BMW X5 xDrive45e? Probably not but for admittedly selfish reasons. I'm not a big fan of plugins to begin with, and if I I hook up with one, I would like a bit more range than the X5 xDrive45e delivers. If you don't have recharging issues, however, and are serious about a luxury plugin SUV, the 2021 BMW X5 xDrive45e needs to be on your list. The starting MSRP isn't cheap but competitive for what you get.
*Photos furnished by BMW