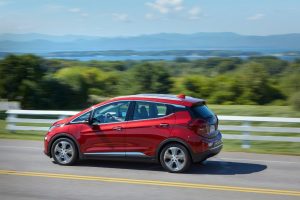 Chevrolet was an early player in the plug-in hybrid game of post-2000 with the 2011 Chevy Volt, which at the time was considered revolutionary with an extended range of driving on electric power only for everyday commutes paired with the convenience of a gas engine for longer treks.
Early reaction was mixed.
Environmental groups pretty much loved it for obvious reasons and the panel of judges for Detroit's North American Auto Show awarded it North American Car of the Year honors for 2011.
But while most automotive reviewers seemed to get what the Volt was all-about, some others in the news media did not. Part of that was because they thought of the Volt as an "electric" vehicle when it really was more of an updated version of the gas-electric hybrid models that had been introduced about a decade before. They pooh-poohed its all-electric range of about 40 miles while ignoring the range anxiety relief the gas engine provided all together.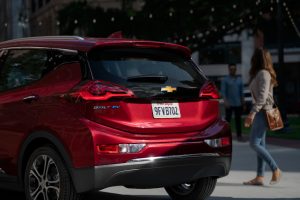 One cable show host laughed about how his Volt's battery ran out of charge when he was halfway through the Lincoln Tunnel, giving his co-host the impression that he had been left stranded in a vehicle without power.
Of course, he hadn't been. What occurred when he used up the battery was that the Volt had seamlessly shifted over to the 4-cylinder gas engine so he could complete his trip.
Frankly, I thought the system was a good way to ease the problem of range anxiety that comes with driving an all-electric car for an extended time. But apparently, I was in the minority.
Chevy ceased production of the Volt over a year ago and is now all-in on its all-electric Bolt EV, which it introduced as a 2017 model. There is no gas engine to extend a trip, but it does have an much-increased electric range of up 259 miles when fully charged, an increase of 21 miles over previous Bolts.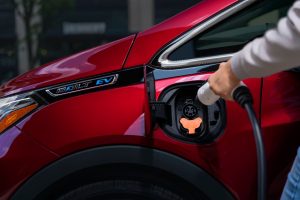 That's almost five times the 53 miles that was promised for the 2019 Volt when it went out of production.
Classed as a "small wagon," the Bolt still comes in only two trim levels for 2020. The base LT carries a base MSRP of $37,495 while the upgraded Premier that served as my test vehicle starts at $41,020.
Both trims get the same powertrain with the electric motor putting out 200 horsepower and 266 pound-feet of torque, which are darn good numbers of a car of this size (3,563 pounds, 164 inches long, 69.5 wide with a wheelbase of 102.4 inches).
That power is delivered to the front wheels via what Chevy calls an electronic precision shift system that operates like a traditional continuously variable transmission and results in a zero-to-60 mph clocking of 6.5 seconds, according to company clockers.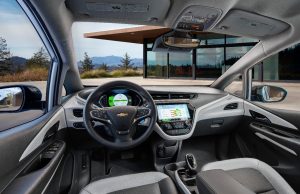 The Bolt also offers one-pedal driving. When in Low mode, it lets you speed up or slow down using only the accelerator pedal. Press it and you go. Lift your foot and you slow down (and capture some of the power from the moving vehicle to store a bit of electrical energy in the lithium-ion battery pack).
Frankly, it takes a bit of getting used to, which I must confess I didn't. It seems a bit too aggressive when slowing instead of just coasting as with a gas-powered car.
In addition to the extended range, two new colors (Oasis Blue and Cayenne Orange Metallic) are available for 2020, and the rear-vision camera and surrounded vision system has been upgrade with high-definition cameras.
Heated front and rear seats are available on the Premier with heated front seats available on the LT with the Comfort and Convenience Package. Leather seats also are standard on the Premier, which gets many of the features from optional packages offered on the LT.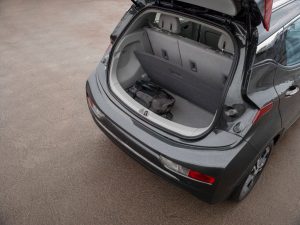 My test 2020 Chevy Bolt Premier came with a $750 Fast-charging option that would seriously cut the charging time you have to contend with using a regular household outlet.
Also, an Infotainment Package includes a wireless charging device, Bose Premium Sound, rear USB charging ports, and a Driver Confidence II Package offers automatic high-beam headlights, following distance indicator, forward collision alert, lane-keeping assist with lane-departure warning, and automatic emergency braking with pedestrian braking.
Those options and the $875 destination and delivery charge ran the final tab to $43,735.
What I liked about the 2020 Chevrolet Bolt EV Premier: It's kind of a fun car to drive. Throttle response is very quick, and unless you want to take a 275-mile trip, the range is good for everyday driving. The interior also very roomy, and the Premier gets a surround-view camera system included as standard.
What I didn't like about the 2020 Chevrolet Bolt EV Premier: While designers avoided giving the Bolt's interior a dorky look in a vain attempt to make it look "futuristic," it still has a cheap feel about it. Not expecting luxury here, but an upgrade in some materials would be nice.
Would I buy the 2020 Chevrolet Bolt Bolt EV Premier? Probably not at this time, mostly because I'm not a big fan of all-electric vehicles. I don't have an advanced charger and have to rely on my household for charging, which can take forever. The Bolt is priced competitively in its segment but still strikes me as a $20,000-plus car that is double the price because of the electric powertrain.
* Photos furnished by Chevrolet