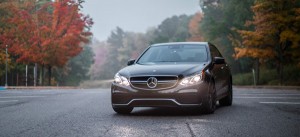 By: Andrew Krok, Web2Carz Staff Writer
We were somewhere around Fremont on the edge of Indiana when the rain began to take hold. I remember saying something like, "Are we sure these wipers don't go any faster?" Suddenly, there was a terrible roar all around us, and the sky was full of what looked like rain. And a lot of it, at that. Here we were, no more than three hours into our hastily-planned, yet much-anticipated road trip, and God was already trying to piss us off.
Driving in blinding rain, on a highway with very narrow shoulders, in a $100,000 car that's not your own, can be quite the harrowing ordeal.
People go on road trips all the time. They even make shitty movies about road trips, featuring Tom Green doing something so incredibly stupid, yet so incredibly expected. But our trip was different. It was a gross, physical salute to the art of driving – but only for those that can afford the cost of entry. Luckily, we sidestepped that last part.
Our faithful steed on this trip was a collection of everything right and beautiful with automobiles, ground up and run through the Mercedes-Benz brand sausage stuffer from hell. The E63 AMG would be Darth Vader's ride if he traded his job as a Sith Lord for an upper-management position at a Fortune 500 company. 550 horsepower from a twin-turbo V-8 engine, forced into the pavement through all four wheels, burbling and cracking and growling its way across a landscape wrought with fire and death.
Okay, maybe that's a bit over the top, but the car was painted black, with matching black wheels, and an exhaust note that would send the animal kingdom's most vicious predators running. It was big. It was angry. And it was about to take us 1,800 miles to the East Coast and back.
On top of being addicted to nicotine, I'm addicted to cars. In order to get my fix above and beyond the nine-to-five, I freelance for a magazine that focuses entirely on the Porsche 911. I'd been sent a mission from the head office – get to Connecticut and write a feature on a handful of incredibly-rare 911s, all currently owned by one of the largest and most highly-celebrated Porsche collectors on the planet, Richard Sloan.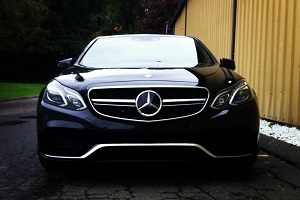 So, after figuring out dates and securing a car for the trip, I set off on Friday evening to pick up two photographers and a friend. We each had a bag with a weekend's worth of clothes, along with sleeping bags, pillows, and the like. That fit in the trunk easily. What made it difficult, though, was the tens of thousands of dollars' worth of camera equipment we also needed to bring. We were professionals, after all, and pros need egregious amounts of lenses, strobes, tripods, camera bodies, and remotes. And we made sure to put that equipment to good use, as you will notice in the wallpapers we've included at the end of the story.
The awfully-spacious trunk was packed, quite literally, to the brim. We managed to get the trunk lid closed on just our second re-arrangement of all the items inside, and we were still stuck with two backpacks and two pillows to shove into the passenger compartment. Despite a very full car, the E63's air suspension kept the vehicle from looking like the rear springs had given out – clearly this car does not screw around. Nearly an hour after we began, it was now time to spend 14 hours staring straight ahead in the pitch black.
The biggest issue leaving Illinois was the traffic. At 8 o'clock on a Friday night, every highway was filled with lazy drivers, shuffling along at whatever speed they deemed appropriate. The laser-guided cruise control in the E63 was getting a workout, speeding up and slowing down for every idiot in the left lane who can't be bothered to move to the right.
Indiana wasn't much better. It was still early enough in the night to where some commuters and vacationers were on the road, but once we moved past the cities and out into more sparsely-populated areas, we were able to stretch our legs and let the cruise control do its thing. That's when our trip was renamed the AMG Inclement Weather Driving Academy.
Driving in blinding rain, on a highway with very narrow shoulders, in a $100,000 car that's not your own, can be quite the harrowing ordeal. But Mercedes really has their shit together in this regard, because it's not like they want you to crash the damn thing. Between the Lane Keep Assist and the fat, grippy tires, the E63 pushed forward with nary a complaint.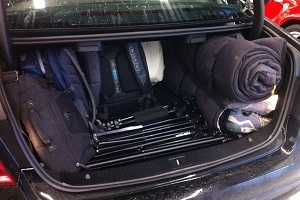 We had stopped for gas the first time right before we entered Ohio. Thanks to an obscenely low fuel cost, nearly a full tank's worth of premium cost us under 60 dollars. Not too shabby, considering a 22-gallon fuel tank translates to a fair chunk of change if you're not the typical, well-heeled M-B buyer.
I-80 in Ohio, for those of you who haven't driven it, is boring. Very boring. And there's almost always some degree of construction that creates miles of backlogged cars and trucks. Thanks to our late departure, though, this wasn't a problem. It was past midnight, and we were alone, save for the occasional long-haul truckers that do little more than give us reason to change lanes.
The E63 took everything we could throw at it, and it powered through without even a modicum of hesitation. Aside from the rain, which is nobody's fault, the car exhibited no strange issues. Except for that whistle. That stupid whistle, undoubtedly a loose piece of trim somewhere underhood, which sounded like a pissed-off bird. Who knows, maybe there actually was a bird under there. We were making good time, so we opted not to check.
I never thought I'd catch myself saying, "Oh thank goodness, we're in Pennsylvania," but when it's going on three in the morning on Saturday – and you haven't slept since Thursday night – you're thankful for whatever state you're about to cross into. It's one step closer to getting some sleep. More than that, I was the one with my name on the papers for the car; anything that happened on the trip was on me. Fear is an excellent stimulant; every time my eyelids got heavy, I imagined my co-drivers Billy or Jeremy careening off the road, sending us all to a Thelma & Louise-style death.
With Pennsylvania came our first relief from the rain. As we moved further into the Appalachian mountain range, however, all the water vapor sitting on the ground turned into fog. Thick, penetrating fog that brought visibility down under 100 feet. With another thin shoulder and a fear of somebody not seeing us, we turned on the rear fog light and pushed forward, driving straight into the literal unknown.
The GPS on the map proved an excellent co-driver, alerting us to slowdowns on the route, as well as zooming in far enough to tell us when sharp curves lay ahead, obscured by the ground-level cloud cover.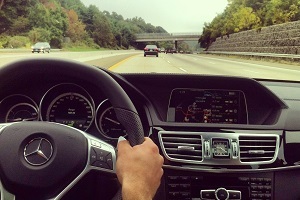 As we made our final push out of Pennsylvania and into New York, both the fog and rain subsided. But it's not like the car gods were ready to let us have fun. Nope, now it was time for early-morning traffic. Thankfully, we took a bypass around New York City, but even the White Plains congestion proved difficult to manage.
Then we met the worst driver on the planet. This person (because being gender-specific, while accurate, will likely be seen as misogynistic) in a Toyota RAV4 did everything in their power to bounce between the edges of the lane like a bowling ball rolling down an alley with the bumpers up. She even cut off an unmarked police cruiser, but he didn't pull her over. It made me wonder why I cared about speed limits so much. Thankfully, the E63 didn't give two shits what the speed limit was, as we made sure to use every inch of available power to move as far away from that RAV4 as possible.
Connecticut, our destination, proved to be the most brilliant part of the entire road trip. For one entire day, we had no rain and no traffic. Combine those factors with hilly terrain and speed limits that were generously high, and we finally got to have some good ol'-fashioned back road fun. The all-wheel-drive did an excellent job of keeping the E63's shiny side up, and the brilliantly precise steering put the vehicle exactly where we expected it to – not necessarily a trait in every 4,500-pound luxury sedan.
As much as we wanted to spend the whole weekend driving, most of the time in Connecticut was spent facilitating the photo shoot for the magazine feature. After a single night's sleep at a Days Inn, where we accidentally stole a pillow, we finished up our required photography and set out for Illinois. With significantly more seat time under our belts, and save for a little bit of rain again in Ohio (seriously, screw you, Ohio), we had a clear and straight shot back home.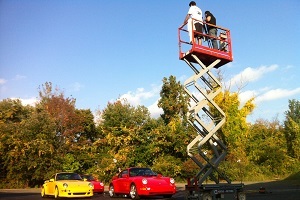 The E63 kept pushing the entire way, showing absolutely no signs of relenting in its mission to try and earn us all speeding tickets. Even when I made it back home after dropping everybody off, a mere twelve hours after departing New England, I struggled to get any meaningful sleep. I was just too wired up, too excited to drive the car even more. I may have even dreamt about it. The car is just that exemplary; it invades your dream-space. It's like Freddy Kreuger, minus all the murder.
Did we reach any sort of meaningful level of self-reflection, wherein the trip itself became an allegory for all the great and wonderful things about life? No. Did anything crazy happen to either the car or any of its drivers? No. Did we hit the speed limiter? We wish.
So what, exactly, did the trip teach us then? Well, it taught us that the E63 AMG is one of the best road-trip cars you can buy. It's everything you need – power, luxuriousness, fun-factor – turned up to 11. The gas mileage isn't abhorrent (roughly $300 for the entire 1,800-mile trip), it's so comfortable you want to spend even more time inside it, and there's enough trunk space for two professional photographers' worth of equipment.
That's also what makes it a bit of a sad story. Most E63 owners are well-off enough to the point where a road trip seems foolish compared to round-trip airfare, so the cars will more likely see duty as suburb-crawlers and grocery-getters. I certainly didn't see any other performance luxury vehicles being driven across the country on my travels, but I'm secretly hoping that they're out there, somewhere, disregarding efficiency and having an absolute blast in the process.
To see gallery a of  Mercedes-Benz E63 AMG road trip. Click here.