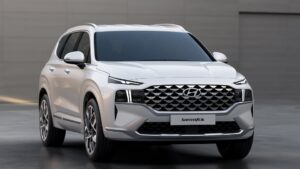 Hyundai Santa Fe Calligraphy (2021)
With every model refresh, the Santa Fe not only becomes more upscale and also better looking. Hyundai has made huge strides in design and execution of each model and the refreshed Santa Fe is no exception. The Calligraphy is the highest trim level offered in the Hyundai SUV family, featuring a contemporary design, modern and usable technology, at a price point that's less than the Japanese or European counterparts. The Santa Fe is positioned just below the full sized, three row Palisade.
Approaching the Santa Fe you quickly notice the dramatic grill that shows an evolving corporate look that is now seen on sedans and the newer SUV's.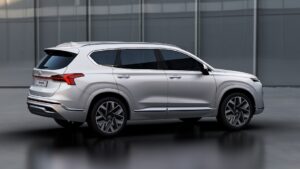 In the case of the Calligraphy edition, it is painted in a sporty glassy black finish that accentuates the look quite nicely. Headlights are sweeping and elegant, offering good illumination as well as giving the Santa Fe an air of distinction. Alloy wheels are intricately and aerodynamically designed, giving another hint of a purposeful yet understated upscale look to this SUV. The side profile looks contemporary, while retaining a conservative look that works well for this model. The rear is tidy and features an electric opening hatch and a set of integrated exhaust tips that once again, give an air of luxury and elegance to the Santa Fe.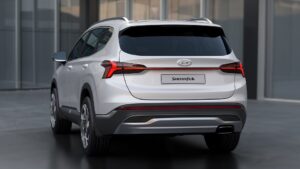 The interior is fresh and efficiently designed, offering a 12.3" infotainment screen controlled either through the steering wheel switches or by old school dash knobs for volume and station selection. Thank you Hyundai! The Nappa leather-clad seating is surprisingly comfortable, even for the finickiest of passengers. Infotainment is easy to master, featuring finger controlled sliding screens and easy to interpret icons. Within five minutes of getting into the Santa Fe for the first time, I had all the set up for my taste in entertainment and climate settings done. Second-row seats are comfortable for two, a pinch tight for three. Third row seating is easy to access with ok comfort for two.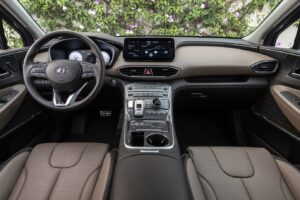 Cargo area is typical of an SUV of this size, with instant expanded area after folding forward the third-row seating.
Driving the Santa Fe was quite a surprise. The four-cylinder, 2.5 liter turbocharged engine has nice performance and great acceleration, however, as it's mated to an eight-speed dual-clutch transmission, we found it to be not as smooth and seamless as we would have liked. There is a typical quirkiness of dual-clutch transmissions which is most noticeable when moving forward or backward at crawling speeds. You notice an engage-disengage of the mechanisms that can become a bit irritating.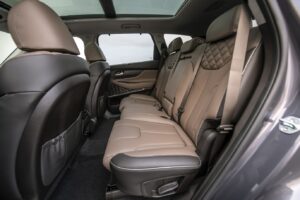 However, under hard acceleration, we found it to be quick and lively, making the Santa Fe feel a lot sportier than we anticipated.
Acceleration zero to 60 is just a hair over six seconds, which is one of the faster SUV's in its class. Brakes are linear and strong, with an easy to modulate pedal even under heavy braking. Steering is light with not a lot of feedback but easy to get used to. Controls and instrument dash are well lit and easy to understand even in strong sunlight. We took the Santa Fe on one of our favorite curves that leads into an expressway on-ramp and the suspension took it all in without a single complaint, feeling more like a BMW X5 than a typical Japanese or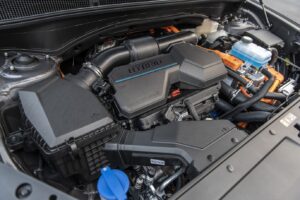 American SUV. Hyundai does a great job with the packages and items we all want in our cars and still be able to be thousands less than the competition. This is no easy feat.
Want a new SUV full of great features, that looks and feels good, offering the best value for the money? Then you need to look and drive the 2021 Hyundai Santa Fe Calligraphy.
Comparables Include: Kia Sorento, Toyota Venza, Ford Edge among others.
The Essentials:
MSRP: $42,100.00                                                             MSRP (As Tested): $43,430.00
Fuel Economy (Observed): 23.5 MPG
Engine: 2.5 Liter, Inline four, turbocharged, 277 HP
Popular Options: Carpet Mats: $155.00
Please visit: www.hyundai.com
*Photos furnished by Hyundai