VW Jetta (2019)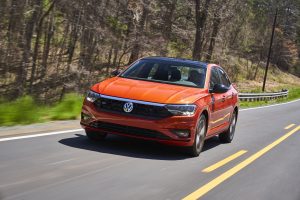 VW cars have stood for being good value, featuring well thought of German engineering. The latest generation of the Jetta offers all of this and more by packaging a nice array of standard features, safety and comfort that many competitors don't offer or only offer as options.
The Jetta R-Line is a mid-level trim within the Jetta line that gives the buyer a bit more sportiness as well as excellent value. Its priced in the middle of the pack with a starting base of $23,245.00. While the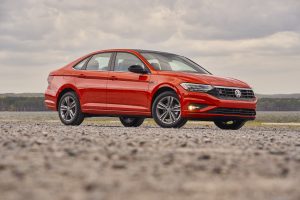 entry level S version is at $18,745.00 and the SEL Premium at $27,695.00 respectively.
The newest Jetta offers an updated, evolutionary styling, offering more room, better aerodynamics and a surprisingly quiet cabin, even at fast, highway speeds. There is clear emphasis on maximizing fuel economy and value together with a nice splash of style to boot and a surprisingly affordable monthly payment! Thank you, VW!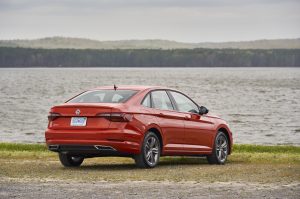 The standard features and technology on the R line include: Blind spot monitors, forward collision warning, auto-start-stop feature that thankfully can be turned off and a new, 8-speed auto transmission with electronic differential. Additionally, there is a moonroof, leather steering wheel, 17" wheels vs 16" on the S trim level, Apple Car Play, a climate control system offering dual zones and keyless access. Our one week with the optional colored orange paint Jetta that VW calls Habanero Orange, which I loved, had using the Jetta in all kinds of rolls.  We piled in the family for dinner and did a full-cart grocery store run. The Jetta handled each of these real-world tasks like a champ.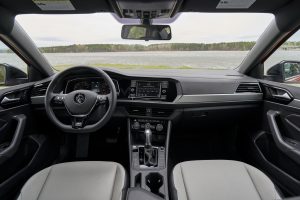 The nicely balanced progressively assisted power steering feels great, regardless of the speed. Brakes are direct and strong offering a communicative pedal feel. Dash and interior are simple, clean and tidy. I would even say, modern minimalist, but not spartan.
There are no paddle shifters for when feeling a bit sporty, so we had to make do with shifting to "Sport Mode" and using the shift selector in a fore and aft motion to manually shift the gears up or down. I found myself driving on this setting often and that made for a bit more liveliness from the peppy 1.4-liter engine and the automatic transmission.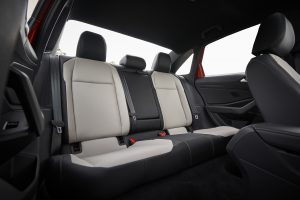 Proven name, great design, comfortable and full of value. The 2019 VW Jetta R-Line is an excellent car for a 1st time new car buyer or for a new driver in your household. Try one, you will be surprised.
(+):
Quiet, smooth feel, regardless of the types of roads and speed
Good fit and finish even if a bit minimalistic
Modern, fresh looking design and interior space
Easy to use and understand all the features and switchgear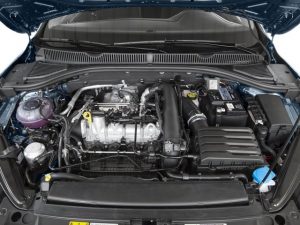 (-):
Transmission quickly heads to highest gear to maximize efficiency, zapping most of the fun of driving
Mysterious low frequency rattle that would be heard intermittently
Trunk lid that would come back down when there is a bit of wind blowing.
The Essentials:
MSRP: $23,245.00                             MSRP (As tested): $24,435.00
Engine: Inline 4, 1.4 liter, 147 HP
Fuel Economy (Observed): 31.5 MPG
Popular Options: Habanero Orange Paint
Please visit: www.vw.com