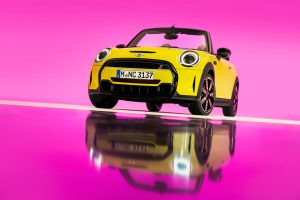 Mini Cooper S Convertible (2021)
So, I am going to admit to something that isn't very popular in today's crazy world of oversized SUV's and trucks. I love small, nimble cars! There! I said it. Small cars are a delight to drive, they are responsive, sporty and offer feedback that most large cars or SUV's just don't have. The 2021 Mini Cooper S Convertible is exactly that and much, much more!
Thinking about this car I realized that sometimes, there is no need to be practical or boring when it comes to buying a car. Sure, the Mini Cooper Convertible barely has a trunk that has any use and it can get expensive quickly depending on the options selected, so what.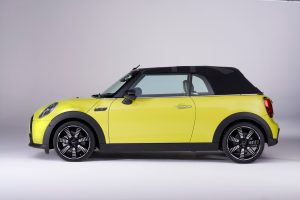 Frankly, most people looking for a fun car will buy a convertible because they want to, not because they have to.
From any angle, the Mini Cooper is unmistakably Mini. The short hood, wheel placement and the long roof shape will always be considered signature design cues. Our test Mini Convertible was the more powerful S model and it arrived optioned with lots of nice items, including the Iconic Trim Package that bundles 31 nice to have features. Having owned the 1st generation Cooper S from 2002, I was surprised at how the current Mini has evolved into a more luxurious, larger, more comfortable car. The first impression once seated in the driver's seat is a sense of fun.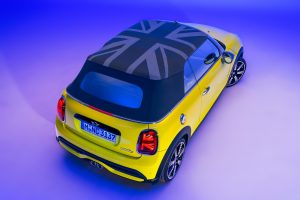 From the mood lighting around the center infotainment bezel to the top down time meter, this car really does create a whimsical feeling of…. "Why be normal." There is an 8.8" center screen that offers Apple CarPlay and touch-screen capability. Seats are surprisingly comfortable. Interior fit and finish feels premium throughout, including the interior convertible top covering. We lucked out by having a manual six-speed transmission (which Mini brought back) instead of the more ubiquitous and less exciting automatic. For this car, the manual transmission is the one to get even though, they have sadly, almost disappeared.  Rear seat is usable for two, preferably smaller passengers. With the top down, it's a fun place to sit and enjoy the sun and breeze. Trunk is hinged at the bottom of the lid and its quite small, with the limiting factor being the size of the opening not the depth of the space.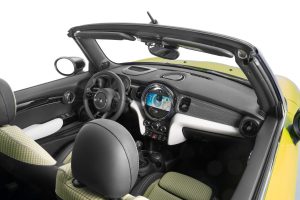 Regardless, you can still squeeze a small soft-sided weekend bag and off you go. Additionally, we loved the Union Jack design weaved into the convertible top as well as imprinted on the brake lights when they light up. This is oh so Mini!
Driving the Mini Cooper Convertible is, excuse the pun, a breeze. The manual shift is buttery smooth and surprisingly easy to use. The steering is a delight with gobs of good feedback to the driver. Controls are a bit quirky but easy to work and understand. With the top up, the interior sound at typical highway speeds, not intrusive, as I was still able to talk hands-free on my phone or have a normal tone conversation with the passenger. I could easily see myself using this car as a daily driver in my 20 mile each way commute.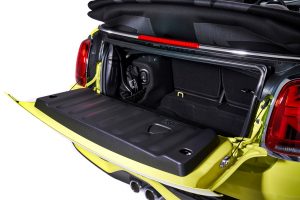 Brakes are strong and direct, even under heavy braking. What we loved the most is the way all the controls and the manual transmission work together to create magic. This is a fun car to cruise slowly along Ocean Drive or at 70 MPH on the Turnpike.
Comparables? There really aren't any that are directly comparable. There is the Mazda Miata but that's more of a two-seat roadster. The Mini Convertible is a lifestyle, fun, premium small car that brings with it lots of history, smiles and enjoyment. Why be normal when you can buy a Mini Cooper Convertible and enjoy the drive.
The Essentials:
MSRP: $31,400.00                                             MSRP (As Tested): $40,850.00
Fuel Economy (Observed): 25.5 MPG
Engine: 2.0 liter I-4 cylinder, 189 HP Turbo
Popular Options: Iconic Trim Pkg. ($8,000.00), Mini Yours Soft Top ($500.00)
Please Visit: www.miniusa.com
*Photos furnished by MINI Cooper