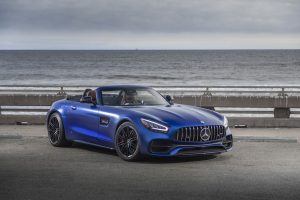 Mercedes-AMG GT C Roadster (2020)
The AMG-GT C Roadster is the latest from the Mercedes-Benz AMG division and it is one of the most aggressive and dare we say it, insane roadsters available for sale.
You can never go wrong with design elements that feature a long sweeping hood and a sleek passenger cabin, an elegant yet sporty affair that is instantly noticed by car aficionados as well as the casual onlooker. In fact, during my week with the GT C Roadster I got plenty of thumbs up from the harshest car critics of them all, the local teenage crowd!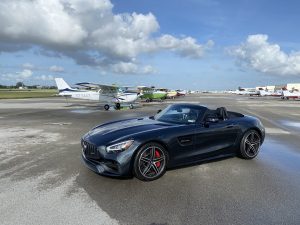 Without a doubt, the AMG stylists used the most beautiful Mercedes-Benz ever designed, in my opinion, the mid-50's 300SL Gullwing and its convertible equivalent called the roadster as inspiration for the sumptuous GT C. There is a hunkered down, aggressive look from all sides. A large trunk mounted spoiler also pays homage to the past SL's, while generating the required downforce needed to keep the GT C securely planted at high speeds. Naturally, this in case you are inclined to drive it at triple digit speeds, on the track only, of course, wink-wink. The front grille is all-business with the noticeable vertical strakes,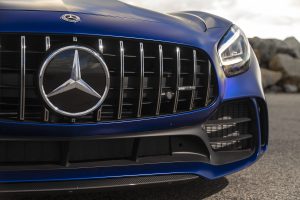 featuring the iconic three-pointed star in the middle of it all. Everything in the GT C has a function that is focused on the task at hand, to make this the sportiest road-going open-top Mercedes-AMG has ever built.
This roadster is a true tour de force in design, highlighting sinewy lines through the body, acting not only as accents but also helping in aerodynamics and performance. The large, elegant wheels barely hide the huge AMG engineered brakes, while the rear of the GT C show off jewel-like tail lamps as well as oversized integrated exhaust tips.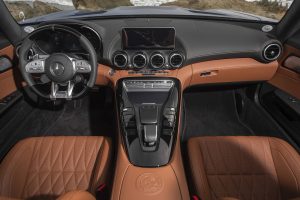 Inside the cabin you are greeted by top notch materials and a world class fit and finish. There is ample use of leather and carbon fiber as well as high quality switchgear throughout. I was surprised by the aggressive looking sport seats that turned out to be quite comfortable. The cabin is tight but not overwhelming, even if there are two of you in the car. One thing I didn't care for was the awkward placement of the gear selector, this is way back on the center dash, almost like an afterthought. There are several storage points as well as cup holders to make things a bit more civilized, only just a bit though.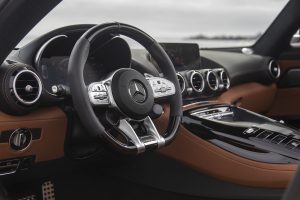 Trunk is small yet still usable for a couple of small-ish weekend soft sided bags, so the GT C Roadster is usable for travel. The soft top is well insulated and superbly finished and goes up and down quickly and quietly.
So, what is it like to drive? First thing you notice when you get comfortable in the driver's seat is the thick-rimmed steering wheel with a complete set of buttons for everything the driver will ever need. Press the start button and a satisfying growl instantly greets your senses, you can't help but to smile every time you do that.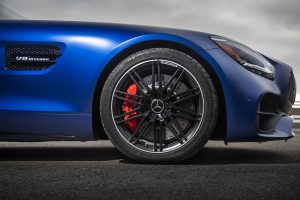 The GT C Roadster does have a DCT (Dual Clutch) 7-Speed transmission which I found easy to live with. We didn't notice any jerkiness, even at ultra-slow crawling speed and that's a huge triumph for dual clutch transmissions. We did do some full throttle 0-60 MPH runs in Sports+ mode and the explosion of raw power was simply breathtaking. That's the cool thing about owning this car, the performance it delivers is effortless! Cornering is aggressive and flat, regardless of the speed, brakes are so powerful, it's as if someone threw an anchor out the back.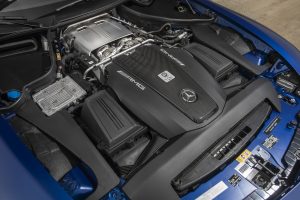 I will admit, that being a passionate lover of sports cars, the AMG GT C Roadster felt on the upper limits of sportiness regarding ride comfort. Maybe I am becoming a softy in my middle age. Nah.
The Mercedes-AMG GT C Roadster, a rolling work of art that is equally thrilling to look at as it is to drive. Now, I wonder what happened to my hat.
Comparables Include: Audi R8, Porsche 911, McLaren 570S
The Essentials:
MSRP: $162,400.00                                                          MSRP (As Tested): $174,665.00
Fuel Economy (Observed): 16.0 MPG
Engine: 4 liter, Biturbo V8, 550 HP, 502 Lb/Ft Torque
Options on our test car:
Magnelite Black Metallic Paint: $720.00
AMG Black Piano Lacquer Trim: $750.00
AMG Interior Night Package: $800.00
Exterior Night Styling: $750.00
19"/20" AMG Black Wheels: $500.00
Distronic Active Distance Assist: $2,250.00
Burmester High-End Surround Sound System: $4,500.00
Please Visit: www.mbusa.com
*Photos furnished by Mercedes-Benz and the author