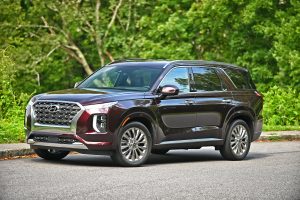 Palisade Limited AWD (2020)
This is Hyundai's all new three-row, super-mid-sized SUV and it's a stunner! The exterior design is fresh, modern and elegant plus the interior is full of the tech features that everyone likes.
Three-row SUV's are de rigueur in the US market these days and Hyundai didn't want to miss the party. Even though they are a relatively late comer, they elected to take their time and develop a world class SUV with the Palisade. Starting from the front, the grille is modified from previous corporate designs and looks a lot better than before, looking neater and more contemporary and it fits the Palisade well.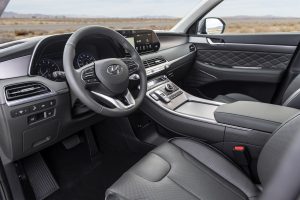 The side profile is handsome and sleek, with a European air to its design. Of course, that's no coincidence as Hyundai's head of global design is 53-year-old, European raised, Luc Donckerwolke, who had stints at both Lamborghini and Bentley before going over to Hyundai. The era of cookie-cutter design at Hyundai is over. As we approach the rear of the Palisade, we note a pair of prominent yet elegant exhaust tips. Some say that it should have had a quad exhaust, my hunch is this will be seen later with a high-performance model like what BMW does with their M's and Mercedes-Benz does with the AMG's.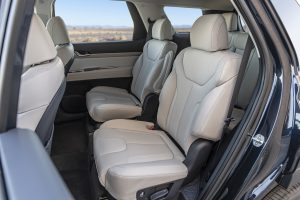 Inside, you are greeted with a modern, efficient and elegant interior, bordering on the edge of luxury. The two front seats are superb in comfort and adjustability, with just the right amount of cushioning both in the bottom and rear cushions. There is an easy to use infotainment system as well as ample storage space both in the center console as well as the doors. Gear selector is now a touch button affair, located left of center in the console by the driver, this is not a bad set up, as it keeps the space efficient and looks tidy. The 2nd row of seats is comfortable for three and includes their own climate control. Third row is surprisingly comfortable. I am 5'11" and on purpose decided to sit in the back for about 30 minutes and thought it was just fine.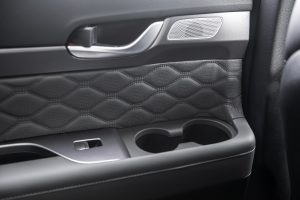 Behind the 3rd row, there is the cargo space which is well appointed and easy to load things into, offering an electric hatch and full carpet as well as a convenient under-floor storage area.
Driving the Palisade feels as if driving a smaller, nimbler SUV. Steering feedback is good and throttle and brake pedal modulation is excellent, offering the ability to drive in stop-and-go traffic as if you are a professional driver. Your passengers will thank you for this, mine did. Brakes are linear and very direct, we didn't detect any fade even after several hard-braking stops from typical highway speeds.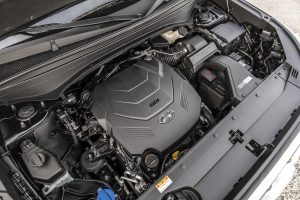 Frankly, this is a perfect family cruiser. It's roomy, quiet, comfortable and offers great value for the money.
Comparables Include: Kia Telluride, Honda Pilot, Ford Explorer.
Without a doubt, the 2020 Hyundai Palisade is one of the most stylish, sleek and engaging to drive SUV's to come out of Hyundai. It was a big hit for me and I am sure, it will be the same for you.
The Essentials:
MSRP: $46,400.00                                                             MSRP (As Tested): $47,605.00
Fuel Economy (Observed): 19 MPG
Engine: V6, 3.8 liter, 291 HP & 262 Lb/Ft of Torque
Popular Options: Carpeted Floor Mats: $160.00
Please visit: www.hyundaiusa.com
* Photos furnished by Hyundai