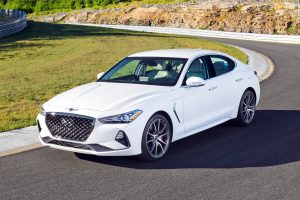 Genesis G70 RWD 2.0T Sport (2020)
Genesis is sending a strong message to the established luxury brands from Germany and Japan with their exciting product portfolio which includes the recently introduced G70 sport sedan among others and the all new, three-row SUV called the GV80 from the summer 2020 on. It is very clear that the Genesis brand is a new page in the luxury vehicle handbook.
The elegant, sinewy design of the Genesis G70 creates a sedan that looks and feels right and is truly gorgeous.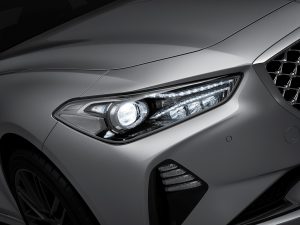 It's easy to see that the BMW 3 Series was the main bench-mark car that Genesis aimed for and they got it. The new corporate grille is large, bold and makes a statement. Anchoring both front corners are a pair of sleek and modern headlights and turn signals that look like fine jewelry on a beautiful lady. The side silhouette gives an impression of a sleek and elegant sedan, featuring an ornamental chevron in the front fenders. I don't particularly care for it, but without it, the G70 would not be complete. So, I guess I do like it after thinking it over. The rear of the G70 is equally stylish, offering streamlined taillights and a stylized trunk lid. Below the bumper there are dual, side-by-side exhaust tips on the right edge that complete the look.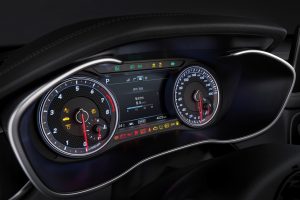 Once inside, you are greeted to a cabin that's well-appointed and designed, yet restrained and understated. This is due to the simple yet contemporary design lines. In the center, there is a large, exposed infotainment screen that looks very BMW-like. Controls are large and easy to understand and use. Instruments and center screen information is easy to read, offering multiple details on speed, tire pressure, driver alert level, trip distance as well as station selection information. Seats have adjustable side bolters and are comfortable, even for the most finicky drivers.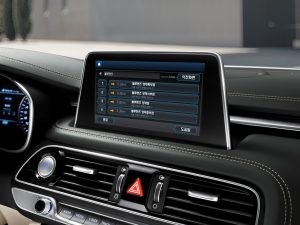 Rear seats are surprisingly tight, especially if you have anyone over 5'10" driving and you need to sit behind them. Trunk is a touch smaller than comparable cars in the segment. Our tester had a handy cargo net that worked great holding small things in the trunk.
During my week with the G70 several bystanders took notice. Most didn't know what it was, some thought it was a restyled Lexus, others simply gave the thumbs up sign and a smile. Genesis is still somewhat obscure in the US market and most people you have to add….It's the luxury brand of Hyundai. Most simply react with a shrug. Genesis needs to do more consumer awareness events.
Our test G70 came with a surprising six-speed manual transmission that I looked forward to trying. Interestingly, after a week driving this manual 2-liter turbo sport sedan, it left me wanting a transmission and clutch set up that should be more engaging. It's not a bad combination but it's not as dynamic as one would expect it to be, especially after driving manuals from Japanese and German brands.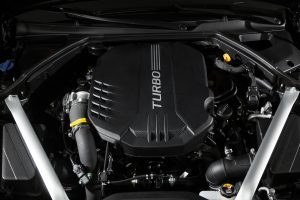 Acceleration is good from the 2-liter four motor, especially if you go deep into the throttle. Brakes are direct and linear, offering nice feedback, even under heavy braking. Overall, it's a nice sedan to drive. I found it to be comfortable, easy to park and maneuver.
The Genesis G70 is sporty, elegant and looks just right, with great value to boot. Why spend more?
Comparable sedans in this class include: BMW 3 Series, Mercedes-Benz C-Class, Alfa Romeo Giulia and Lexus IS.
The Essentials:
MSRP: $35,450.00                                             MSRP (As Tested): $39,495.00
Fuel Economy: (Observed): 23.8 MPG
Engine: Inline 4, 2.0 liter, 255 HP with 260 Lb/Ft torque, six-speed manual transmission
Popular Options: Six-Speed Manual Transmission $3,050.00
Please visit: www.genesis.com