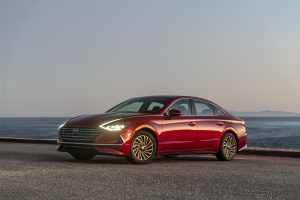 Hyundai Sonata Hybrid Limited (2021)
The 2021 Hyundai Sonata was revamped at the end of 2019 for the 2020 model year and it is a dramatic change from the previous generation's styling and design. There is a unique shark-like grille with accented lighted strips that fade back into the hood sides that giving it a modern and elegant touch. The side profile is contemporary and sleek, offering several character design lines as well as some aerodynamic tail lamps that give the Sonata a sporty feel to its look.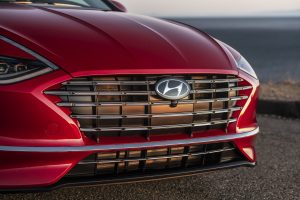 Entering the Sonanta Limited cabin, you notice a clean and sleek interior design, featuring leather seats and a larger than standard 10.25" touchscreen multi-function display. Additionally, there is a noticeably different press-button gear selector that is unique as compared to the typical lever actuated selectors, which after a few times using it, feels just fine. Behind the gear selector, there are switches for the different drive modes as well as the handy auto-hold button that I find a nice convenience when driving in heavy traffic with lots of stop lights. Overall, the fit and finish is excellent, with lots of easy to use technology. I do wish it had a tuning knob for the station selection vs a touch function though.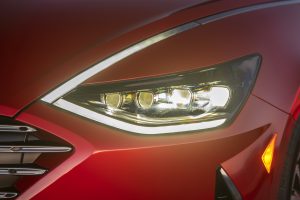 Speaking of technology, the Sonata Hybrid Limited offers, as a standard feature, Smart Sense, which is the name that Hyundai gives to its collection of advanced driving assistance systems. These include: Adaptive cruise control with stop-and-go technology; forward collision warning with pedestrian detection and automatic emergency braking; lane departure warning with lane-keeping assist and lane-centering assist; an active blind-spot warning and active rear cross-traffic warning system; automatic high-beam headlights; and a driver monitoring system.
Seats are quite comfortable and so is the elegant steering wheel, featuring a nice surface grip feel as well as easy to understand fingertip controls. Rear seats are pretty typical for this type of car in this segment, although I did notice that the back of the front seats is hard plastic and it could be a bit uncomfortable if you are long legged and happen to hit your knee against this surface when being a rear seat passenger. Trunk has ample room and its well-appointed, although curiously, it does not have an inside lid handle to close, so be prepared to get your fingers wet or dirty when closing the trunk.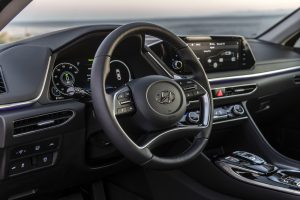 Driving the hybrid version of the Sonata is surprisingly engaging. The feel is more like a German sport sedan instead of a typical four door mid-sized sedan, offering good feedback in the turns, acceleration is direct and braking is typical of a hybrid car, yet easy to modulate. It is also surprisingly quiet, thanks to its slippery design as well as the added sound deadening material and the thicker windshield construction. One key element in a typical hybrid is how the switch happens from electric-only driving to engine and electric motor working together to accelerate or to maintain speed and in the Sonata hybrid this felt almost seamless.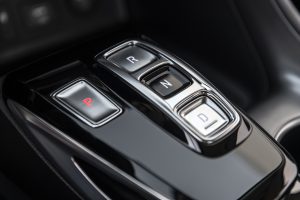 I'll admit, that when I drive a hybrid or an EV, I find myself trying to be more efficient with the powertrain by letting off the gas early, coasting more and by having a ginger touch with the throttle during acceleration. One interesting item, is the solar roof, which Hyundai says it will offer up to 2 extra miles of range daily. This is a nice way to harness free energy from the sun and use it towards better overall economy.
If you want an up-to-date, stylish high-efficiency family sedan, with all of the technology and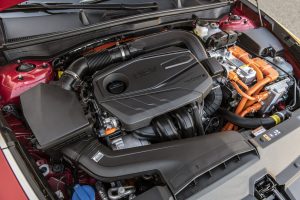 safety features we've all come to expect, then the 2021 Hyundai Sonata Hybrid should be on your short list of candidates.
The 2021 Hyundai Sonata Hybrid Limited, it does get better with age.
Competitors include: Honda Accord Hybrid, Toyota Camry Hybrid, Kia Optima Hybrid
The Essentials:
MSRP: $35,300.00                                             MSRP (As Tested): $35,750.00
Fuel Economy (Observed): 44.6 MPG
Engine: Inline two-liter, four-cylinder hybrid engine and a 39 kW motor, 192 HP combined
Popular Options: Auto-dimming mirror with HomeLink: $295.00, Carpeted Floor Mats: $195.00
Please Visit: www.hyundaiusa.com
*Photos furnished by Hyundai