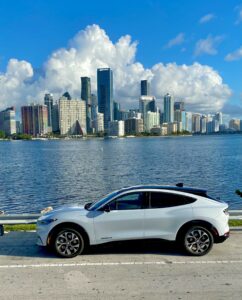 Ford Mustang Mach-E Premium AWD (2021)
We are all creatures of habit and embrace familiar things around us. The classic Ford Mustang is exactly that. Been around a while (we are the same age) and its familiar. That's fine, but why sit still and live in the comfort zone? So, Ford did the unexpected and came out with a fully electric crossover and named it with not only one, but two familiar Ford names. Mustang Mach-E
The Mach-E is an all-new, five seat electric crossover, offering two battery sizes as well as rear-wheel or all-wheel drive configuration. The model we drove, was the Mach-E Premium AWD with the optional, larger, 88 KW/hr battery that offers just short of 300 miles range. The design is fresh and welcoming, featuring a long, sloping hood with a dramatic front fascia that prominently shows off the iconic galloping horse logo.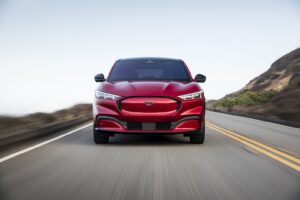 Under this large hood is the "frunk" which is nothing more than a front trunk with space for small soft-sided bags or other items you may want to keep away from the rear cargo area. The roof curves back, integrating nicely with the full-sized panoramic, fixed glass roof that ends up just in front of the rear spoiler. The motorized hatch opens into the well-appointed cargo area, which can be made bigger by folding the second row of seats forward. The wheels on the Mach-E we drove, are the optional 19" alloys with accented paint. These looked a bit more aggressive and filled the wheel wells nicely, which made the Mach-E look sportier and more premium.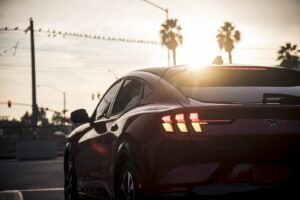 Opening the front doors is a unique experience. You press a button and the door clicks open. To pull it you use an aerodynamic flap that is a nice touch. Climbing inside the cabin, you instantly notice an interior that is designed completely different than any traditional Ford. There are unique soft touches around the dash as well as the signature 15.5" upright infotainment screen that features Ford's SYNC technology and has a neat trick: A cool rotary volume knob on the actual glass screen. Additionally, we liked that there is an actual digital gauge cluster on the dash displaying range, speed, lane departure warning lines as well as lights, and other information indicators.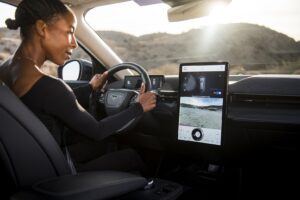 Well done Ford! There is a rotary gear selector in the center area ahead of the arm rest. It's a bit awkward at first, but you quickly get used to it and becomes second nature to use. There is sumptuous stitched leather all around the interior that once again, give the Match-E a touch of premium. There are ample storage areas through the cabin as well as some nice features such as multiple ambient lighting selections as well as wireless phone charging. Rear seat is comfortable for three, specially since there is no transmission tunnel hump.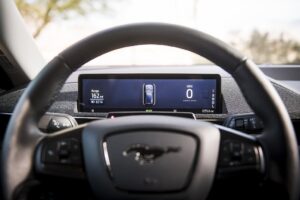 Driving the Mach-E will put a smile on your face if you have never driven an electric car. There is instant, effortless acceleration from a standstill and at cruising speeds, the Mach-E is serenely quiet and smooth. This is a superb commuter car, nothing better than to go home in a quiet smooth car after a busy day at work. We did notice there is a lack of feedback from the steering, which is typical for most electric steering systems. Of course, I am jaded as I get to drive classic sports cars on weekends that have superb, communicative steering. Brake pedal can work like most non-electric car brakes, or you can set up the regenerative, single pedal driving option in the settings. Acceleration is incredible, specially for those that have never been in an electric car.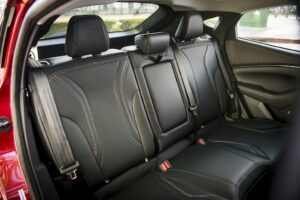 There is an effortless push that simply leaves a smile in your face every time you do it. I also liked the instantaneous power delivery, great in situations when you have an open spot in traffic that you want to change lanes and all you do is simply point, shoot and presto, you are in the lane you want to be! It's that easy. Cornering is surprisingly flat, but you do feel the heft of the car as you come around a corner. Aggressive braking is linear and easy to manage, even after several hard-braking stops. The question after a week driving the Mach-E is, would I own one? Absolutely.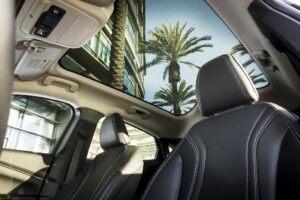 Even my sister, who loves European coupes, would consider owning a Mustang Mach-E. This is a great all-around vehicle. Comfortable, efficient, real-world usable and stylish.
The Mustang Mach-E is not a traditional Mustang in name, yet it still offers its own unique character and personality.
Comparables include: Tesla Model Y Performance, Polestar
The Essentials:
MSRP: $49,700.00                                                             MSRP (As Tested): $55,800.00
Fuel Economy (Observed): 95 MPGe
Engine: 88 KWH with Single-Speed Transmission
Range: 280-295 Miles
Zero to 60 MPH: Right at 5 seconds
Popular Options: 19" wheels
Please visit: www.ford.com
*Photos furnished by Ford and the author