Mazda 6 Grand Touring (2014)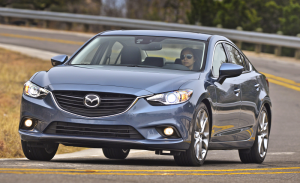 Pleasantly surprised! This was the phrase I used over and over during my week with the gorgeous red Mazda 6.  In the competitive high-volume mid-sized sedan market segment, most offerings are bland and uninteresting. Yet the Mazda 6 has a subtle yet distinctive appeal that makes it stand out from the crowd. Think about it, de-badge the competitive sedans and most, if not all, will be hard pressed to identify.
Approaching the Mazda 6 from the front, you instantly notice the elegant front fascia. Gone is the "grin" bumper of the previous generation, replaced instead with a more serious and cohesive look. The fenders and side profile are heavily influenced by Mazda's TAKERI concept as well as the KODO "Soul of Motion" design language. What does this all mean? A fresh-looking sedan that has exuberant curb appeal.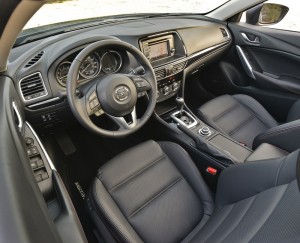 Inside, the driver and passengers are greeted with top-notch materials and a fit and finish that are instantly noticeable. Seats are sporty yet quite comfortable. Rear seats are fine for two, snug for three. Dash and layout reminds me more of a German sports-sedan than a Japanese four door. There are driver-oriented instruments as well as a cleverly designed 5.8 inch color-touch infotainment system that offers easy to use, intuitive functions.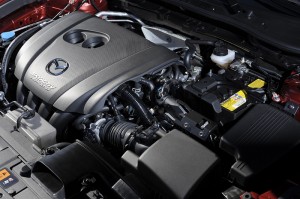 As far as engines, the Mazda 6 offers several options: The 2.5 liter, four cylinder SKYACTIV gas engine with 184 HP and 185 Lb/Ft of torque. This is the engine that was in the test car I drove and found it to be smooth, responsive and offering a good mix of power and fuel economy. The other engine that will be offered early 2014 is a diesel! Yes, a diesel! This will be a 2.2 liter, four cylinder SKYACTIV-D clean diesel. There are three trim levels offered on the Mazda 6: Sport, Touring and Grand Touring. The MSRP range from $20,990.00 to $29,495.00
How does the Mazda 6 drive? Surprisingly smooth! I thoroughly loved the quiet, comfortable cabin at highway speeds, with the ability to accelerate to pass or brake aggressively with nary a complaint. I kept thinking BMW 3 Series or Mercedes C class over and over.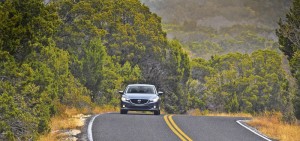 Road feedback is good, with a nice, direct feel that seems to be ubiquitously absent from most sedans on the road today. Steering wheel feels sporty, and offers a sense of quality to the fingertips. I liked the way the throttle and brake pedals work harmoniously. Many manufacturers today, make the throttle response touchy, creating an illusion of power. Mazda does a good job with the pedal feedback, thus giving the driver the ability to be smooth with almost no effort. Bravo Mazda for getting it just right.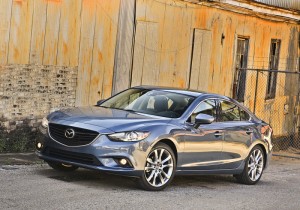 What's there not to like? Absolutely nothing! An elegant and fresh design, top quality materials, engaging to drive and at a price point that will not break the bank; the new Mazda 6 should be on every sedan buyer's short list!
The Essentials:
MSRP: $29,495.00                            MSRP (as tested): $31,490.00
Fuel Economy (Observed): 29 MPG
Engine: I-4, 2.5 liter SKYACTIV, 184 HP
Popular Options include: Mazda Radar Cruise control, GT Technology Package
Visit: www.mazda.com