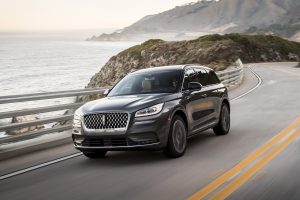 Lincoln Corsair AWD Reserve (2020)
Mention the words Lincoln automobiles to thirty or forty-somethings and most envision an elderly couple heading to the golf club in their Continental or Town Car. Or maybe, the badge engineering Ford did so blatantly in the early 2000's. Surprise! That's now firmly in the past, as Lincoln is starting to get truly serious in becoming a real player in the luxury Crossover/SUV market.
The Corsair is a Ford Escape based Lincoln, with major changes to the suspension, steering and of course design and interior look and feel. The Escape on its own, is an excellent platform to start with, so Lincoln did a good thing choosing it for the basis of the Corsair. One nice thing Lincoln has done is to go from Letters to names for its models.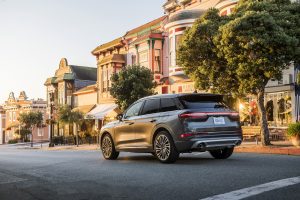 Originally, the first two letters meant "Mark" which is abbreviated as Mk. But most people didn't know this and just simply called the model by the initials, creating a difficult and often forgettable branding hodge-podge. The name Corsair is now the name to the follow-on model of what used to be the MKC. It is now a more stylish and elegant, two-row compact crossover that offers upscale amenities and a nice luxury feel, presented in a modern design. The grille is done in a mesh of smaller Lincoln logos intertwined to create a nice front end that is elegant and unique, yet subtle in presentation. Our test Corsair came with the 2.3 liter I-4, turbocharged engine, delivering 295 HP which made it lively and comfortable to drive.
A turbocharged 250 HP, 2.0 liter inline-four that came over from the previous generation MKC and is available on the base model Corsair.
Inside, you are drawn to the uniquely styled front seats, which turns out, are slightly snug for a hefty guy with a size 34 waist like me. There are simple and modern lines through the dash and center console creating an aura of luxury which we really like. The 8-inch floating display infotainment system is easy to use and understand, especially for simple tasks. A standout feature is the unique sound of the fasten seatbelt warning indicator. Instead of an irritating alarm-like racket, Lincoln came up with an elegant and pleasant warning tone that is soothing to listen, again, adding to the luxury ambience of the Corsair.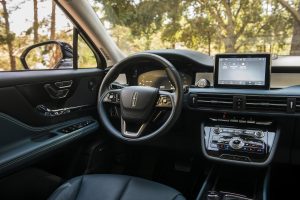 Rear seats have good leg-room and are comfortable, even for three. Cargo room is typical for a compact crossover, with lots more room if the second row of seats are folded forward. There are plenty of cup-holders and charging ports throughout the Corsair, great for long trips with the family. One thing to note however, several of the nice amenities and technologies are part of packages that are quite complete but pricey. Pick and choose these carefully, otherwise the price will balloon quickly.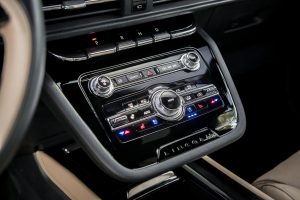 Driving the Lincoln Corsair is pleasant and with little drama. There is a noticeable sense of smoothness and quiet, even at fast highway speeds, thanks to the sound deadening techniques and engineering that went into the windows, windshield and firewall. There are several driving modes that the driver can select from depending on conditions or simply their mood. These are: Excite, Normal, Conserve, Slippery, and Deep settings. There is a large array of electronic aides that are there to protect, save, or nudge you during the drive. At times, they can be a bit intrusive, yet they are worth having. Acceleration is smooth and powerful and zero to 60 MPH occurs in 6.0 seconds.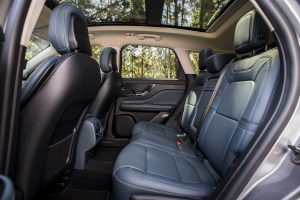 Brakes are linear and offer good modulation, thus rewarding the driver and the passengers with comfortable traffic driving.
Comparable models include: Cadillac XT4, Mercedes-Benz GLC, BMW X3, Lexus NX and Acura RDX
The Lincoln Corsair is an attractive and comfortable luxury compact crossover that will satisfy even the most discerning pirate.
The Essentials:
MSRP: $46,965.00                                             MSRP (As Tested): $59,660.00
Fuel Economy (Observed): 24.2 MPG
Engine: Inline 4, 3.2 liters 295 HP Turbocharged
Popular Options: Heads-up display, Ceramic Pearl Metallic, 20" Wheels
Please Visit: www.lincoln.com
*Photos furnished by Lincoln