Though the term "sport sedan" used to describe passenger cars with more lively driving characteristics would seem to be a recent thing, it actually dates back to the 1930s. That's when British automaker Rover produced performance versions of its "saloon" cars, the Rover 14 and Rover 16.
It wasn't until about 50 years later, however, that we really learned what a sports sedan can be about. In 1984 BMW debuted what has become the iconic vehicle of the segment by showing the 1985 M5 at the Amsterdam Auto Show.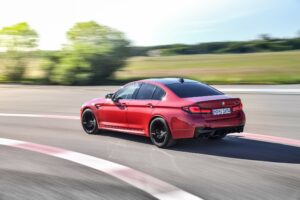 It was handbuilt and the fastest production sedan in the world at the time, though by today's standards the numbers are quite modest. According to an account at the website cars-directory.net, horsepower in models exported to the United States was 256 (10 less than those in Europe) with a top speed of 148 mph (153 in Europe) and zero-to-60 time of 6.5 seconds (6.2 in Europe).
Compare those to the numbers for the 2021 BMW M5: 600 hp at 6000 rpm, 553 pound-feet of torque from 1800 to 5690 rpm, an electronically limited top speed of 155 mph (190 mph when equipped with the M Driver's package), and zero-to-60 mph in 3.2 seconds.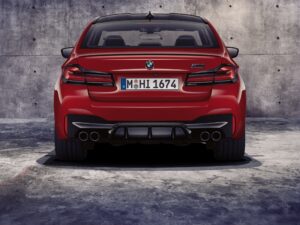 Or, if you want to kick it up a notch, the M5 Competition sedan is tuned to produce 617 hp at 6000 rpm and has a slightly wider torque band (1800-5860 rpm) and a tick quicker zero-to-60 clocking of 3.1 seconds. The average human blink is 0.1 second.
A 4.4-liter twin-turbocharged V8 rests under the hood. It is mated to an 8-speed automatic transmission (yes, it has upgraded performance settings and paddle shifters for manual gear selection) that sends power to all four wheels, though you can select 2WD mode if you prefer. (BTW, the manual transmission that once was offered for the U.S market was discontinued starting with 2018 models.)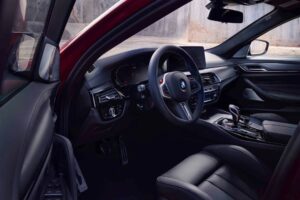 It probably goes without saying, but I'll say it anyway. Fuel economy numbers will send shock waves through Sierra Club members. Figures of 15 miles-per-gallon city, 21 highway, and 17 combined earn the M5 a Gas Guzzler's tax of $1,000, but with a starting price of $103,500, I'm not sure a buyer would notice..
Though all that power and performance are impressive, lest we forget this is, after all, a BMW. A BMW, particularly the M models, is about power as the "ultimate driving machine," but it is not all about power. The interior is elegant with lots of cushy leather all about the spacious cabin.
Safety systems include adaptive LED headlights with automatic high beam, rear-view camera, park distance control, and blind spot assist.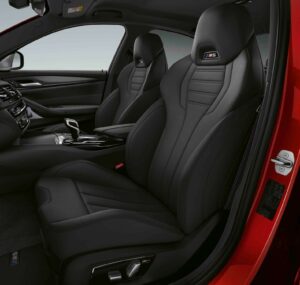 Options that add much thousands of dollars further enhance the luxury.
My test vehicle for the week added a Competition Package (M Sport Exhaust, 20-inch wheels replacing the standard 19s, M seat belts, and couple of special interior design accents) for $7,600; an Executive Package (self-closing doors, surround-view camera), front massaging seats, rear sunshade, and more) for $3,350; M carbon ceramic brakes (you've got to harness all that power) for $8,500, and a Driver's Assistance Package for $1,700.
Silverstone premium leather also added $3,500, the special Bluestone exterior color added $3,600, and the Bowers & Wilkins sound system tacked on $3,400, an option I would pass on because a Harman Kardon Surround Sound System is standard.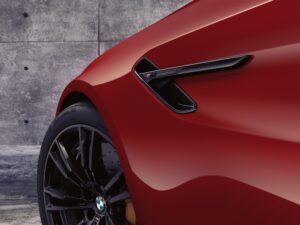 All that plus the gas guzzler's tax and $995 destination and delivery fee brought the total to $139,645.
The original BMW M5 back in 1985 was available for about 80,000 German marks, which, assuming I have read the tables correctly, translated to about $27,200 in American dollars at the time or about $67,508 in today's dollars. Power numbers haven't been the only thing that have gone up on the M5.
What I liked about the 2021 BMW M5: The interior is richly appointed and the seats, especially that for the driver, are comfortable and supportive. The 360-degree view of your car is much appreciated as well. The exhaust notes are sweet and ear-pleasing and not overwhelming.
What I didn't like about the 2021 BMW M5: I miss the manual transmission and the gear shifter pattern on the console is kind of annoying. The infotainment system has been simplified, though working your way through the multitude of functions can still be a distraction. You can also make many selections via the touchscreen, though that can be distracting as well, or voice or gesture.
Would I buy the 2021 BMW M5? Want top-edge performance in a luxury sedan? Then this car is definitely for you — assuming your budget can afford the six-figure price tag. If you can, you probably will not be bothered by the gas guzzler tax.
*Photos furnished by BMW