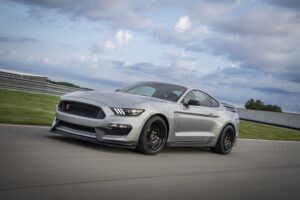 We are way past the midpoint of the year, football season is rapidly approaching, and any day now Christmas decorations are going to be showing up at Walmart, yet my review subject for today is a vehicle from 2020, the Ford Mustang GT350R.
Two reasons for that.
No. 1 is that the 2020 Shelby GT350R version of the versatile Ford Mustang is one of the most respected performance coupes ever and worth this late look.
No. 2 is that despite its iconic Muscle Car status, there is no 2021 version. Sadly, Ford has discontinued production of the Shelby GT350 and GT350R supposedly to put more emphasis on its bigger brother, the Shelby GT500. So it's review the 2020 GT350R now or forget about it, and nobody should forget about the 2020 Shelby GT350R.
Make that three reasons. The 2020 Shelby GT350R also was the vehicle that recently showed up in my driveway!
With a lineage that goes back to the mid-1960s when Ford turned to the legendary Carroll Shelby to boost performance of its wildly popular Mustang, the Shelby GT350 has an interesting though somewhat spotty production history.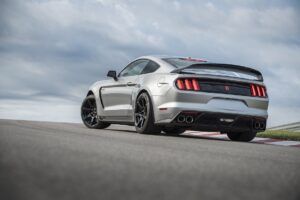 They quit making the original Shelby Mustangs after 1969, though leftovers from that year carried 1970 badging. Ford and Shelby didn't get back together until over 35 years later when their collaboration produced the 2007 Shelby GT and Shelby GT500. The GT350 came a few years later but was around only for 2011 and 2012, before going only on a brief hiatus. The GT350 and GT350R returned as a 2016 models.
The Shelby GT350R, which this review is based on, is the race-specced version of the GT350. Among other refinements, the GT350R gets 19-inch carbon-fiber wheels and the suspension is stiffer to accommodate track demands.
The carbon-fiber wheels give the GT350R about a 60-pound weight advantage over the GT350's aluminum wheels, about half of the 130-pound overall difference between the two. The GT350R weighs in at 3,662 pounds, the GT350 at 3,760, according to specs available at cjponyparts.com. The site also reports a zero-to-60 mph clocking of 3.9 seconds for the GT350R to 4.1 for the GT350.
The nice thing is that Shelby GT350R is as comfortable on city streets and expressways as it is in competition. It is a kick to drive even if you don't take it out the track.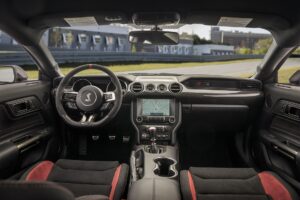 Both the Shelby GT350 and Shelby GT350R get a 5.2-liter V8 engine that is tuned for 526 horsepower and 429 pound-feet of torque. That power gets to the rear wheels via a 6-speed manual, the only transmission offered.
EPA figures, if you care, are 14 miles-per-gallon of 91 octane fuel in the city, 21 highway, and 16 combined, though in my brief sojourn of both city and highway driving the computer showed by best at a ticker under 16 mpg, which earns it a $1,300 gas guzzler tax.
The Shelby GT350R is remarkably civilized when it comes to creature comforts.
Standard equipment includes a synthetic Alcantara-wrapped steering wheel, dual zone electronic climate control (there are also buttons to adjust the blower and temperature), suede Recaro sport front seats, tilt-and-telescoping steering wheel, keyless entry with push-button start, Ford's Sync3 infotainment system, projection headlamps, a quad-tip dual exhaust that will blow your ears off, dual vanity mirrors, and a carbon fiber rear spoiler.
Design touches include a cobra image in the steering wheel hub, a bow to Shelby's
classic Cobra heritage.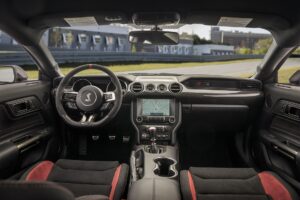 With the backseats out, passenger capacity is listed as only two, though that space probably could accommodate a rider in a pinch, even if a bit uncomfortable. The cabin's rear space also can be used as extra stowage, though at 13.5 cubic feet the trunk is fairly spacious as well for a coupe.
Starting MSRP for the 2020 Shelby GT350R was listed at $59,140. Options that included packages for voice activated navigation, a 12-speaker sound system, and blind-spot cross-traffic alert ran the total for my test GT350R to $78,990 with the $1,195 destination and delivery included.
A cursory check at Carfax.com showed prices to still be running closed to that, which is evidence even more of the Shelby GT350R's enduring appeal and popularity. You're not just buying transportation. You're purchasing a legend.
What I liked about the 2020 Ford Mustang Shelby GT350R: The performance, obviously, is the biggest thing the GT350R has going for it, but it's not the only thing. Unlike some models built for the track, it is equally at home on city streets. It's not quiet — far from it — but it has a comfortable, sure-footed ride. The Recaro sport seats give good support (though my usual companion found the passenger side a bit restrictive). The Sync3 system for infotainment functions is user-friendly, and the 8-inch touchscreen is a good size.
What I didn't like about the 2020 Ford Mustang Shelby GT350R: Not surprisingly it is very thirsty for every day commutes. But you are going to make your co-workers extremely envious when you show up with this!
Would I buy the 2020 Ford Mustang Shelby GT350R? My budget won't allow for a car like this that really needs to be taken out on the track to be appreciated. But if yours does, by all means it should be at the top of your list.
*Photos furnished by Ford