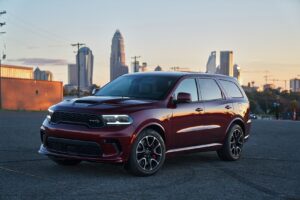 The big news for the Dodge Durango this year is the introduction of the SRT Hellcat model at the top of the SUV's portfolio for 2021.
Yes, for a limited time (more on that later), Dodge is offering the mid-size Durango with the 710-horsepower, 6.2-liter supercharged HEMI V8 engine under the hood. With its 645 pound-feet of torque, it zips from zero-to-60 mph in 3.5 seconds, according to the company, and has recorded a time of 11.5 seconds for the quarter-mile as certified by the National Hot Rod Association.
Top speed is 180 mph.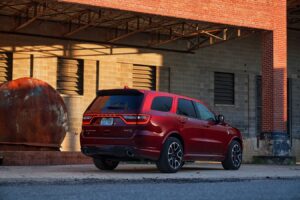 The company bills is as a "Muscle Car for families" with three rows of seating to go with all the power, though seating is not the seven or eight capacity as often with three-row vehicles, but six (2+2_2).
And it's a workhorse with up to 85.1 cubic feet of stowage pace behind the front seats with the second and third rows folded and a best-in-class towing capacity of 8.700 pounds. Capacity with the third row seats folded is 43.3 cubic feet and 17.2 with those seats upright.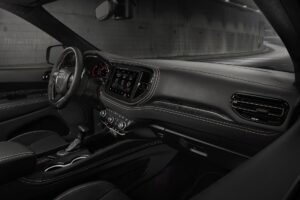 Mostly, though, the 2021 Dodge Durango SRT Hellcat is an attention-getter just sitting still with special logos bedecking the exterior and the booming exhaust announcing its presence with authority.
The Hellcat also has some other features that distinguish it from the other trims (SXT, GT, R/T, Citadel, and SRT 392).
These include SRT Red Brembo brakes with two-piece front rotors, a high performance exhaust, adaptive suspension, a unique spoiler, and Sports seats with upgraded leather. An SRT package also includes a full day of instruction at the Bondurant High Performance Driving School in Chandler, Arizona.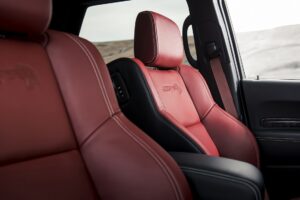 Standard features on the 2021 Dodge Durango SRT Hellcat include UConnect 5 navigation with a 10.1-inch touchscreen, Apple CarPlay and Android Auto connectivity, proximity key with push-button start, remote start, power liftgate, 4G WiFi hotspot, heated and ventilated front seats, special settings for selectable drive modes (including one for Track), LED headlights with automatic assist, LED fog lights, and a "performance" hood.
All-wheel drive is standard on the SRT Hellcat and SRT 392 models.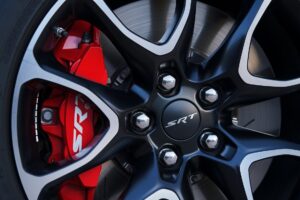 The Durango SRT Hellcat is not without its flaws, however, starting with the price tag. Base MSRP is $80,995 , and safety features like blind spot warning with cross-path detection come in option packages that add to that.
My test vehicle added high-performance Laguna leather seats, a Customer Preferred Package that included a rear-seat entertainment system with Blu-Ray video screens, aTrailer Tow Group, Premium Interior Group (suede headliner, premium instrument panel, and carbon-fiber accents), red seatbelts, the aforementioned second-row console, and a 19-speaker Harman Kardon sound system ran the final total to $92,040 including the $1,495 destination delivcry fee.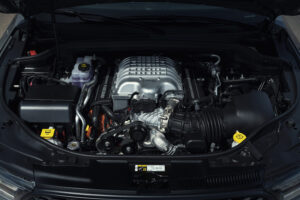 Earlier there was a mention about "limited production." Dodge limited output to 2,000 units, started taking orders in November,, and sold out in late January, though some dealerships also were allotted a limited number. Perhaps you'll be the "lucky" one.
What I liked about the 2021 Dodge Durango SRT Hellcat: Obviously, the performance is impressive. Infotainment features are plentiful and very user-friendly. The interior is nicely appointed and comfortable. Rear stowage space is pretty good even with third-row seats in place). An optional console gives backseat passengers armrests, extra storage, and cupholders.
What I didn't like about the 2021 Dodge Durango SRT Hellcat: The engine, not surprisingly, is very loud and the supercharging whine can be annoying as it is spooling up. Not surprisingly, it also drinks premium fuel (91 octane required) at an alarming rate. EPA ratings are 12 miles-per-gallon city, 17 highway, and 13 combined, though the computer tabbed my test vehicle for the week at less than 10 miles to the gallon in mostly urban driving. It is listed as a mid-size SUV, but it's big enough that it is a tight squeeze in some mall lots. The grab handles on the passenger side would be better placed on the A-pillar than overhead. Much of the space in the storage bin on the front console is taken up by the DVD slots for the rear-seat entertainment system.
Would I buy the 2021 Dodge Durango SRT Hellcat? Probably not. I appreciate its performance, but not at a plus-$80,000 starting price. That's a big jump over the available V8 in the R/T and SRT 392 trims, but, of course, with 8,700 pounds, the Hellcat has more than twice the 3,500-pound towing capacity of those two trims.
*Photos furnished by Dodge