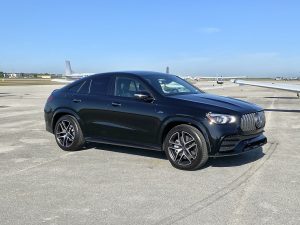 Mercedes AMG GLE 53 Coupe (2021)
Are you feeling as if there are not many sports cars to choose from any more and all SUV's are nothing more than giant tuna clippers that are dull to drive? Then go and test drive the 2021 Mercedes-AMG GLE 53 Coupe. It will make you a convert!
The famous Mercedes-Benz AMG division, based in Affalterbach, Germany, is quite active in developing as many high-performance SUV's from the regular Mercedes line as it can and the updated GLE 53 is the latest offering from the speed Gods of AMG. Mr. Tobias Moers, who was the Mercedes-AMG CEO at the time, confirmed the AMG GLE 53 Coupe 4Matic+ during the 2019 Geneva Auto Show and gave a quote that tells us what AMG's mission is: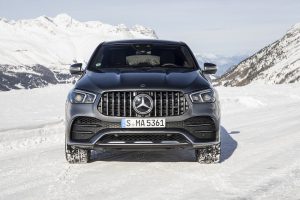 "As the inventors of the performance SUV, it is important to us to continue to be at the top with the new generation of the GLE when it comes to innovations, driving dynamics, individuality and design." Sounds exciting!
The GLE is classified as a mid-sized SUV and the AMG version is even more aggressive looking with an SLR inspired, 15 vertical strips grille, an aerodynamic splitter, larger AMG-specific wheels, front and rear bumpers, oversized exhausts and the overall athletic stance. The front and side profiles are purposeful and sporty, although I find the rear looks a bit plump and somewhat exaggerated in its design, nevertheless, it still makes a dramatic AMG statement.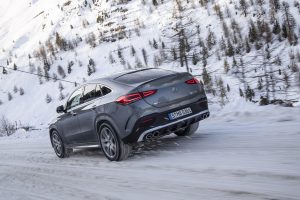 Inside you are greeted by an almost-over-the-top array of customizable technology that is well presented in the different areas of the rectangular screen. Literarily, I was blown away by the number of items each of the menus have. One of my favorites is the electronic seat adjustment. Simply put in your height, mine is 5'11", and the seat and steering wheel adjusts perfectly to my size. I tried it, and it was just slightly off from my typical, favorite seating position. One thing I did notice is the restricted head room I had when getting into the car, this is due to the pronounced slope of the front of the roof. For those shorter than my height, it should not be an issue. Seats are covered in sumptuous leather and feature distinctive, contrasting red stitching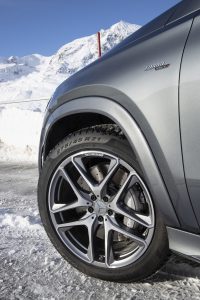 and red seatbelts. Every touch point feels luxurious regardless of the material. Rear seats are comfortable for almost any sized passenger, ample room for two, a scooch tight for three. Getting in and out is quite manageable even for those that are short. Rear cargo area is reached via a large motorized hatch and is equally luxurious with top notch materials throughout. I was surprised at the amount of usable space the cargo area has.
Starting the engine on the GLE 53 is interesting, as there is basically no traditional starter whine. It just simply comes to life. Mercedes-Benz has been aggressively using 48 volt and starter-alternator technology to maximize power and efficiency through a mild hybrid system, don't worry, you won't even notice it.
In fact, there is so much technology in the GLE 53 Coupe that it needed a listing.
There is an active roll-stabilization with two electro-mechanic actuators
Suspension is an AMG Active Ride Control with continuously adjustable damping & pneumatic self-leveling
Brake-wise, there are four large, AMG engineered ventilated/perforated discs
An AMG Dynamic System that once Sport and Sport+ modes are selected, the vehicle lowers for more aggressive performance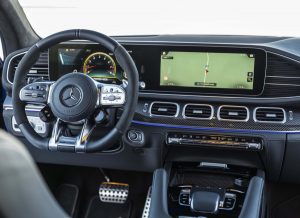 So, what is it like to drive? Simply superb, that's all I really need to say. Make no mistake, this is a heavy SUV but with all the technology working together the AMG GLE 53 Coupe has incredible performance, steering wheel feedback, made more special by the optional Dinamica AMG wheel, neutral handling and a throttle that feels as if it was connected to a turbine engine. I could not stop playing with this car! There is an off-ramp that I know well and use it to test every car I get. On this ramp, the surface right at the apex area is rough and slightly broken and it will show what the suspension is really made of when cornering through it. The GLE 53 Coupe simply ate it up and handled it incredibly well. Steering response and feedback is surprisingly good,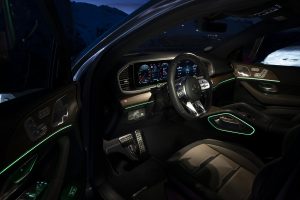 making this SUV feel more like a performance sports car. Brake and throttle feel is well balanced, making silky smooth transitions between pedals a snap. There is a menu for configuring the performance capabilities and we found that "Comfort" and "Sport" are perfect for daily driving, there are also "Sports+" and "Race" settings as well, in case you want to feel the all-out capability of the GLE 53 Coupe. Acceleration is superb, both 0-60 MPH as well as a full throttle, sprints to triple digit territory, offering a throaty and sporty rumble from the twin turbo inline-six cylinder 429 HP engine that sounds more V8-like than an inline six.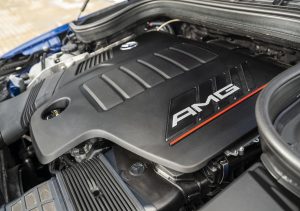 Stopping from any speed is direct and incredibly powerful, thanks to the large AMG engineered brakes. I just could not get enough of this vehicle and I hated to see it go away after only a week with it.
Would I buy one? Absolutely.
The 2021 AMG GLE 53 Coupe is the modern interpretation of a sports car, that doesn't have to look like one.
Comparables include: BMW X5 XDrive 50i and the Audi SQ7
The Essentials:
MSRP: $76,500.00                                             MSRP (As Tested): $84,105.00
Fuel Economy: (Observed): 19 MPG
Engine: 3.0 liter, Inline-Six, turbocharged with EQ Boost rated at 429 HP & 384 Lb/Ft Torque
Popular Options include:
Natural Grey Oakwood trim: $160.00
DINAMICA AMG Steering wheel: $500.00
RWE AMG 21" Wheels with black accents: $200.00
AMG Performance exhaust system: $1,250.00
MBUX Technology Package: $1,450.00 and several other options.
Please visit: www.mbusa.com
*Photos furnished by Mercedes-Benz and the author