Lincoln Navigator 4X4 Reserve (2018)
Lincoln continues its renaissance at a fast pace with complete redesigns, re-introductions, reveal of new models and the renaming of revamped ones with elegant names themed around the concept of travel. Lincoln is serious and they want the market to know it.
The Lincoln Navigator was completely and thoughtfully redesigned for the 2018 model year and it's a stunningly good looking, large, three-row luxury SUV.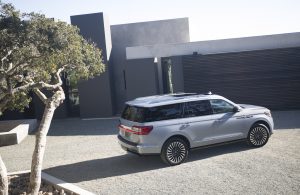 The Navigator exudes tremendous presence from every angle. Design lines and styling has evolved into neater and more contemporary than at any time in recent memory, with an elegant flow to the look that was clearly absent, until now. The front grille has been completely redesigned to fit the evolving Lincoln corporate look. This new signature grille design debuted on the Continental and has been making its way into all the other products within the Lincoln line. Let's look inside. As you open any of the doors, a full-sized convenience runner extends, making entry and exit an easy affair even for shorter people. One thing I really liked, is the redesign of the ugly muffler that looked totally out of place in a large, luxury SUV like the Navigator. Now the rear is clean and tidy with only a discrete tail pipe tip showing.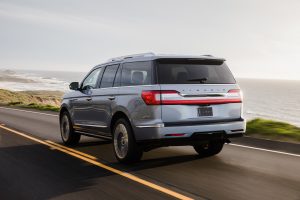 Another nice change is the concept car-like stylized tail lights. These look like elegant jewels that accessorize a fashion model and not some ungainly afterthought. Bravo Lincoln!
Once inside, you are greeted with what seems to be acres of leather and premium soft-touch materials all over the cabin. Seats are similar to the ones used on the Continental which have a modern, high-end feel to them. Center console is cavernous and there are plenty of convenient cubby holes and storage areas in addition to the convenient cut holders. The instrument dash is minimalistic elegance, with digital displays that are easy to read.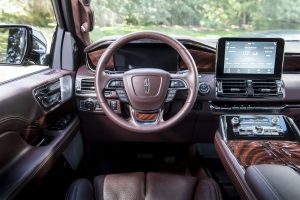 Controls and switchgear are easy to understand and have a premium feel to them, which is a subtle, yet important part of the experience of having a vehicle like this.
The version of the Navigator we tested had a bench second row which is nice if you need to carry lots of people, however, nothing beats the large comfortable, individual captain's chairs, which are also available. Third row is easy to reach and is surprisingly comfortable.
One key feature I really enjoyed was the immediate and dynamic performance of the Ford engineered Eco-Boost twin-turbo V6. There is instant reaction and easy to accelerate or decelerate in total smoothness.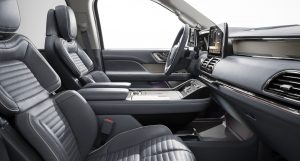 That's a key feature that makes the luxury of the vehicle stand out. For example, driving around Miami, you are bound to end up in several stop-and-go traffic areas and the Navigator makes it easy to do effortless stops with total ease. Your fellow travelers will love you for that.
Living with the Navigator for a week was much easier than I expected. I could put it in my garage, which has a tight turn-in and door width, a breeze thanks to the back-up camera and the large side mirrors. 60-70 MPH cruise speeds is where this large SUV hits its stride, offe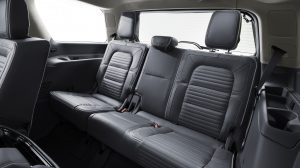 ring supreme comfort, a quiet cabin and superb stability. These are key features that create a luxurious experience every time it gets driven.
If you haven't looked at the all new Navigator, you should! Competitors include: Cadillac Escalade, Infiniti QX80 and Mercedes-Benz GLS.
The Essentials:
MSRP: $81,205.00                                             MSRP (As tested): $85,565.00
Fuel Economy: (Observed): 18 MPG
Engine: V6, 3.5 liter, twin turbo, 450 HP
Popular Options: 20 speaker sound system with subwoofer, metallic paint, premium painted wheels, Panoramic vista roof
Visit: www.lincoln.com