Jaguar F-Type SVR (2017)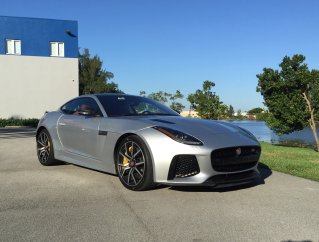 The Lockheed Constellation, a Rolex Presidential the Lamborghini Huracan and the Jaguar F-Type. What is common about these? Easy, their perfect dimensions and timeless beauty. Every once in a while, a car comes along that looks and feels just right and the Jaguar F-Type is exactly that.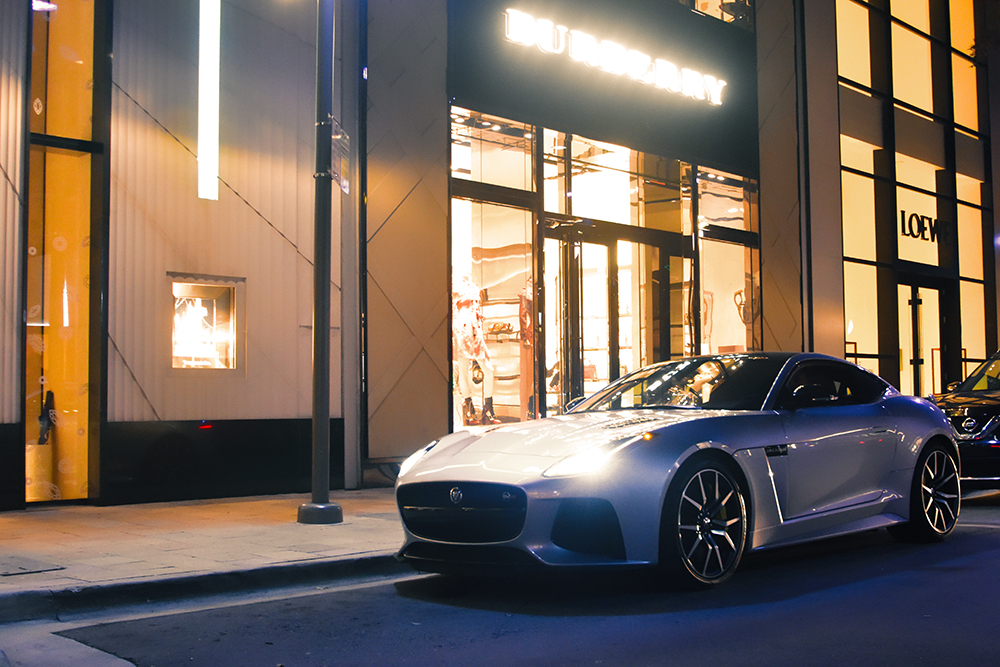 I recently spent a wonderful week not just with an F-Type, no, it was with Jaguar's high-performance version called the F-Type SVR. For those neophytes that don't know the SVR moniker, think of it as the AMG or M Division of Jaguar. Yes, it's an F-Type on steroids. What's different? Start off with the aerodynamic pieces throughout, culminating with a gorgeous carbon-fiber wing on the back. Yes, a rear wing on a Jaguar, and it looks great too! The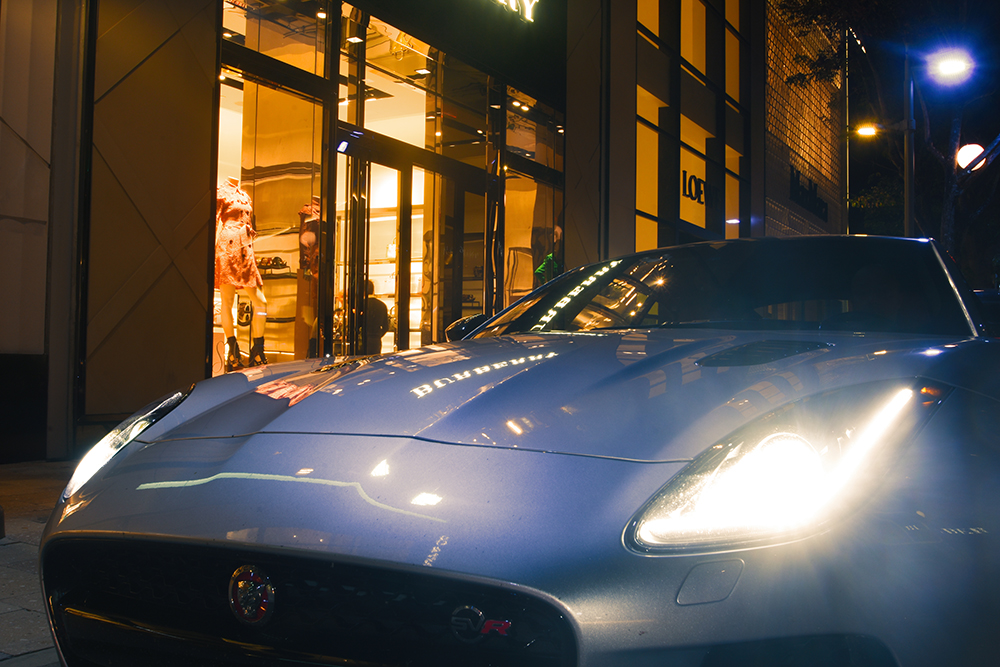 engine is a Supercharged V8 with 575 glorious horsepower on tap, powering Jaguar's Instinctive All-wheel Drive System. There are the sumptuous, 20" wheels that discreetly hide the impossibly large and supremely capable carbon-ceramic brakes, as well as the elegant, oversized quad exhaust tips. The SVR means serious business in an understated, elegant way that is quintessential British. The jaguar F-Type SVR is like wearing a Tuxedo but with a summer jacket.
Inside, you are greeted with gorgeous cross-stitched sports seats as well as a special steering wheel and carbon fiber trim accents throughout. Trim and switchgear are what one would expect from this caliber of coupe. Fit and finish is noticeably improved as compared to earlier cars from Jaguar. Good show old chap! Pressing the pulsating-in-red start button gives an instant growl from the 575 HP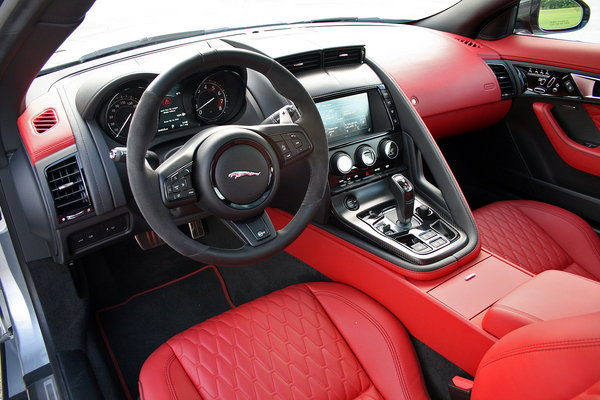 engine, a clear sign of things to come during the drive. The common to Jaguar, PRNDS rotating orb comes up from the center dash, adding to the experience. There are several driving options and of course, the sports dynamic setting being the most interesting, offering the loudest exhaust note, offering plenty of downshifting popping and burbling sounds emanating from the rear. Additionally, there is a "snow setting" which if its needed in sunny South Florida, we have bigger troubles to worry about. The paddle shifters are fun to use, and create sporty downshifts from the silky-smooth 8-speed transmission, as well as more of that amazing engine sound. The roof is a full-sized smoked, panorama glass with a manual sun-shade that fits any mood perfectly. Driver and passenger space is a smidge tight, but this is part of the F-Type experience. The well-appointed trunk is accessed through a rear hatch and its sufficiently large for several bags of groceries or a couple of soft-sided weekend bags.
Driving the F-Type SVR is a delight not only for the senses but also for the soul. Suspension feedback is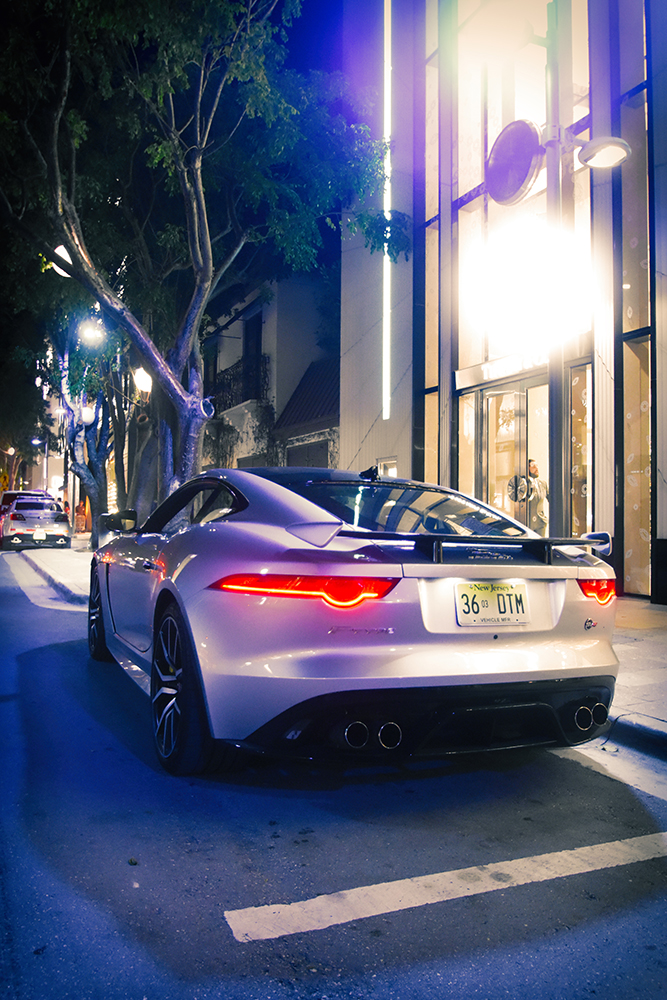 telepathic and acceleration is nothing short of breathtaking and effortless, regardless of the speed you are going. Then there are the brakes. Yes, a bit touchy when you are getting acquainted with them, but oh so complainant when you need them aggressively. We tried several 60-0 stops and the brakes felt as if the proverbial anchor was thrown out the back every time. I'm sure I could have done this exercise until the car ran out of fuel and the results would have been the same. Perfect stops, time after time. I simply could not get enough of the F-Type SVR, even electing it as the car of choice for a road trip to Naples, Florida to see a car collection. Of course, the biggest surprise of having the F-Type SVR for the week was when I pulled up to a stop sign and a trio of young teens was standing on the curb. Being a tough audience I didn't expect anything, well I was wrong, all three looked the F-Type front to back and gave me the thumbs up. You can't get better than that.
If you are searching for what will likely become automotive art, then the 2017 Jaguar F-Type SVR is the artwork you need to have in your collection.
The Essentials:
MSRP: $125,950.0                                MSRP (As tested): $126,945.00
Fuel Economy (Observed): 21 MPG
Engine: V8, 5.0 Liter 575 HP Supercharged
Popular Options & Packages: All inclusive
Visit: www.jaguar.com