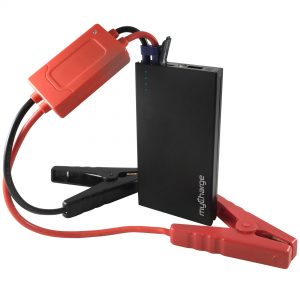 Recently, I was asked to review a new powebank and jump start battery and I liked the idea. As an auto enthusiast and owning a small, classic car collection, this was something that could prove to be useful for collectors or for anyone that tends to keep a car for more than three years. Why three years? From experience and living in Florida a lot of car batteries "give up the ghost" after three years. Lucky if you get five!
When the box arrived, I liked the presentation. Double packed and in a sturdy box. The sleek, compact Jump Start powerbank is perfect for keeping in a glove box or in a small utility bag for use with any of your cars without any fuss.
This small but powerful portable charger is also good for tablets, cell phones and other rechargeable items that work off a USB cable. Living in Florida, we are cognizant of hurricanes, most recently in September 2017, we experienced Hurricane Irma, which left us without electricity for two long days. This handy device would have been an invaluable addition to our hurricane supplies kit if we had had it then. That won't happen again.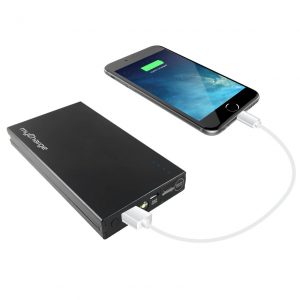 When I received this unit, I was skeptical that it would start a car. Being old school, I was used to big, bulky cables or a large charger to recharge a battery, I really wasn't sure it would have the power needed to start a car. Well as it turns out, a few weeks after receiving the unit, one of my classic cars had a low battery and it gave me the opportunity to try the Adventure Jump Start unit first hand. I pulled it out of the box and it was super institutive to figure it out. So, with the turn of the key the starter cranked and the car started. I was impressed. Would I recommend it? Absolutely. This is one of those items that when you need it you are grateful you have it.
MSRP: $99.99
visit: www.mycharge.com
TECHNOLOGY
Smart-sense: ensures complete device compatibility
Power-stay: maintains battery power for up to 1 year
Max-power: maximum power transfer from powerbank to device
High-density battery: the smallest and lightest powerbank
Safe-cell: provides the highest level of battery safety
Rapid-recharge: powerbank recharges up to 50% faster than competitors
Pass-Through Charging: will charge the powerbank and connected device simultaneously
SPECS
Battery: 6600mAh Lithium Ion
Product Dimensions: 4.4 in x 2.6 in x 1.0 in
Product Weight: 1.2 lbs.
USB port delivers 3.1A output, 400A Peak jump start current, 200A jump start current
INCLUDED
Charger
Recharge cable
Detachable Jumper Cables
Quick Start Guide