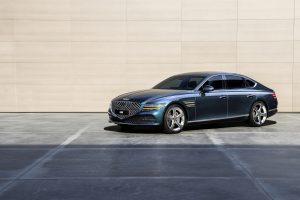 Genesis G80 (2021)
The refreshed and updated 2021 Genesis G80 offers gorgeous styling, a superb driving experience and a graceful interior, making the Genesis brand, a serious contender to the established luxury brands.
We recently drove the 2021 G80 and we came away impressed. There is a lot to like and at a price point that is making the Lexus, Audi and Mercedes-Benz sales people have sleepless nights.
The car looks impressive from all sides, the front is expressive, featuring the all new corporate mesh grille that first debuted on the larger G90 sedan earlier in 2020.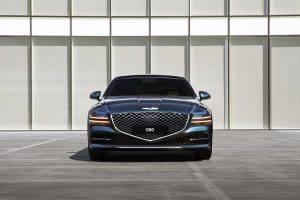 The side profile is equally elegant, showing off the classic sedan lines that buyers expect when shopping for this type of car. I would consider it to be a modern, bold design, in part, thanks to the contemporary wheels, uniquely styled front and rear lighting elements and the blended bumpers on both ends.
Inside, you are greeted with the fresh and elegant Genesis interior architecture, again, borrowing from the G90. We instantly felt comfortable and familiar with the sumptuous interior, thanks to the intuitive infotainment screen featuring a generous 14.5 inches in size and easy to use and understand controls. The interior's touch points are mainly first-class in both fit and finish. There are some faux finishes that are simply painted plastics, yet still, well done.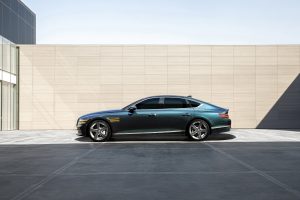 This car feels like it's a full level up from its class and competing surprisingly well with the big guys, at a price point that is thousands of dollars less. One thing, among many that stood out, was the subtle and understated greeting/seatbelt chime as well as the vast array of technology that's offered. Nice touch Genesis! Overall, the cabin is bright and spacious. The nicely trimmed trunk is large and offers a low sill with a wide and deep opening, making loading and unloading a breeze.
The interior is serenely quiet, even at 70 MPH. This is a huge part of what is to be perceived as luxury and Genesis nailed it. The G80's dynamics are thanks to the input of Herr Albert Biermann the ex-BMW M division brain who is now the head of the Hyundai Motor Group R&D team, the first non-Korean to be in the roll.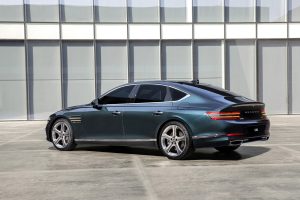 The G80 is sure footed, composed and easier to drive smoothly than the previous Genesis models. Herr Biermann knows what he is doing and it is evident in the new G80. This car feels more like a sports sedan infused with German pixie dust, it's luxurious yet spirited and engaging to drive. Steering feedback is surprisingly direct and power comes from either a 2.5 liter, turbo inline four-cylinder or an optional 3.5 six-cylinder turbo V6 offering 300 HP for the four and 375 HP for the six. Handling reminds me of a combination of a 5 and 7 Series from BMW. I am sure Genesis will eventually come up with a sportier and higher-powered version and I can't wait to drive it. I would even say, the G80 could be better than its German and Japanese high-end competitors.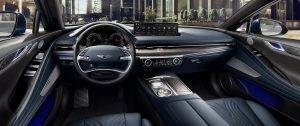 The established luxury brands have now been put on notice. There is a serious contender in the market and it is called the Genesis G80.
Comparables Include: BMW 5 Series, Audi A6, Mercedes E Class and Lexus GS (now being discontinued)
The Essentials:
MSRP: $47,700.00 (2.5 liter, AWD model)                   MSRP: (As Tested): $55,925.00
Fuel Economy (Observed): 27.1 MPG
Engines: 2.5 Liter I-4, 300 HP or a 3.5 Liter V6 with 375 HP
Popular Options: Advanced Package: $4,600.00 Includes: 19" Alloy wheels, panoramic sunroof, Lexicon Premium Audio
Please Visit: www.genesis.com
*Photos furnished by Genesis