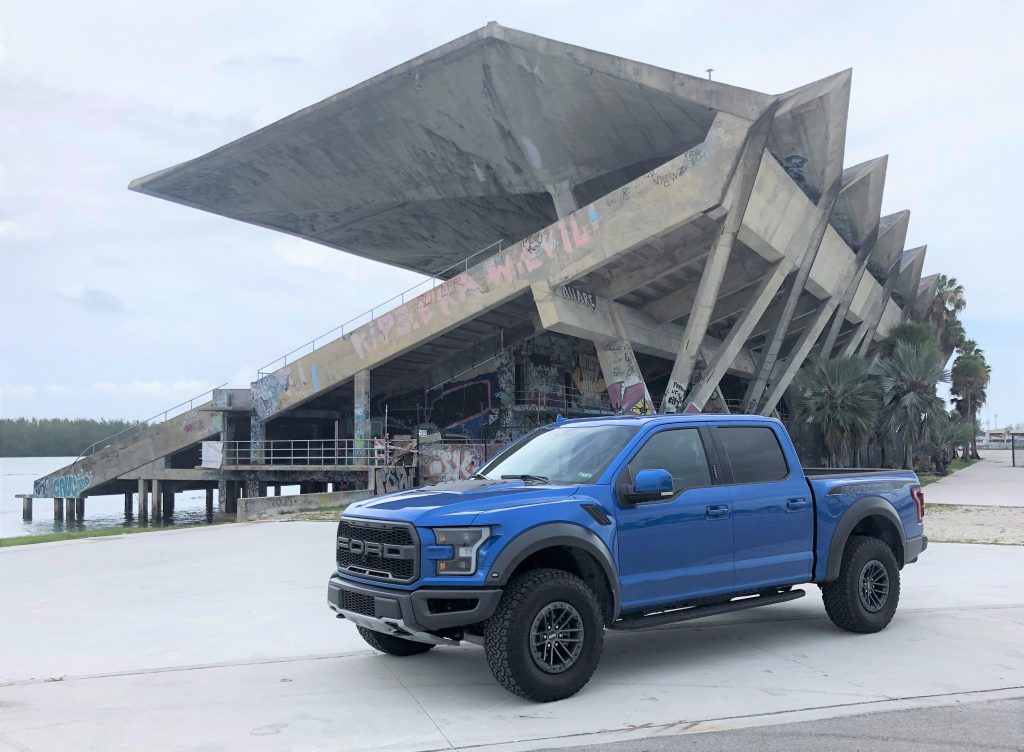 Ford F-150 Raptor 4X4 Supercrew (2019)
Its big, bold and can hold its own with any other truck out there. This is the Ford Raptor!
This truck has the best of all worlds, take it to work in a suit and tie, go off-roading on weekends or take it on a long drive, the Raptor can handle anything you throw at it, perfectly.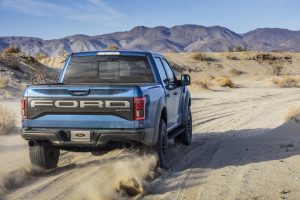 We love its world-class suspension! The gurus at Ford, please take a bow, as this this amazing engineering at work! The Raptor's suspension is compliant, smooth and incredible how it makes the truck feel planted and sure-footed, regardless of the terrain or road you are on. The big news on the suspension is that this year, the new Fox Racing adaptive dampers are standard. Our test Raptor came with several nice to have options, namely the gorgeous 17" forged aluminum wheels, interior blue accent package, Raptor Technology Package which is the adaptive cruise, stop-go and pre-collision warning, in addition to a colorful exterior graphics package.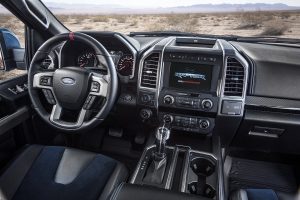 The ubiquitous 3.5 liter, V6 twin turbo Ecoboost motor that Ford developed and now uses in almost everything they make, fits perfectly in the Raptor. This engine has 450 HP and a 10-speed automatic transmission, featuring sporty steering wheel shift paddles which I thought was kind of superfluous in this type of vehicle but I did find myself using them often during my week with the Raptor. We love the instant torque the V6 twin-turbo offers, plus the distinctive growl the exhaust makes at highway speeds. Everything about this truck is over the top and we love it!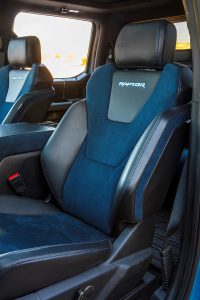 Inside, you are greeted with one of the best truck interiors in the industry. Large knobs and buttons, easy to read and understand menus on the infotainment system and seats that are incredibly comfortable. As an option, there are sportier Recaro seats, that frankly I would venture to say would not be as comfortable as the seats on the test vehicle we had. The rear seat offers plenty of room and the rubber mats are nice if you happen to spill something or enter the cabin with wet or dirty footwear. There is a well-appointed bed with tailgate steps and integrated bed lighting.
The Raptor is not just a nice play toy, it can also tow 8,000 Lbs. just in case you are in the mood to tow a trailer with a race car, a boat or a camper.
During my week with the Raptor, I did notice some interesting details. This truck is HUGE! Making maneuvering and getting into tight spaces a bit of a challenge. Make sure you aren't trying to park in a compact spot or entering a covered parking with extra-low ceilings.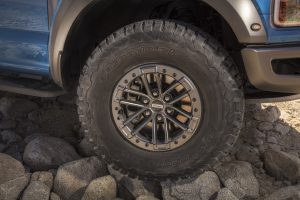 Fortunately, the back-up camera and large side mirrors, work perfectly. Additionally, we did notice the transmission managed to get confused and fumble between gears as we accelerated briskly. This occurred unexpectedly several times. Seems to be more of a software update problem rather than a mechanical issue.
Acceleration is quick, with a 0-60 MPH time of just over 5 seconds. Brakes are linear and strong. Steering is surprisingly light and easy to manage, even in tight, U turns. I have a special flyover/on-ramp to a highway that I use during the evaluation of the press vehicles that I drive and with the Raptor, I wasn't sure what to expect. The first time around, I came in a bit timid and realized this truck can handle far more as it took the turn perfectly.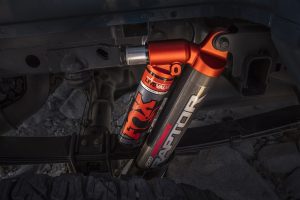 The next day I did it again, this time, a bit more aggressively and surprise, surprise, the suspension, brakes and steering all worked like a philharmonic orchestra and did a masterful job making the sweeping turn, heck, I even startled a guy in a Porsche 911 that was just ahead of me.
Can you get by with "just" an F-150? Most likely yes, but why, when you can have a Raptor instead. It's a guilty pleasure indeed!
The Essentials:
MSRP: $55,840.00                             MSRP (As tested): $74,955.00 (Includes dest. & delivery: $1,595.00)
Fuel Economy (Observed): 15.8 MPG
Engine: Ecoboost V6, 3.5 liter, twin turbo, 450 HP
Popular Options: 17" Aluminum wheels, graphics, interior blue accents, Technology Packages. These and a couple of smaller options add up to approximately $18,000.00
Visit: www.ford.com
*Photos furnished by Ford and the author