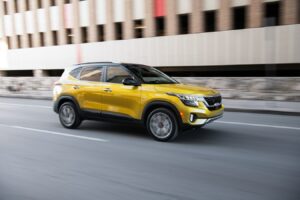 Kia Seltos SX Turbo AWD (2021)
Kia is a Korean car company that makes budget and unexciting econoboxes. We've all thought it, admit it. Guess what, Kia is everything BUT unexciting! Every single one of their vehicles being offered on the market today are great looking, well-made and full of technology features.
The all-new for 2021 Kia Seltos is a compact SUV that offers compelling value and style, at a price point that is hard to beat. The Seltos is based on the Hyundai Kona platform yet it offers more technology content and a roomier interior to boot. Yes, there is more than just a passing resemblance to the larger and pricier Telluride SUV and it's no coincidence as this model has become one of the best-selling SUV's of the Kia line up.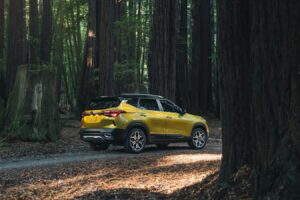 There are two engines offered on the Seltos; a 1.6 liter or a 2.0-liter turbo four-cylinder engine, coupled to either a front or an all-wheel drive system. Our test car was the SX Turbo AWD with the 1.6-liter turbo engine mated to a double-clutch, 7-speed Quick-Shift Automatic transmission. A CVT transmission is also available, but I will take the one with the double clutch, thank you very much.
Looking at the window sticker, I was pleasantly surprised to see the generous and extensive list of standard equipment. In fact, our test vehicle had only two options: Starbright Yellow/Black Roof Paint for $345.00 and Carpeted Floor Mats for $130.00 Well done Kia!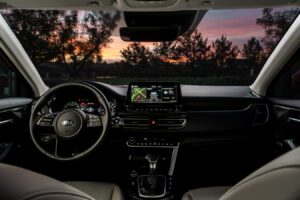 The look of the Seltos is fresh and modern, with a sleek front grille as well as a simple yet elegant side profile that does a good job putting the handsome Kia touch to the design.
Inside you immediately notice the tidy and modern cockpit, featuring glossy black trim as well as a large 10.25" center-dash infotainment display, offering Apple CarPlay and Android Auto integration. The Kia infotainment system is mostly intuitive to use, I did however, needed to scroll around several menus in order to find some features which I am sure that after some regular use, will be second nature. Overall cabin space is quite roomy, with plenty of storage space and cubby-holes. There is a wireless phone charging pad as well as multiple USB jacks.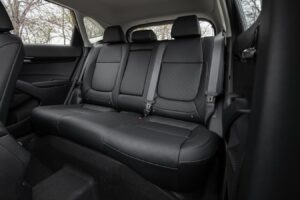 One nice feature we liked is the ambient lighting that can be set to change with the beat of the music, certainly fun for when driving after dark. Seats are comfortable and offer an elegant trim both on the seating surfaces as well as the side and back seat panels. Rear seats are typical of a compact SUV comfortable for two, snug for three. Reclinable seat backs fold forward in a 60/40 split, increasing the usable rear cargo area significantly, featuring a wide and deep cargo space that is surprisingly useful.
How does the Seltos SX drive? Surprisingly good! You can tell Kia has truly gotten serious with their driving dynamics and engineering. This compact SUV feels tight and direct, with good feedback both from the throttle as well as the brakes.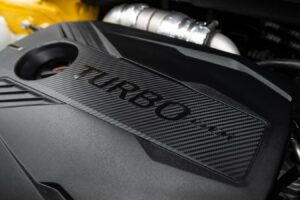 We liked the easy to modulate brake pedal, making crawling speeds in stop-and-go traffic a breeze. Steering is typical of most modern SUV's which is to say, a bit vague but nothing that would ever be a reason to dislike the Seltos. Straight line and passing acceleration is good, but don't expect to win any speed trophies at the ¼ mile race track.
Would I own a Seltos? I definitely would. It offers a smart-looking design with excellent features and it's a great value.
Comparables include: Hyundai Kona, Jeep Compass, Mitsubishi Outlander Sport among many others.
The Essentials:
MSRP: $27,890.00                                                             MSRP (As Tested): $29,485.00
Fuel Economy (Observed): 27.3 MPG
Engine: Inline four-cylinder 1.6 liter, Turbo, 175 HP & 195 Lb/Ft of Torque
Popular Options: Sunburst Yellow/Black Roof
Please visit: www.kia.com
*Photos furnished by Kia