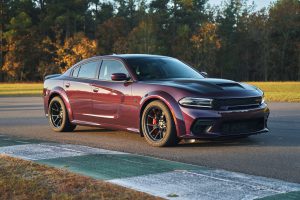 Dodge Charger SRT Hellcat Redeye Widebody
The Dodge SRT wizards have taken a note from Porsche's playbook and have done magic with their Hellcat series cars. The formula is simple. Never stop improving the car and the SRT division has managed to do this in spades. Bravo, Dodge SRT!
The Charger SRT Hellcat Redeye is all drama. The size, sound, shape and the design elements all scream a combination of aggressiveness and nostalgia and it works beautifully for this car. The front fascia and hood highlight subtle yet important classic Dodge muscle-car elements which include: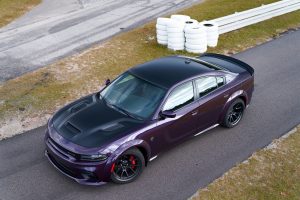 Recessed headlights, the air intake hood scoops, the grille shape and design as well as the graphics. This is retro done superbly well.
The distinctive side profile clearly shows the Dodge Charger heritage, with a modern twist. What is most striking though, is the addition of the 3.3" wide-body flares in order to accommodate the large 11 x 20-inch wheels. These dramatic flares make the Charger look aggressive, strong and with an undeniable street presence. In fact, I got several thumbs up from the toughest critics ever, the mid-teen crowd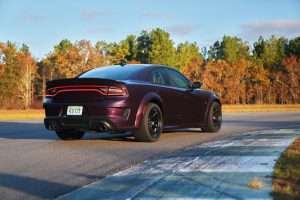 . This occurred several times during my week's use of the car and I smiled, giving them my own thumbs up as a reply.
As we get to the rear of the Charger, we note a surprisingly large trunk lid as well as an aggressive, full width-lip spoiler. This is a sedan that has ample room to take plenty of luggage or groceries or even race-track gear. You choose, it's that versatile. The sporty exhaust tips are well integrated into the corners of the lower bumper. There is no doubt this car means business.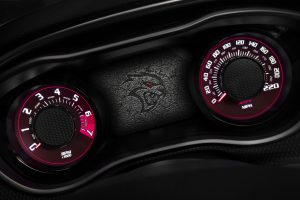 Inside you are greeted with an interior that is upgraded, featuring comfortable and supportive sports seats. There is a thick-rimmed steering wheel with all of the needed finger-tip controls, in addition to a large and easy to understand infotainment screen. Are you listening BMW? I must say, that the most interesting items in the infotainment are those that you don't see. Dive into the sub-menus and you will find all kinds of interesting information and graphics that come in quite handy in case you want to put this beast through its paces. I found it fun, well presented and very informative.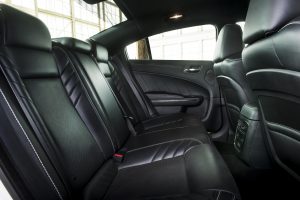 Rear seat is comfortable, yet it does have a low roof-line, so entry and egress can be a bit challenging for taller people.
My biggest pleasure was having access to the coveted red key fob. This special programmed key unleashes the maximum power (797 HP) and fury of the Hemi engine together with the maximum performance capability of the Hellcat. Yes! I was intimidated, and yes, I did try some full-power launches. Oh my! It's all I can say.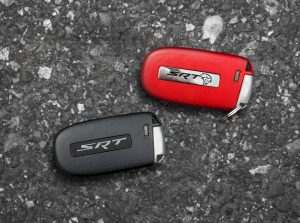 An interesting thought came to mind while leisurely driving along the Turnpike at 70 MPH, I realized that there is something magical having all that power on tap, sure, you may never actually use it all, but boy, knowing that is always there waiting, is one great reason to put a smile on your face every time you drive this special Charger.
Make no mistake, this is no Lotus Elise mind you, the Charger is a big, heavy, ponderous sedan, yet the guys at the SRT division found magical pixie dust to make this beast behave surprisingly well both on and off the track. Steering feedback is quite good, with fast response and easy to track through corners.
Brakes, made by Brembo, are superb, regardless of what you ask of them. Suspension is sporty and at times, even stiff, yet still quite easy to live with in case you want to drive this Charger Hellcat on a daily basis. Acceleration? Let's just say NASA called after a couple of acceleration runs and they asked me to please stop trying to slow down the rotation of the earth!
Comparables: There really aren't any.
The 2021 Dodge Charger SRT Hellcat Redeye Widebody. There is no substitute.
The Essentials:
MSRP: $69,995.00                                             MSRP (As tested): $88,065.00
Fuel Economy (Observed): 16.3 MPG
Engine: 6.2 Liter V8 Hemi, Supercharged, 797 HP
Popular Options: Customer Preferred Pkg: $8,600.00, Carbon/suede Interior Pkg: $1,595.00, Satin Black Painted hood: $1,995.00
Please visit: www.dodge.com
* Photos furnished by Dodge