One sentence you rarely, if ever, used to come across while reading a Cadillac review: "This is a fun car to drive."
Luxurious? Yes. Comfortable? That, too. Prestigious? Natch. Even "gold standard of domestic luxury" fit big, precocious vehicles of the past like the Cadillac DeVille, Cadillac Fleetwood, and Cadillac Eldorado.
But fun to drive?
It wasn't until the 21st Century that a reviewer could use those words without a note of sarcasm. That's when Cadillac introduced its high performance-oriented V-Series models to its lineup, the first being the 2004 CTS-V. It took dead aim at German rivals Audi, BMW, and Mercedes-Benz among high-powered luxury sedans.
Cadillac ended the CTS' run after 2019 with the CT5 replacing it for the 2020 model year. The CT5 kept the V-Series tradition with a turbocharged 6-cylinder engine bumping horsepower and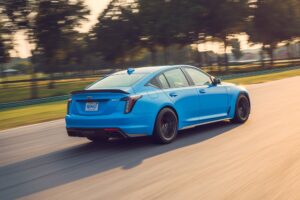 torque up to 360/405, respectively, over the 4-cylinders' 237/358 in other trims.
Good, but not great, steps up.
But things get more serious this year with the introduction of the 2022 Cadillac CT5-V Blackwing sedan which company tub-thumpers call the "most powerful and fastest Cadillac in history."
With a 6.2-liter supercharged V8 under the hood, the 2022 Cadillac CT5-V Blackwing is pegged at a max 668 horsepower and 659 pound-feet of torque that propels its two-ton heft from zero-to-60 mph in under 4 seconds.
Cadillac reports it as slightly quicker with the 10-speed automatic transmission (3.4 seconds) than with the 6-speed manual (3.6), but I would sacrifice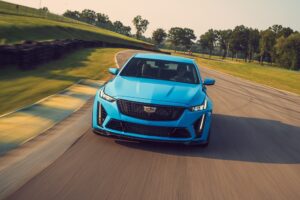 the .2 seconds for the awesome driving experience you have with the standard manual.
Yes, a manual is standard. Mirza Grebovic, Cadillac performance variant manager, explains why.
"For nearly two decades, enthusiasts have told us how important it is to have the control of a manual gearbox in their performance sedan," he is quoted in a news release. "The ability to choose the driving experience they want is a luxury in and of itself, allowing them to feel more connected with the vehicle."
As you can imagine, fuel numbers are not all that impressive. At 13 miles-per-gallon city, 21 highway, and 15 combined (using recommend premium gasoline) it earns a hefty $2,100 gas guzzler tax, but that's part of the cost of performance. You want to buy a car like this and then go cheap on the fuel bill? (I'll answer that. No, you don't.)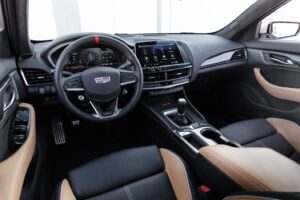 As a Cadillac, the 2022 CT5-V Blackwing is typically well stocked with standard convenience and safety features.
Among the former are the Cadillac User Experience (CUE) infotainment system with a 10-inch display for navigation, Apple CarPlay and Android Auto, wireless connectivity, OnStar services, a wifi hotspot, 18-way power adjustable front seats with 4-way lumbar support and massage, heated and ventilated front seats, power adjustable steering column and leather-wrapped steering wheel, LED headlights and tail lamps, LED ambient interior lighting, a 15-speaker premium audio system, keyless entry and push-button start, V-Series floor mats, a head-up display for the driver, wireless phone charger, and rain-sensing wipers.
Standard safety features include automatic emergency braking, frontal collision alert and front pedestrian warning, front and rear park assist,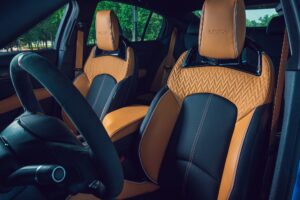 HD surround view camera, lane-keeping assist and departure warning, blind-spot alert, and an advanced safety package.
It is rear-wheel drive, of course, and rides on 19 x 10-inch forged aluminum or available magnesium wheels on the front and 19 x 11-inch wheels on the rear.
MSRP for the 2022 Cadillac CT5-V Blackwing starts at $83,995. That's a hefty increase over the $37,990 for the basic CT5 and even a good leap over the $48,790 starting MSRP for the CT5-V, and the company says a fully configured 2022 Cadillac CT5-V Blackwing can run up to $125,580 including $995 for destination and delivery.
My test 2022 Cadillac CT5-V Blackwing did not go that high but easily ran into six figures.
Starting with $9,430 for two carbon fiber trim packages, $9,000 for carbon ceramic brakes and $5,090 exterior accents and semi-aniline leather seats with custom quilting and carbon-fiber front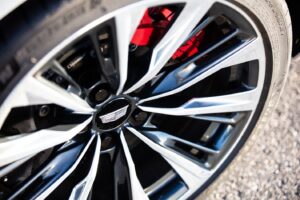 seat backs, extras included a performance data and video recorder ($1,600), panoramic sunroof ($1,450), infrared red exterior ($1,225), and a parking package ($600) that ran the total to $114,300 (including the $995 destination and delivery fee).
With Cadillac according to reports planning for an all-electric fleet by the year 2030, which is sooner than parent company GM's electrification goal of 2035, you'd best hurry up down to the showroom if you want — and can afford — the Blackwing!
What I liked about the 2022 Cadillac CT5-V Blackwing: Besides the breathtaking performance and the manual transmission, which contributes to the ride factors, the CT5-V Blackwing is a great looking car. Infotainment features are plentiful and easy to operate. The CUE (Cadillac User Experience) for navigation, audio, etc., has been much improved since its introduction 9 years ago. The big brakes and safety systems are appreciated. Did I mention this is a fun car to drive?
What I didn't like about the 2022 Cadillac CT5-V Blackwing: The side mirrors are on the small side, which further impedes visibility. For a sedan there isn't much in the way of trunk space (11.9 cubic feet).
Would I buy the 2022 Cadillac CT5-V Blackwing? Definitely. I could do without all the carbon fiber (you approach parking lots with trepidation,) but would definitely include the brake package among the options. The red is a beautiful color as well.
*Photos furnished by Cadillac