Kia Stinger GT-Line RWD (2022) 
The Kia Stinger is a drop-dead gorgeous near premium sports sedan, that looks great from every angle. The execution of the design is a combination of elegance and sportiness that works perfectly for this car. There is a striking front-end that features the new Kia logo as well as a restrained grill that is unlike today's over designed luxury models. My favorite though, is the simple yet perfect flow of the difficult to get right C pillar design. For some, like BMW, there is always the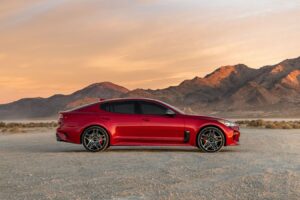 Hofmeister Kink, which pays an homage to Wilhelm Hofmeister, BMW's chief designer from 1955 to 1970. Yet, for others, like the Infiniti Q sedans & coupes, there is a curved zig-zag shape that some simply say, why? Well, for the Stinger, it's a swooping roof line that blends seamlessly into the C pillar and door opening that makes it look balanced, purposeful and yet, functional enough for people to enter and exit the rear seats. Well done, Kia! The rear of the Stinger is equally dramatic, flanked by oversized quad oval exhaust tips, that make the car look aggressive and powerful. Keep in mind,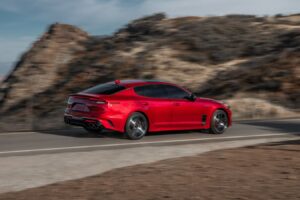 when sitting in traffic, we all spend a lot of time looking at the back end of the car ahead of us. This is a nice way for manufacturers to captivate people and create brand awareness. At least for me, it does.
Once inside the Stinger, you notice the roomy interior and the great looking sports seats that are comfortable and easy to adjust. There is the typical Kia switchgear and layout which is pretty user friendly. We did, however, notice that the material quality is not on par with its benchmark rivals, giving a subtle reminder that this is not a German sports sedan. It's nitpicking and certainly not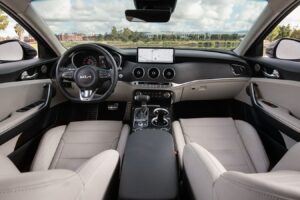 something that would bother anyone. There are ample nooks and storage areas, even though door storage is somewhat small. The infotainment, which Kia calls UVO, is easy and intuitive to understand even if you are trying it out for the 1st time. Rear seats are comfortable for two, a bit snug for three. Trunk has a small opening, but it is deep, with plenty of usable space and nicely finished.  
Pressing the start button on the Stinger, you notice the throaty engine sound once it starts, giving you a hint of things to come. Gear selector is done via a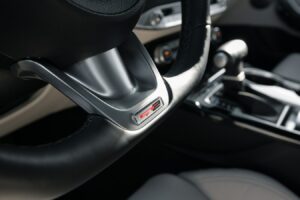 traditional center gear selector and the steering is a leather wrapped, thick rimmed wheel that features all the typical and useful buttons for infotainment, cruise control, in-dash information and others. The throttle is linear and easy to modulate, and the brakes are communicative and strong, even after repeated stops. I drove the Stinger through my favorite set of curves, (yes Miami does have some curves, but I won't tell you where). I was impressed at the sportiness and smooth power delivery. The test vehicle we drove had the 2.5-liter, turbo four cylinder, putting out 300 HP
together with an 8-speed automatic transmission with paddle shifters. There is a 368 HP 3.3-liter V6 engine that offers better performance but at a much higher price. Steering is light yet precise and communicative, just what an enthusiast likes.  
Safety features available include automated emergency braking with pedestrian detection, lane-departure warning and lane-keeping assist as well as adaptive cruise control.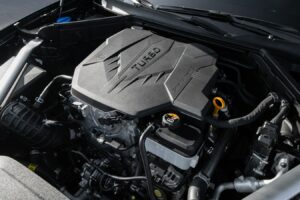 This sedan is a great choice if you are an enthusiast on a budget and looking for an excellent value. The Stinger delivers at a lower cost than the German rivals without really giving anything up. Would I own one? Yes, I would. 
Comparables include the BMW 4 Series Grand Coupe and the Audi A5 Sportback. 
The Essentials: 
MSRP: $36,000.00 MSRP (As Tested): $39,715.00
Fuel Economy (Observed): 26.5 MPG
Engine: 2.5-liter turbo, four cylinder, with 300 HP
Popular Options: Sun and Sound Package featuring Harman-Kardon Premium Audio, Power adjustable passenger seat, sunroof: ($2,300.00), Cargo Mat: ($125.00), Carpeted Floor Mats ($155.00)
*Photos furnished by KIA