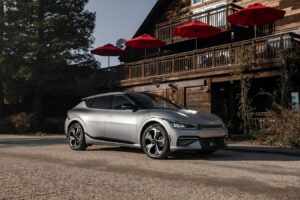 Kia EV6 GT-Line RWD (2022) 
The Kia design studio seems to have unlimited number of beautiful designs and the all new EV6 is without a doubt one of them. It looks stylish, luxurious, and sporty all in one. Kia wants to compete in the EV market with both the Ford Mustang Mach-E and the VW ID4 aggressively. So, how is the EV6? Read on to find out. 
The design is gorgeous from every angle. The front has a dramatic hood that has a curving line over the fenders making the profile look strong, with a lower stance and purposeful. The side profile nailed the just right dimensions making the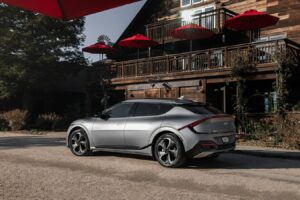 EV6 a drop-dead gorgeous EV. While the rear, has active LED lights and the access panel for the dual use charging port. More on this later. During my one week with the EV6, I could not figure out if it was a sporty hatchback or a luxury EV. Seems Kia was able to dial in just enough of both elements in order to make this EV feel as if you have both in one, and that is what I loved about the EV6. 
Once inside, you are greeted with surprisingly sporty seats that are covered in a combination vegan leather and alcantara suede, making them look premium and modern.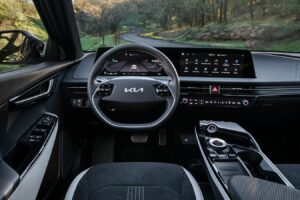 The dash and infotainment screens are large and easy to understand. It's nice that Kia has opted for both touchscreen as well as knobs, making life so much easier when needing to do something on the HVAC or sound system. I have to say, the entire interior feels near luxury, with excellent fit and finish throughout. Rear seat is comfortable for three, thanks to the flat floor, although you will have to duck a bit more than normal to enter and exit the rear seats due to the sloping roofline. Cargo area has an electric hatch and offers ample room and with foldable second row of seats the EV6 can also be a capable Home-Depot hauler indeed. The dash design is incredibly well thought of. My favorite was the dual use buttons that with the press of a center dash button,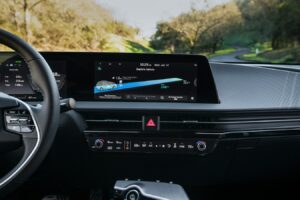 you can use the two knobs for the sound system or for the climate control. A fun party trick to show your friends when they ride with you. I will now admit to my ignorance during my one week with the EV6. When I received it, the car had about 80% charge, which by the way, the full charge is a pleasing 310 miles. Since I have a 35-mile commute, I decided to do what I usually do with a plug-in vehicle and that is to leave it charging with the 120V connector in my garage, overnight. Surprise! No cable in the car. I did, however, find a plug with no cable and could not figure out what this was.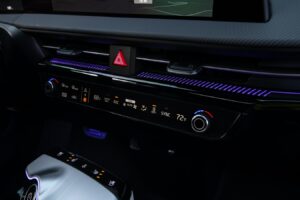 So, finally, out comes the owners' manual and to my surprise, I learned that the charging cable is optional, and this car didn't bring it. Reading further, I found that the plug can be used for connecting an extension cord so you can power light duty items. Very nice idea but I still needed to recharge. With some internet sleuthing, I did find that my community offers two on-street charging stations, and these happen to be only two blocks from my home, so off I went to see how it works. It turned out to be quite easy and all it took was a swipe of my credit card and the charging station was ready to give some much-needed electrons to the EV6. I was able to fully charge from 35% to 100% for around $25.00 in about 5+ hours. That wasn't bad at all! The model tested was the GT-Line RWD with the larger 77.4 KW/h battery.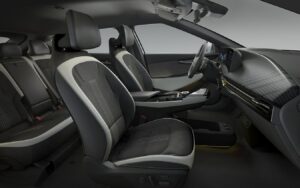 Driving the EV6 reminds me of a BMW M sports sedan, that's no coincidence as the once boss of the M division of BMW, Albert Biermann has recently retired from Kia and Hyundai and had a major say in the design and the look and feel of both the EV6 and its sister car, the Hyundai Ioniq 5. Bravo Herr Biermann!  
Acceleration is quick, linear and oh so effortless. I love how an EV feels when you accelerate, it's intoxicating.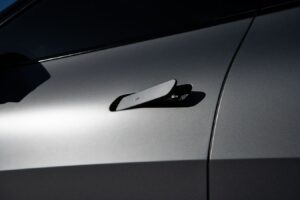 Steering is tight with great feedback. Accelerator and brake pedals are easy to modulate, making smooth driving a breeze. You can change the level of regenerative braking action by using the paddles behind the steering wheel. I opted for the minimum level, making the EV6 feel like a regular gasoline car. I enjoy driving an electric car, specially in traffic, as it's easy to pass or change lanes, thanks to the instant power these cars have. A spot opens and want to move over a lane? Simply point and shoot, it's that easy. Fast cornering is flat and communicative, with predicable feedback and quick reaction when you want to accelerate out of the corner.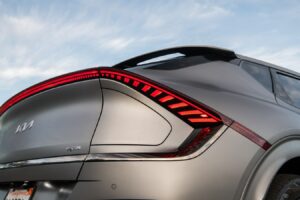 The EV6 has surprising capability if you feel like putting it through its handling paces, yet it also does crawl and go traffic duty flawlessly. The Kia EV6 is gorgeous, comfortable, and roomy all-around. Would I own one? It is absolutely a yes from me! So far in 2022, it has been one of my favorite cars to drive, without a doubt.  
Comparables include: The Hyundai Ioniq 5, VW ID4 and the Ford Mustang Mach-E 
The Essentials: 
MSRP:$ 51,200.00 MSRP (As Tested): $53,405.00
Fuel Economy: 117 PMG-e
Motor: Rear motor, 226 HP, 258 Lb/Ft of torque, permanent magnet electric.
Popular Options: Steel Matte Gray Paint ($695.00), GT-Line suede seats package ($295.00)
Please visit: www.kia.com 
* Photos furnished by Kia