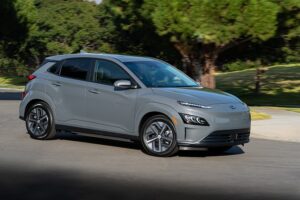 Hyundai Kona Electric (2022)
The restyled for 2022 Hyundai Kona has become a popular all-around, versatile vehicle. It's compact but not overly so, sitting higher than a sedan, but not too high and has plenty of space for family duty. The Kona is all these things as well as being offered as a fully electric car that looks almost identical to its gasoline powered sibling. The first thing you notice on the Kona Electric is the unique location of charging access door, just to the right of the corporate logo as you look to the front of the car. Additionally, there is solid front fascia that does not have a traditional grill,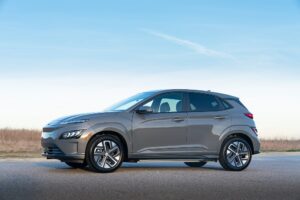 other than a lower valance air inlet that's used for the AC and other cooling duties, a-la Tesla. The look is a bit odd at first, but easy to get used to. The side profile features a more traditional upright designed roofline that offers easy entry and exit for both the front and rear passengers. The back end of the Kona offers a typical hatch with a low threshold and easy to load cargo space. The Kona plays well into all the needs of a young family or a new driver than wants to be eco-conscious and have an electric vehicle.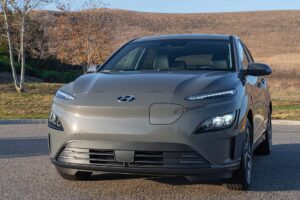 One thing to note, is if you have driven a gasoline powered Kona, the electric version will look and feel almost identical. In place of the four-cylinder engine, the Kona Electric has a 201 HP electric motor offering a 258-mile range, which is pretty much what anyone would need for typical daily or weekly duty. In fact, the electric Kona feels sportier and peppier, thanks to the instant torque that is typical of an electric vehicle.
Once inside the Kona you notice the large 10.3" center display that is now standard and the clean and modern design of the dash and interior. Switchgear is well laid out and easy to use and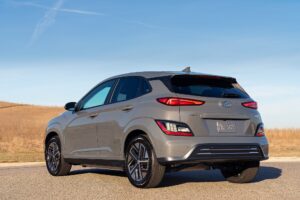 understand, together with a nice fit and finish throughout the cabin. Seats are roomy and comfortable, while rear seats are nice for two, a bit tight for three. Cargo area is the same as the gas version, so you don't give up anything when opting for the electric Kona.
The ride is smooth and compliant. One thing we noticed is that the Kona Electric feels planted to the floor, thanks to the large, floor mounted batteries which give it a lower center of gravity. Steering is a bit vague but easy to manage smoothly. There are two paddles behind the steering wheel that change the level of the regenerative braking capability. I tend to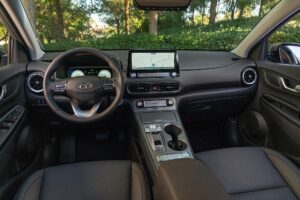 like the least aggressive position, thus offering plenty of zero throttle coasting. If you never have driven an electric car before, you will be mesmerized by the instant power these vehicles produce, plus the nifty single pedal driving experience. Of course, if you are a heavy foot driver, range will suffer.
Hyundai offers a full three year/36,000 mile complimentary maintenance plan on top of the industry leading five years, 60,000 miles warranty. This is great peace of mind and a nice convenience to boot.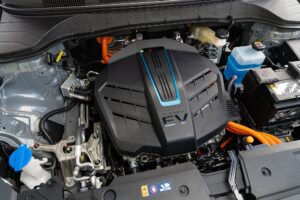 The Hyundai Kona is a good looking, budget-friendly electric sub-compact that offers current technology and a complete array of safety features. Certainly worth a look if you are shopping for this type of vehicle.
Comparables Inlude: Chevrolet Bolt, VW ID4, Tesla Model 3
The Essentials:
MSRP: $42,500.00                                                             MSRP (As Tested): $44,240.00
Fuel Economy (Observed): 120 MPGe
Engine: 150 KW Electric Motor (201 HP) 64 KWh, 356V Lithium-Ion Polymer Battery
Popular Options Include: Lunar White (SAW) Paint: ($400.00), Carpet Floor Mats: ($155.00)
Please visit: www.hyundai.com
*Photos furnished by Hyundai