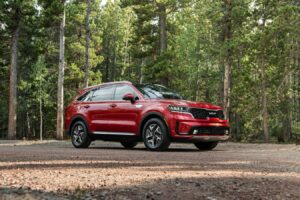 Kia Sorento Hybrid EX FWD (2022)
The Sorento is Kia's mid-sized, three-row SUV that looks great and offers a hybrid option that makes this SUV miserly in fuel. We saw a satisfying 37 MPG during our one week with the Sorento, which really says something about the efficiency of a Hybrid system, especially on a larger vehicle such as this one.
The Sorento is now in its fourth generation and the current design was refreshed just over a year ago and it looks current and modern. Without a doubt, Kia is on a roll, and it shows in all of its vehicles. Even the corporate logo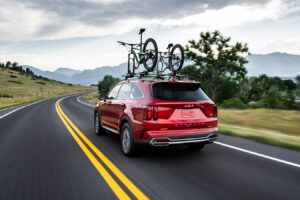 was given a redesign within the last year. Kia is serious about making a statement and at the same time, being the more upscale and designed-focused Korean brand. Bravo Kia!
Once inside the Sorento, you notice a lot of the current design language from the Kia line up. There is a modern dash together with a large, 10.25" infotainment screen in the center. Steering wheel is leather wrapped, giving the Sorento a nice luxury touch. Seats are comfortable and well cushioned, which really makes the difference. I notice a lot of cars that I have driven over the last 18 months have front seats that feel flat and hard, not a good thing if you plan on doing long distance driving.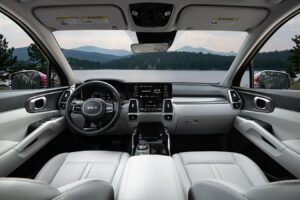 Cabin feels airy and modern, even more so if you select a lighter interior color. Fit, finish and switchgear are excellent throughout the cabin. We liked that the interior designers have opted for a more conversative approach, giving the Sorento several traditional knobs and buttons for functions that others have embedded as part of the touch screen system. It's nice to see these features retained. The roomy second row offers captain chairs which really make the second row a comfortable place to sit. Third row is typical for a mid-sized SUV. Usable but tight and a bit of an effort to access and egress. Consider the third row a kids-only area, but useful for adults in a pinch.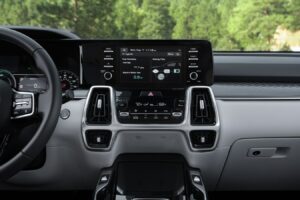 Cargo space is diminished quite a bit with the third row of seats up. So, in most cases, if you don't need the seating space, keep them folded down and take advantage of the expanded cargo area.
The Hybrid model EX that we drove had plenty of power, specially when you need to accelerate to merge into traffic or simply move over when you need to change lanes. Our Sorento had the six-speed automatic transmission, this made for a more engaging driving experience as compared with the CVT (Continuously Variable Transmission)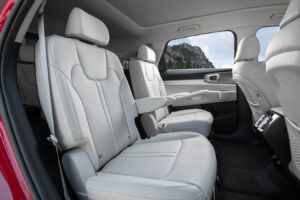 . One thing to note, is the hybrid power transition and on the Sorento Hybrid, this was buttery smooth and almost imperceptible. Steering feedback is good, and works well with the suspension, soaking up typical street imperfections quite easily. Both the brake and throttle pedals are easy to modulate, making stop and go traffic easier to live with and your passengers will thank you as well. Highway cruising at 65-70 MPH is smooth and quiet.
Kia does offer another three-row SUV with the Telluride. It is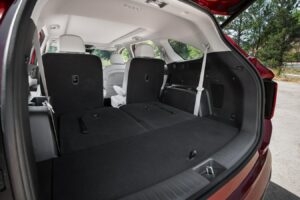 larger than the Sorento, offering more room but at a higher price point and consumes more fuel.
Would I own a Kia Sorento Hybrid? Yes, I would. I like the combination it offers of smooth power and high fuel efficiency, giving plenty of range, which translates to less time filling up at gas stations.
The Kia Sorento EX Hybrid, you can have your cake and eat it too!
The Essentials:
MSRP: $35,990.00                                                                             MSRP (As Tested): $37,820.00
Fuel Economy (Observed): 37 MPG
Engine: 4 Cylinder, 1.6 liter, 227 HP & 258 Lb/Ft of Torque
Popular Options: Runway red Paint: ($445.00), Carpeted Floor Mats: ($210.00)
Visit: www.kia.com
*Photos furnished by KIA