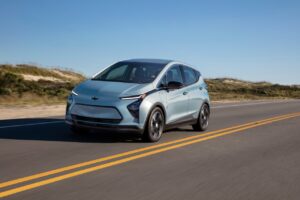 Chevrolet Bolt EV 2LT (2022)
The Chevrolet Bolt has been totally redesigned for 2022 and as an added bonus, it now has a lower price as well as host of new technology items and enhanced safety. Chevrolet has really worked hard to make this EV a value driven proposition for those that want their first EV or even someone that is looking to buy their first new car. The Bolt EV is worth considering.
Styling is more modern, with dramatic details both in the fascia as well as the overall look of the car. I spent a week with the Bolt and came away impressed with what it does and how it does it.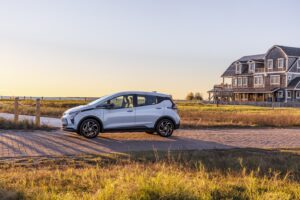 Range is a respectable 259 miles from a 65-kWh lithium-ion battery pack, basically unchanged from the previous model. One nice feature is that it comes with dual-power cords as standard. Some other brands offer the power cord as an optional item. Interesting though, some call it a crossover, others call it a compact hatchback. Regardless, it's a well-rounded vehicle that does appeal to a wide array of buyers. If you have a 240-volt Level 2 charger at home, the Bolt EV can be fully recharged in about 7 hours. By using a 120-volt outlet, typically found in most homes, it takes much longer. Chevy says you can get 4 miles of range with a 1-hour charge using 120 volts.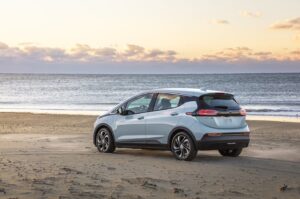 I don't have a level 2 charger at home and used the regular 120V outlet, I found this figure to be accurate.
Inside, the design offers better quality materials throughout the cabin as well as improved technology. There are several digital displays, with the main center display being a 10.2" multi-function screen. There are plenty of convenient storage areas as well as USB ports throughout the cabin. Seating position for the driver is surprisingly comfortable, with ample adjustment capabilities. Rear seat is comfortable for two and features a flat floor, thus that middle seat person will be comfortable, albeit a bit snug.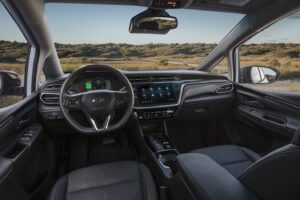 The cargo area is typical in size for this type of vehicle and is convenient to use, rear seats do fold forward, making for a generous cargo compartment.
One of the nice things about an EV is the instant torque, in many cases it gives the driver the peace of mind with the ability to accelerate and get instant response. Great for when you see a spot open up on the highway and you want to merge. It's easy, simply accelerate and merge or change lanes, no fuss! The Bolt EV shines at urban speeds in the 45-60 MPH range as it is quiet and smooth.
Accelerate to 70-75 MPH though, and you do notice the additional range degradation per mile and slightly more wind noise, stability remains rock solid. There are paddles behind the 9 and 3 o'clock position on the steering wheel that lets the driver adjust the regenerative action when you let off the accelerator. Nice feature to have and one that I did use often, depending on the type of driving I was doing. Accelerator pedal is easy to modulate and driving in heavy, urban traffic, is easy and smooth, your passengers will applaud you. Brakes do take a bit to get used to, as they have a small amount of dead zone when initially applied, I have to say, that this feedback is typical of a lot of EV cars though
and it's easy to get used to the pedal action after just a few minutes of driving.
The 2022 Chevrolet Bolt EV is quick, quiet and should be on top of your list as a candidate if you are looking for value in an EV.
Comparables include: Hyundai Kona EV, Kia Nero EV, Tesla Model 3, Nissan Leaf, among others.
The Essentials:
MSRP: $34,200.00                                                             MSRP (As Tested): $36,560.00
Economy: 120 MPGe
Engine: 150-kilowatt electric motor which offers 200 HP and 266 Lb/Ft of torque
Popular Options Include: Infotainment Package ($595.00), Bright Blue metallic ($395.00), Adaptive Cruise Control ($375.00)
Please Visit: www.chevrolet.com
*Photos furnished by Chevrolet