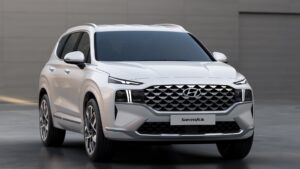 Hyundai Santa Fe Calligraphy 2.5T AWD (2022)
The Santa Fe is Hyundai's popular offering of a super mid-sized, two-row, SUV that offers great value and plenty of premium features and technology, at a price point that is very compelling.
As you approach the Santa Fe, you notice the bold grill featuring a large Hyundai logo in the center. This type of large grill looks much better if you are lucky enough to live in a state that does not require front license plates. Additionally, the headlights and daytime running lights have become a design element for Hyundai and these create a nice premium touch on the Santa Fe.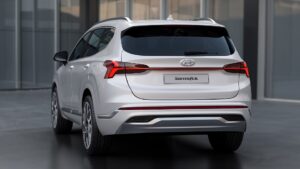 As you move towards the side profile, you quickly notice there is a strong resemblance to the BMW X5, specially towards the rear, whereby Hyundai took its inspiration from BMW's signature third window profile. The rear of the Santa Fe offers nicely proportioned exhaust tips as well as elegant taillights together with a powered lift-gate.
Once inside the Santa Fe, you quickly notice a well-designed cabin with modern touches as well as excellent and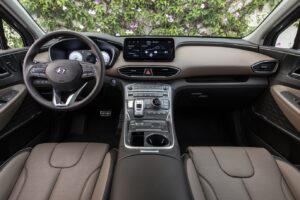 usable technology that again, is typically offered in more premium vehicles. The gear selector has been replaced with P, R, N, D selector buttons that make the center dash less cluttered and more modern looking. There are plenty of cup holders and cubby holes for storage and placement of personal items for both front and rear passengers. Seats are comfortable and finished in a nice design. Buttons and switchgear are well placed and easy to understand, even without the help of the owner's manual. Second-row seating is comfortable and easy to enter/exit.  Rear cargo area is quite generous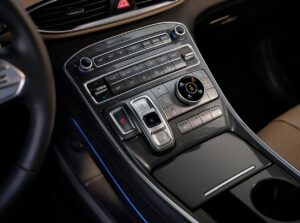 in size, even for bulky items from your Costco runs. Need more space? Then fold the second row of seats forward and the Santa Fe feels almost cavernous.
Hyundai offers no less than 10 different models of the Santa Fe, from the SE priced from $28,445.00 to the Limited PHEV priced from $47,225.00. The model we drove was the Calligraphy, this is the highest premium offering without being a hybrid.
We spent a week and over 250 miles with the Santa Fe Calligraphy and notice several items that are worthwhile mentioning. One was the surprisingly quiet cabin at fast, highway speeds.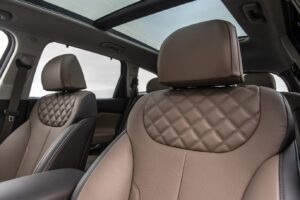 There is almost a serene-like feeling, thanks to the total absence of engine and wind sound. After a busy day at work, driving the Santa Fe feels almost soothing and spa-like. The other was the less than smooth transmission engagement at very slow speeds. This almost on/off switch feeling, is typical of dual-clutch transmissions, which this Santa Fe has. At anything more than crawl speed, this is not noticeable, and the shifts are on point. Acceleration is smooth and surprisingly quick, with a 6 second zero-60 MPH, making it faster than most in this segment. Brakes are direct and easy to modulate.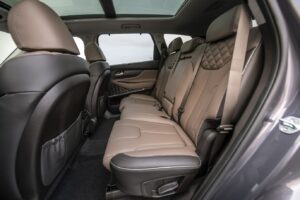 Steering is light and with more feedback than I expected, which adds a nice sporty element to this SUV.
Comparables Include: Honda Passport, Chevrolet Blazer, Kia Sorento, Nissan Rogue, Toyota RAV4
With every generation, Hyundai is moving up in quality, design and value. I liked the Santa Fe and would recommend to anyone looking for a Mid-sized SUV.
The Essentials:
MSRP: $42,660.00                                                             MSRP (As Tested): $44,480.00
Fuel Economy (Observed): 22.5 MPG
Engine: 2.5 liter turbocharged I-4 with 277 HP & an 8-speed Wet dual clutch transmission
Popular Options: Calypso Red Paint: $400.00, Carpeted Floor mats: $195.00
Please visit: www.hyundaiusa.com
*Photos furnished by Hyundai