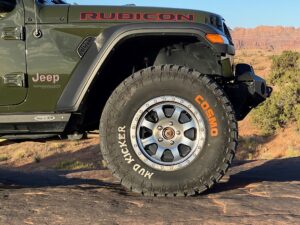 Recently I was invited to try out a new tire from Cosmo Tires in an off-road setting in none other than Moab, Utah. For those that are off road enthusiasts, all you need to do is mention Moab and instantly, you will get a reaction…. "On my bucket list!" ….. "Oh wow! I have always wanted to go there" ….. "I hear it's one of the best off-roading places in the United States." They are all true! Naturally, I said yes and was excited about the opportunity. Being a sports and classic car enthusiast and afficionado, I had never done any sort of off-roading and I joked with the organizers that the biggest obstacle I've gone over is a speed bump at the mall.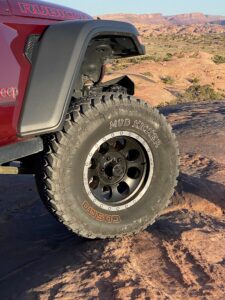 With this said and a tinge of nervousness, we set off to Moab and the adventure was on! How did the tire do? Keep reading to find out. 
First some background: Cosmo Tires was founded in 1995 in Miami, Florida and is popular for its line of passenger and light duty tires. Cosmo is looking to be a bigger player in the off-road tire market and has introduced the "Mud Kicker" tire and this is the tire that we had the opportunity to try out in Moab. Cosmo Tires arranged a prominent off-roading company called Outlaw Adventure Tours to guide us in three Jeeps with similar set ups and identical Mud Kicker tires. The plan was to spend a full day driving two well-known trails: Fins N Things and Hell's Revenge. Both challenging, yet different trails with unique obstacles and surfaces.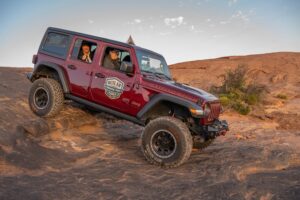 This was done under the capable tutelage of our expert guide, who has been doing this for well over 20 years. The vehicles used were all four-door Jeep Wrangler Rubicons, all fitted with well proven upgrades that included beefier suspensions, lifted three inches and a host of other aftermarket items that made these Jeeps even more capable. Cosmo Tires had sent three shipsets of identical Mud Kicker tires to Outlaw Adventure Tours and by the time we arrived, these had been installed and ready to go.   
The adventure started about one hour before dawn at the Outlaw Adventure's location. All the tires on the Jeeps had already been set to 15 Lbs. and every vehicle had a two-way radio. We had a safety meeting before boarding and the plan was to have ongoing driver rotations so everyone could sample the tires in all the different surfaces. On the short drive to the start of the Fins N Things trail, we noticed the low noise level and smooth ride of the Mud Kickers. The morning trail had a mix of sand, gravel and rocks, with some boulders and large rock obstacles to boot, speed was at
a slow crawl, and we followed our guide diligently, with him giving advice and comments along the way. I was surprised at the incredible capability of the suspension of the Wranglers and how well the tires felt. And we had just gotten started.  We did several, repeated boulder-climbs and descents, so everyone could sample the same terrain. Afterwards and by sheer coincidence, I was the driver while doing one of the most interesting and challenging drives into a hole called "The Bathtub". This was directed step by step by radio and the decent into the rock hole was at over 30 degrees of incline. I modulated the brakes carefully and was able
to even come to a full stop with not even a hint of loss of grip from the Mud Kickers. Rounding out the bottom, I was looking through the windshield into the sky and the guide directed me with a calm, poker-like voice that was incredibly reassuring. I modulated the throttle ever so slightly, and the Jeep simply went up the incline without any fuss. I was impressed. The highest angle of the day though, was driven by Jeff Ross, as we experienced an incredible 39 degrees down. Again, there was absolutely no slipping or loss of grip from the Mud Kickers. Mid-way through the event, I approached our guide and flat out asked him what he thought of the tires.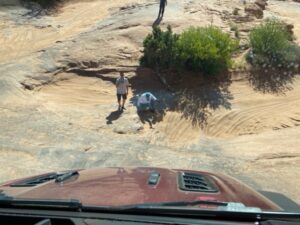 He answered simply. "They are really good!" A positive endorsement, specially coming from a local that has driven on many different types of tires.  
Sadly, the full day of adventure was quickly over, yet the smiles and the satisfaction of a great day remained with us. I was impressed with the tires and the ability to make even a novice look good and more importantly, feel safe and secure in every type of off-road condition possible. Once back to the Outlaw Adventure headquarters, we debriefed. We all agreed that the performance of the Mud Kicker was excellent, and more so,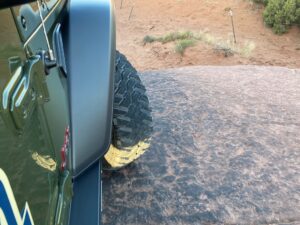 after a thorough visual inspection, not a single tire suffered from any rubber chunks being torn off, even though there was evidence of impact marks as we scraped and brushed several rocks and boulders. Impressive tires and a memorable experience. So, what is the verdict? A readily available tire that performs well at a price point that is less than the competitors. It's a yes from me!  
The Cosmos proprietary technology employed in the compound assures low rolling resistance, better wet traction and longer tread life. Available in all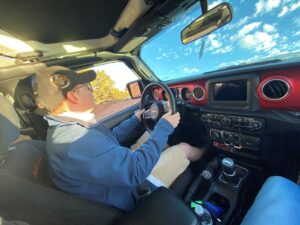 the popular sizes.  
The Mud Kicker is manufactured using Ultimate Tire Technology. Offering:  
BRS: Bead Reinforcement System
NST: New Structure Technology
DSS: Proprietary Compounding
OPD: Optimum Performance Design 
Links to companies mentioned: 
https://outlawadventuretours.com/ 
https://www.jeep.com/wrangler.html 
*Photos and videos were furnished by Adolfo Robiou, Cosmo Tires and the author.