Ford Fiesta 5- Door Hatch SES (2012)
By: Osvaldo Sanchez, motoringstyle.com contributor
After a long absence, Ford has brought the Fiesta back to our shores, but don't think for a minute that it's anything like what we remember from their 1st attempt. The new Fiesta is chock-full of must-have standard features that are options on cars costing several thousand dollars more…
Additionally, the look of the Fiesta is modern, fresh and quite handsome, even more so considering this is an entry level compact. The Fiesta's European styling really shows, looking like nothing else on the road, with its crisp, elegant proportions. The Fiesta is offered as both a four-door sedan as well as the slightly more expensive five-door hatch. We liked the look of the hatchback over the four-door sedan better. Looking at the car's profile, you instantly notice how fresh the overall design is as well as how stylish and elegant the 16 inch wheels look, thus, giving the Fiesta a quantum step above the typical, hub-cap equipped, econo-box.
As soon as you enter the roomy cockpit of the Fiesta, you're greeted with an elegant swooping dashboard, comfortable seats, and really neat ambient lighting, to which you can select the color, depending on the mood. For the media oriented, the Fiesta features the Ford Sync media interphase, which includes a USB and Auxiliary ports conveniently located in the center console. Happy to report, that the standard audio system sounds great.
Most compacts are downright dull to drive, while the Fiesta is unexpectedly not dull at all. The press vehicle we drove for a week, featured a five-speed manual transmission, which, surprise again, is much smoother than what we anticipated. Clutch operation, as well as gear selection is smooth and precise. Yes, going up a bridge in 5th gear, the Fiesta can be a bit sluggish, but this is easily remedied by simply "kicking it up a notch" and shifting into 4th or even 3rd gear. The dashboard features a shift light to remind you to up-shift, thus maximizing its already frugal fuel consumption. Push the Fiesta hard, and you are rewarded with pretty decent performance. The inline four cylinder engine does whine a bit, at higher revs, buts that is merely nit-picking, as this seems to be a characteristic of most 4 cylinder engines. 60-70 MPH cruising is quiet and smooth, giving the feel of a larger, more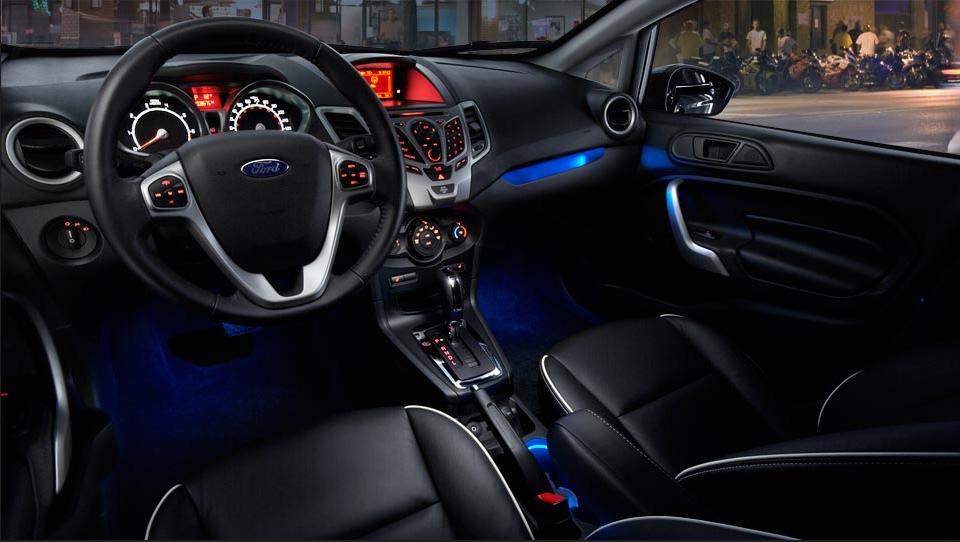 expensive ride. Feedback from the front disks and rear drum brakes are direct and precise. Steering is comfortable to hold and easy to turn, even during parking maneuvers.
The rear seats are comfortable for two adults or three children, something quite unusual for this size car. The deep well cargo area, accessed through a rear hatch, offers plenty of cargo room, even with the rear seats up. Need to carry golf clubs? Travel bags? A dog? No problem, heck, there is even room for the mother-in-law back there!
Although the Fiesta is considered an entry level compact, we are well impressed with the design, fit, finish, its generous list of standard equipment as well as the overall value. So, why not make every morning's commute feel like a party! Drive the Ford Fiesta.
The Essentials:
MSRP: $17,500.00
MSRP (as tested): $18,970.00
Fuel Economy (Observed): 32.5 MPG
Engine: Inline 4, Duratech 1.6 liter, 120 HP
Popular Options: Premium Sport & Interior Style packages
Visit: www.ford.com