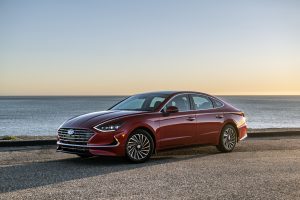 If you still cling to the notion that a gas-electric powertrain has to be a boring vehicle that is no fun to drive, you need to check out the 2020 Hyundai Sonata Hybrid. You will likely change your mind.
The Sonata offers a different kind of hybrid performance. Though it wouldn't be your first choice for a drag race, it is a peppy performer around town and a steady cruiser on the highway.
Part of the eighth generation Sonata the South Korean automaker introduced for 2020, the Sonata Hybrid comes in three trims, starting with the base Blue and continuing with the upgraded SEL and Limited models. A plug-in Hybrid was dropped from the lineup.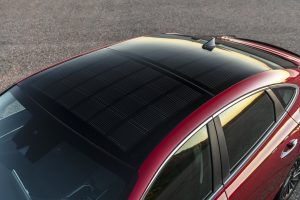 The Limited that served as my test vehicle for the week comes with a long list of standard equipment.
All models are front-wheel drive with a 2.0-liter inline 4-cylinder gas engine (150 horsepower, 139 pound-feet of torque) paired with an electric motor (51 hp, 151 lb.-ft) for a net 192 horsepower at 6000 rpm.
Rather than a continuously variable transmission (CVT) often found in hybrid drivetrains, the Sonata gets a 6-speed automatic with manual shift mode. It also includes a Sport mode, which adds to the driving experience.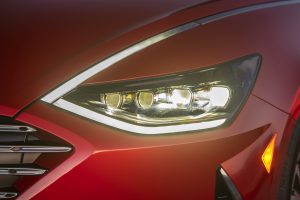 The Blue earns the top EPA mileage figures of 50 miles-per-gallon city, 54 highway, and 52 combined. The slightly heavier SEL and Limited's numbers are 45/51/47, all an increase over the previous model's 41/42 figures.
Included in the Limited's base MSRP of $35,300 are such niceties as LED headlights and taillights, proximity key entry and push-button start, adaptable cruise control, hands-free trunk release, leather seating surfaces, heated and ventilated front seats, power front seat with memory settings for the driver, Bose premium sound system, dual automatic climate control, a 10.25-inch touchscreen with navigation, Apple CarPlay and Android Auto, Hyundai's Blue Link system, and a solar panel roof that feeds the lithium-ion battery.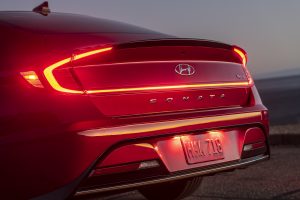 Safety features include a blind-spot warning system, rear cross-traffic alert, forward collision-avoidance assist with pedestrian detection, parking assist, and around-view monitor. A lane-keeping assist system can be a bit on the sensitive side with its annoying beeps, but it can be turned off.
Also included is Hyundai's Blind Spot View Monitor that shows any traffic that may be in your blindspot via an image projected in the tach or speedometer gauges' spot in the instrument cluster when the corresponding turn signal is activated. It's a nice touch that seemingly has limited appeal, but I find a nice addition.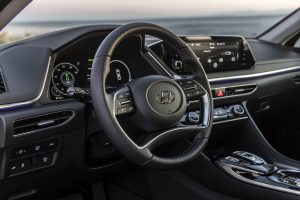 The only extra on my test Sonata was $135 for carpeted floor mats, making the final total $36,430.
The Limited's interior has a nice, comfortable feel about it with good legroom both front (46.1 inches) and back (34.8). Truck space is a very generous 16 cubic feet, which matches that of the gas-only Sonata.
The Limited's overall cabin ambiance has a premium feel about it, and the exterior appearance rivals that of luxury models costing thousands of dollars more. It's an eye-catcher, for sure.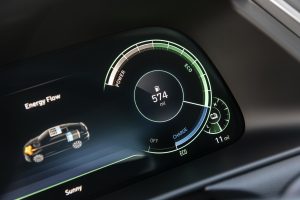 A friend of mine and fellow reviewer, someone who gets a new vehicle in his driveway every week, summed up the whole package.
"This," he said, "is what I would buy if I needed a personal car for my family."
What I liked about the 2020 Hyundai Sonata Hybrid Limited: In addition to the performance, the ride is quiet and comfortable, and the cabin is roomy and nicely appointed. Fuel economy is excellent, and I love that you don't have to plug it in to recharge. It has lots of technology that is intuitive to operate, and the annoying whine that is typical to hybrids when they are coming to a stop is absent.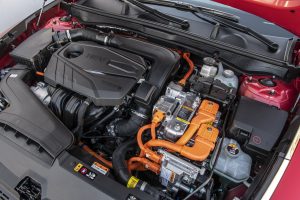 What I didn't like about the 2020 Hyundai Sonata Hybrid Limited: Although the infotainment system is very user friendly, I missed having a knob to surf the radio dial. There is one to control volume. Why get rid of the one to change stations? I just hope it is not an indication that designers are going to follow competitors with unnecessary "updates" to infotainment features.
Would I buy the 2020 Hyundai Sonata Hybrid Limited: Without a doubt, yes. If you haven't been completely taken in by the trend to crossover SUVs and are open to a sedan, this one should be on your list. The only drawback would be that the Hybrid Limited is at the top of the Sonata's price range. But the base Blue trim starts at under $28,000, and the SEL under $30,000 (not including destination and delivery). The 2020 Sonata Hybrid carries over to 2021.
*Photos furnished by Hyundai