Simply say Challenger and SRT8 in the same sentence and images of a powerful classic, muscle car come to mind. Recently, I had the opportunity to spend a week with a 2013 Challenger SRT8 and I was certainly not disappointed.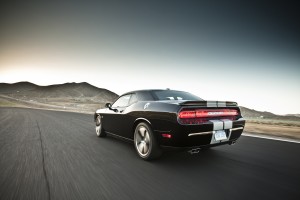 The 2013 Challenger is a large coupe, with a strong street presence, made more so by the bright red Brembo brake calipers as well as the aggressive SRT 20 inch wheels. The front of the Challenger looks modern and powerful, offering a classic yet fresh elegantly sloping hood. Its side profile pays homage to the retro look of the 1st generation Challenger model, even sporting the retro-looking side gas cap cover. The trunk lid is surprisingly large, offering a generous opening as compared to the Camaro and Mustang. The only hindrance is the high trunk sill. The rear-lower valance houses a pair of gorgeous exhaust tips that subtlety tells the onlooker this car means business.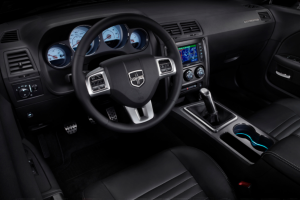 Inside the Challenger I was pleasantly surprised with the noticeable improvement of the interior fit and finish as well as the refreshed design.  The seats are typical SRT, offering large side bolsters, special materials and graphics, making these supportive yet quite comfortable. Rear seating is typical for a large coupe, with limited window space yet roomy, especially for a two door.
The six speed manual transmission is managed by a serious-looking pistol grip selector that is the highlight of the center dash. Dodge is smart in fitting a large 6.5 inch infotainment screen that is intuitive to use, offering a host of good features. The dashboard binnacle is flanked by the tachometer and speedometer, with smaller, secondary information indicators on the outer edges of these. One interesting feature is the sports setting, offering g force indication, braking performance as well as 1/8 and ¼ mile speed, a fun to have gimmick.
The SRT series from Dodge are serious driver's cars, and the Challenger is no exception. The engine sound is throaty and powerful. Brakes are equally impressive; thanks to the factory fitted Brembo's and suspension do a good job considering the hefty size of the Challenger. We loved the steering feedback, especially when cornering aggressively. Clutch is direct albeit a bit too sensitive at times, making the driver work to get perfectly smooth starts and 2nd gear shifts.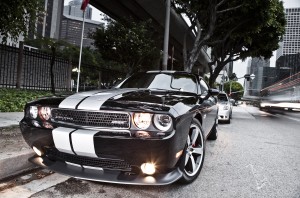 Regrettably, our week with the Challenger SRT8 was up too quickly. Interestingly enough, when I see one on the road I can't help but wonder if the driver has as much fun as I did with this car.
What's interesting with the Challenger SRT8 is that it offers a blend of usable performance and real world comfort. This is a car that can be driven aggressively or conservatively and still feels great either way; its 1969 all over again.
The Essentials:
MSRP: $43,775.00                            MSRP (As tested):  $49,205.00
Engine: 6.4 liter, Hemi V8, 470 HP
Fuel Economy (observed) 15.9 MPG
Typical Options: Harman-Kardon Audio, 40GB Hard Drive
visit: www.drivesrt.com