Subaru Impreza WRX STi Limited (2011)
Simply mention the initials WRX STi to a Gen X'er and they produce a smile. Knowing full well they have it as one of their favorite cars in Grand Tourismo! Here is a car that is equally famous on the street as it is in a video game…
There have been several iterations of the WRX STi, the latest one introduced in 2010 as a sports sedan. Subarus has opted to keep the existing wagon design as well and for the 1st time the WRX STi is now available in both versions. My take is that most buyers will opt for the sedan vs. the wagon even though the wagon is marginally lighter and offers more cargo room. (Listen up car collectors).
The new, 2011 WRX STi is an all-around delight to the senses. On the outside, we are greeted with bulging fender flares, air intakes, side vents, spoilers and all kinds of aerodynamics accoutrements that simply make the WRX STi an incredibly cool car to look at. There are the 18" BBS wheels and Brembo brakes staring back at you, letting you now that this car means business. At the rear, you are greeted with an elegant lower valance as well as quad exhausts a-la M3, offering a sweet engine sound when you feel like being a bit devilish with your right foot.
On the inside you instantly notice the two-tone racing inspired sports seats as well as the leather wrapped shifter and thick rimmed steering wheel. Instrument cluster is thoroughly complete, with all of the required instruments in addition to a shift light as well as large RPM and spedo gauges. Rear seat is typical of a sports sedan, nice for two, tight for three. Trunk is surprisingly large, although the smallish opening can be a challenge for larger boxes.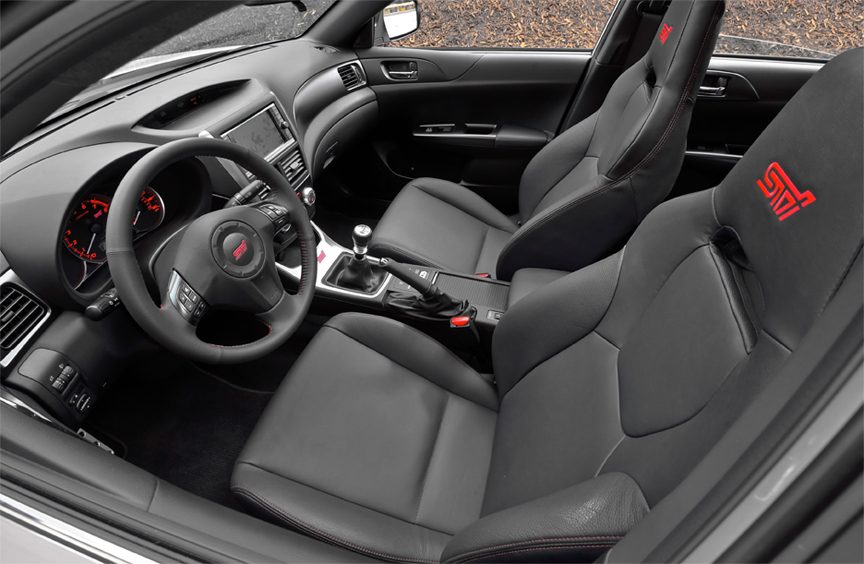 Of course, having this car for a week one can't help but to wonder, what type of driving do I do? I opted for a mix of normal urban driving as well as 40-50 mile highway stints. I was impressed at how versatile the WRX STi is. At one moment I was being admired and taunted for a stop light race by a 20-something (Well not really me, he was looking at the car) and the other, driving up to a swanky SoBe hotel's valet. In both instances the WRX STi feels right at home.
So how does it drive? Well, let's see, its fast, and it corners and stops like nothing costing south of a 100G's. The turbocharged 2.5 liter, horizontally opposed 4 cylinder, puts out 305 HP and generates more smiles per RPM than most other engines combined. The unique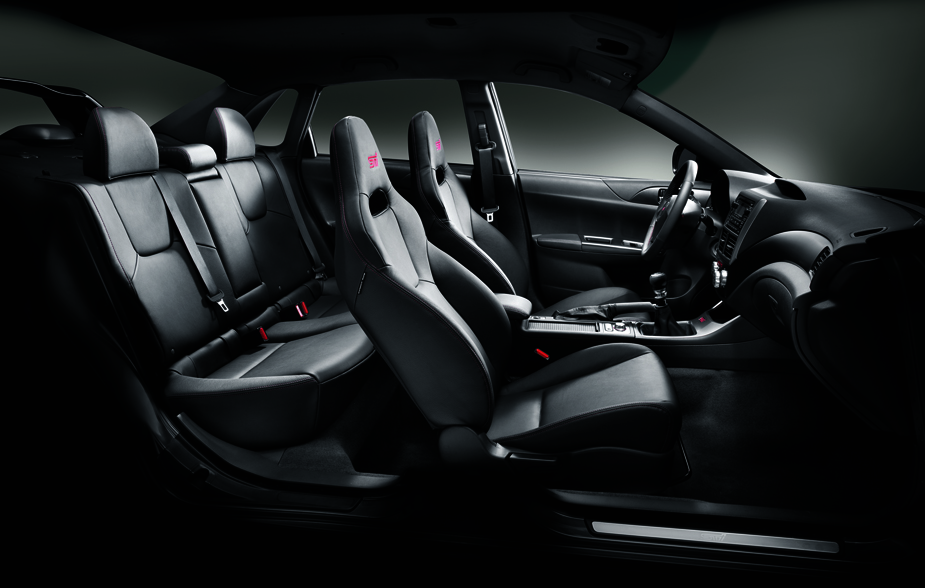 burbling sound during sedate driving becomes a banshee's wail when pushed to the limit. Stomp on the binders and the WRX STi feels as if someone threw an anchor out the back. What about the suspension? Let's just say that Subaru is world famous for its symmetrical all-wheel drive and successfully dialing in technology from lessons learned during years of rally driving. They've done a superb job of putting this DNA into the newest WRX STi.
That reminds me, I have a date with Grand Turismo tonight. I'll be the one driving the Subaru WRX STi.
The Essentials:
MSRP: $37,345.00
MSRP (As tested): $39,870.00
Fuel Economy: (Observed): 19 MPG
Engine: Horizontally Opposed 4 cylinder, 2.5L, Turbocharged, 305 HP
Popular Options: GPS Navigation
visit: www.subaru.com