Audi A7 3.0 TFSI Quattro Auto Tiptronic Sedan (2012)
The all new A7 is Audi's answer to the Four-Door Coupé, joining the brilliantly executed designs from Mercedes-Benz, Porsche and Aston-Martin. Hello BMW, were are you?…
A closer look reveals a provocative four-door sporty sedan that incorporates the proven DNA of Audi together with the modern and agile design cues that have made the German powerhouse one of the top luxury brands in the world. The A7's design is bold and simply breathtaking in execution, thus giving the uninitiated, cause for a double take.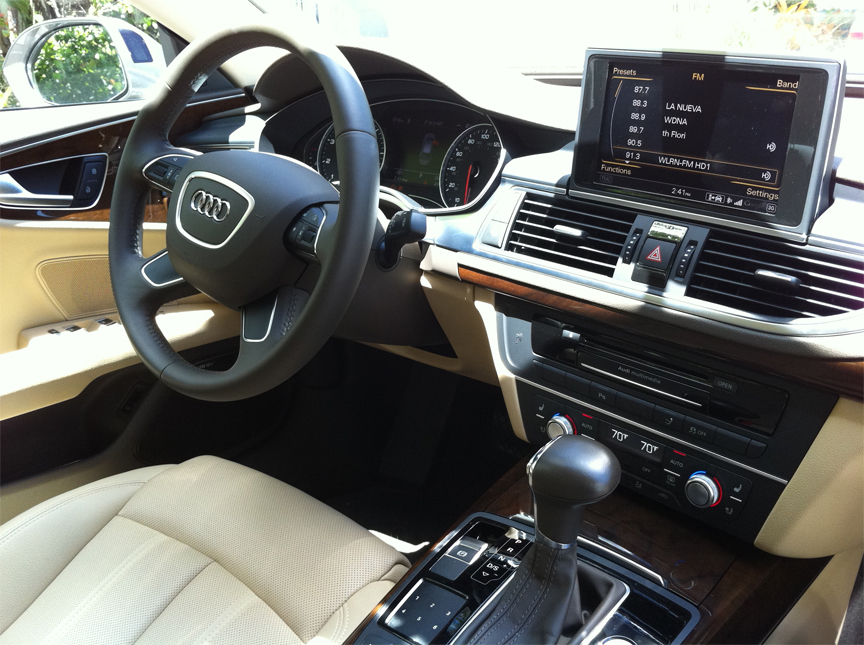 With its sumptuously sculptured, optional 20" wheels, as well as the sleek, sloping roof, this is an Audi like no other. The front fascia, has the now standard corporate look of a dramatic, sweeping grille, which works well with the A7's proportions. Continuing on, we notice the tail-end of the A7 to be equally as dramatic, featuring elegantly placed exhaust tips and LED illuminated tail lamps, this is a four-door coupé that is both chic and hip.
Once inside, you are greeted by a look that is very much Audi, that is to say, simple, elegant and well designed. Fit and finish are the envy of most car manufacturers, and "gee-wiz" gizmos are kept to a minimum, yet the right ones are there when needed. There is an imposing infotainment screen that is cleverly hidden mid-dash, which automatically comes out when the vehicle is started. Pre-set music stations are called upon by a key pad to the left of the gear selector, and the MMI system is as easy and intuitive as ever. One nice feature in the navigation setting is the Google Earth feature, making all other navigation graphics, so…un-cool. Seats, as expected, are brilliantly designed, with excellent adjustments as well ample foot room for both front occupants. Rear seats are surprisingly comfortable, yet cozy enough to be called a coupé. The elegantly appointed trunk, which is accessed by-way of a rear hatch, is quite large for a four-door coupé, more so when the rear seats are folded down.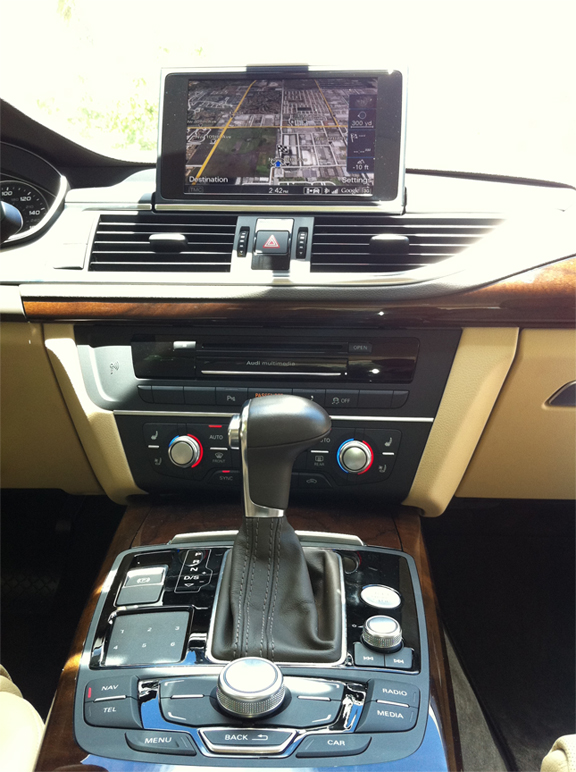 Why stand around talking about the car when we could be driving it? And that we did, during our week long evaluation, we managed to put over 500 miles on the Dakota Grey Metallic sleek machine. Quattro is Audi's version of all-wheel-drive; legendary in Rallies as well a reassuring partner during foul weather. For us in the sunshine state, Quattro translates into a more capable experience in all kinds of conditions and driving styles.  With the silky smooth 3.0 liter, 310 HP V6 engine, the A7 simply eats up the pavement with no excuses. The throttle pedal pressure is perfect, offering easy and smooth management of the power. Brakes offer anchor-like effectiveness, with the pedal giving feedback in the right doses.
Regrettably, Florida is as flat as a sheet of paper, so being able to find a challenging road is; well, challenging. However, there are some wonderful overpasses and on-ramps that the A7 can be properly tested on and all I can say is….. Hot-diggity!
One week and 500 miles went by too fast; I did not want to give back the A7. I even caught myself coming up with excuses how to extend my use of it for a few more days. Regrettably, I had to wave-it goodbye.
The 2012 Audi A7 3.0 is a superb automobile, offering the right amount of sportiness, luxury, comfort and design.
The Essentials:
MSRP:  $59,250.00
MSRP (As tested): $68,630.00
Fuel Economy (Observed): 20.9 MPG
Engine: V6, 3.0 liter, 310 HP
Popular Options: Prestige S-Line exterior package (Navigation, parking sensors, advanced key, front seat ventilation, BOSE surround sound system, HD Radio, ambient lighting)
visit: www.audi.com