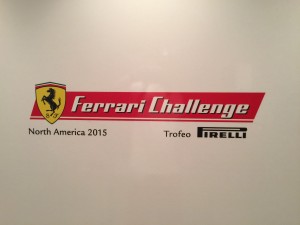 Welcome back Ferrari Challenge to the Homestead-Miami Speedway. After Skipping Miami altogether in 2014 and changing to a hot and typically rainy late summer schedule in 2013, the event is back in the right date, glorious cool-weather March. Although some unseasonably windy and rainy weather hovered around South Florida the entire March 7-8 weekend. Ferrari does a great job mixing racing and lifestyle by getting its dealers and their clients actively involved. On the morning of Saturday, there was a swanky breakfast Hosted at The Collection in Coral Gables, followed by a caravan of over 50 cars driving directly to the track. The North America schedule consists of the season opener in January in Daytona followed by Homestead/Miami, Sonoma, Montreal, Mosport, Mont Tremblant, and the season finale, in late October in Laguna Seca, California.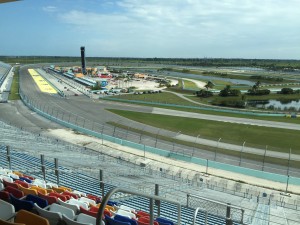 Of course, anything Ferrari brings out the Ferraristi as well as the poseurs, which turn out to be just as enjoyable to watch as the cars themselves. Luckily, I was invited to the posh VIP Club, located high above the grandstands, offering a comfortable area to enjoy an appetizing lunch, get a birds-eye view of the racing as well as peruse some of the latest creations from high-end watch makers. The atmosphere was clearly up-scale with several well-known VIP's in attendance.
Back down pit-side to the action, there were several of lead-follow spirited track sessions, offering Ferrari owners the opportunity to enjoy their Ferraris on the track. Looking at the paddock I was surprised to not find more classic and older Ferraris in attendance.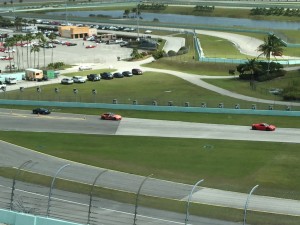 It felt more of a 458 Italia owners group get together, with a light sprinkling of 430's as well as 599's included. Moving towards the pits you can't help but to notice the impeccable organization and dedication of each of the Challenge teams. Each team ran like clockwork and the rigs transporting these were just as organized and pristine, some offering their own catering and owner's personal areas to unwind and relax.
Sunday was a similar day, with the racing being turned up a notch to see who would clinch the coveted first place trophy. Due to inclement weather the 1st race was canceled.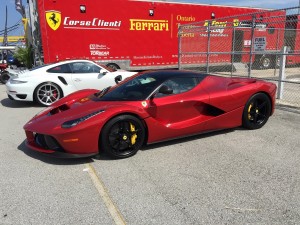 Twenty-seven competitors started the Sunday afternoon featured race, with Emmanuel Anassis of Ferrari Quebec leading from start to finish. A notable VIP was "Shark Tank" star, Robert Herjavec who made an impressive showing and held his own quite competitively during all of the races. One of my favorite sights was my first-on-the-street sighting of a La Ferrari. This particular example was a metallic red and black interior, parked next to one of the team rigs. I spent the better part of 30 mins enjoying each curve and angle. Simply a rolling work of art.
Thanks to The Collection for the invitation and for being a prime sponsor of this amazing event. Hope next March the weather will be what it really should be in South Florida, blue skies and cool breezes.
A big thanks to Ferrari for bringing back the Challenge to the Homestead Miami Speedway.
Please visit: Corse Clienti Ferrari
www.thecollection.com