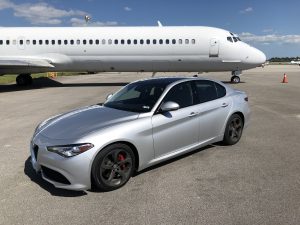 Alfa Romeo Giulia (2018)
The Giulia sports sedan is an all-new design that is beautifully proportioned and a blast to drive!
Welcome to the Italian definition of a sporty sedan.
The last 30 years have been rocky ones for Alfa Romeo in the US. Act 1 ended with the half-hearted and low emotion Alfa 164 in 1995, which sadly, marked the end of Alfa on these shores. Yes, there was an all too brief appearance of Alfa again in 2008, this time, with the low production, gorgeous and expensive 8C Competizione. As it turns out, six more years would pass before a true re-introduction to the US market would happen and thus, we now have Act II. This latest renaissance, started with the introduction of the smaller 4C niche sports car in 2014, then in 2017 Alfa Romeo finally got serious and introduced the gorgeous Giulia sedan. This evocative and sumptuous sedan is available as the base RDW, Sport, Ti, Ti Lusso, Ti Sport and the top of the range and ultra-sporty Quadrifoglio versions.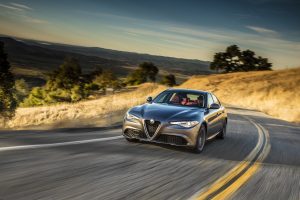 The latest addition to the lineup is the Stelvio, a mid-sized SUV and projected volume leader. So far, three superb and distinctive product offerings are available and are stylish, fresh and exciting to drive. For this review, we tested the base RWD model of the Giulia. Yes, the American Alfisti are smiling once again.
Exterior design is perfectly proportioned and it's gorgeous from every angle. It simply looks right. One nice thing we like about the Giulia is that even without the brand badges, you will clearly know it's an Alfa Romeo, that's rarely the case with most brands and their bland styling now days.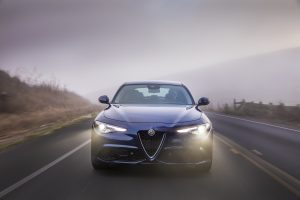 The front is dominated by the classic Alfa grill, flanked by two elegant headlights and integrated turn signals. Looking at the side profile, you instantly notice the red Brembo brakes and the elegant 18 inch, sport aluminum wheels that are painted in a unique grey/silver shadow tone. Around the back of the Giulia, things aren't as interesting, but still quite tidy and cohesive. Trunk lid is easily accessible and truck is roomy and well appointed.
Inside you are greeted with the typical Italianesque-style seats and leather. They are sexy, gorgeous and comfortable, even for this 6', 200 Lb driver. Sitting in the driver's seat, you instantly notice the oversized, steering column mounted shift paddles.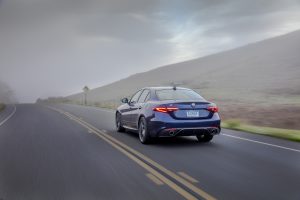 These are gorgeous and actually quite inviting to use. Looking around the center dash, the fit, finish and switchgear could use a touch of magic to make them feel slightly more premium. Infotainment screen, with the back-up camera, is smaller than expected. No reason for this, as there is plenty of space for a larger display area within the screen. How much extra could it be? $10-15.00? The bean counters at Alfa needs to think about this.
Steering is as precise as a scalpel, offering sublime handling and telepathic feedback. In an age of numb, electric steering resulting in almost no feedback, Alfa Romeo nails it perfectly. Yes, it is quite sensitive and you surely don't want to be searching for your cell phone while driving.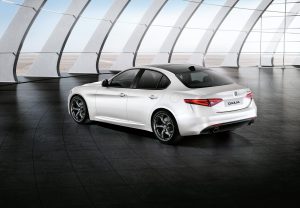 Having a 20-mile commute with portions of stop-and-go traffic, I realized the Giulia is an excellent daily driver. It handles the mundane traffic tasks with ease even with its slight lag in the low RPM's range, it still offers excellent comfort and response. Find a nice, empty stretch of road and you can play a little and unleash the superb dynamics, particularly when pushed hard and especially in the manual setting. I thought this car had a dual-clutch transmission! It's that quick and that crisp on the shifts.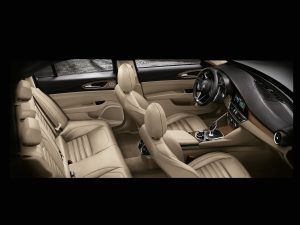 Acceleration is direct and progressive. Shifts, both in auto and manual are crisp and precise. Brakes are Brembo, enough said. Overall appeal both on the exterior as well as interior, oozes with personality and it is both unique and stylish.
Competitors include: BMW 3 Series, Audi A4, Lexus IS, Mercedes-Benz C Class, Cadillac ATS
If you are looking for a fun, sporty, small sedan and like the Italian flair and personality, the Alfa Romeo Giulia needs to be on your short list of shopping choices. Till next time, I'm off to get my afternoon expresso.
Ciao.
The Essentials:
MSRP: $38,195.00                                             MSRP as tested: $45,990.00
Fuel Economy (Observed): 27.1 MPG
Engine: 2.0 liter, I4, 280 HP Turbocharged
Popular Options: Metallic paint, Sport Appearance Package, Driver Assist Dynamic Plus Package
Please visit: www.alfaromeousa.com