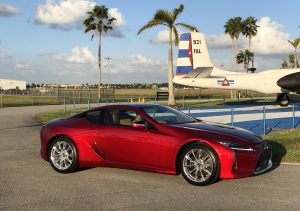 Lexus LC500h Coupe (2018)
It's rare that a concept car makes it into production without many changes and the LC500 coupe is one of those cars that skipped the bean counter cubicle and went directly to production. Well, not quite but you get the idea.
The LC500 is sexy, with a tremendous street and driveway presence to boot! The gorgeous and curvaceous rear fenders, the angular lights and the elegant, yet sporty wheels create an excellent modern GT, that opens a new era in design for Lexus. Quite noticeable is the corporate look in the form of the Lexus "Spindle grille" which coincidentally, the LC500h wears it well. Probably better than most other models in the brand.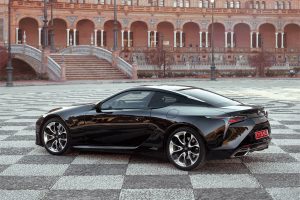 There are two versions of the LC500. The 5.0 liter, 471 HP V8 version and the LC500h (which is the model we tested) with a 3.5 liter, 354 HP V6 hybrid engine. I get it, hybrid offers great fuel economy and a greener foot print, but in the case of this glorious GT, it left me wanting for more. To use a classic beer tag line, "great taste, less filling" is probably how I would sum it up. Why? Let's think about what a true GT car is all about. It should be emotional, sporty but not too much, it should be comfortable and it should have a great engine. What comes to mind? The Ferrari 550 Maranello, with its sinewy 12-cylinder engine is one of my favorites. Or how about a Porsche 911? With its rear engine placement, aggressive engine sound and superb handling, this is a world class GT. These cars are great examples of the definition of passion and emotion. I think the LC500 is also one, but I I really would like to drive the all gas version to see how it compares. I imagine, I will not be disappointed.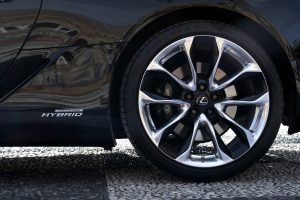 Once inside the cabin, you instantly notice the superb seats and the elegant touches in the interior. The LED lights, the gorgeous LFA sports car inspired instrument cluster and the dramatic, full sized moon roof create an aura of pure luxury and elegance. I admit, that less impressive, was the infotainment system that Lexus calls "Remote Touch Interface" with its flat panel fingertip-scroll directed cursor that frankly, was downright arduous to use. Although, once I got it configured to how I wanted it, it was a bit easier to live with. Rear seat is basically useful for small bags or very small kids and the trunk is small and shallow. Ok, let me get off my soap box. Regardless of these details, the LC500h is a superb coupe.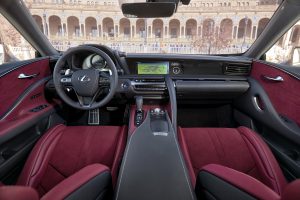 Driving the LC500h is a multi-personality affair. There are multiple settings, with Sport and Sport + being my favorites and what I found myself using the most. Full power acceleration does liven things up with satisfying engine noise. Driving it sedately, you really don't get much aural feedback other than the cycling of the hybrid system. This is a heavy car, tipping the scales at over 4,400 lbs yet it doesn't feel heavy when you drive it. The steering feedback is sporty and crisp and the brakes are linear and strong, although they do have a bit of a hybrid regenerative action feel to them.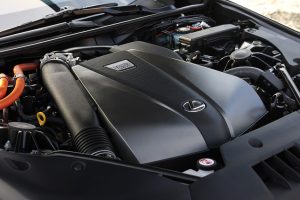 During my week with the LC500h, I had the opportunity to attend a swanky car event at Supercar Rooms in Miami, a party hosted by its world class car collector and owner, Elo and special guest Wayne Carini from the TV series, Chasing Classic Cars. As I arrived, there was a serious collection of high-end cars out front. I don't typically like to valet any of the press cars I get, so I asked the attendant where to self-park, he immediately came back with, "Sir, don't do that, I'll put it up front, I've never seen one before and Lexus is my favorite brand" So I said, sure! Well, to my surprise there it sat for the evening, rock star parking right up front. This goes to show, that even in car-jaded Miami, the LC500h can shine through, thanks to its striking design and sexy shape. Without a doubt, this beautiful coupe does have tremendous street presence.
Regrettably, coupes are not as popular as before, but there is still a small yet vibrant market for these cars. Lexus is serious about playing in the luxury coupe segment and the LC500 is truly a high-end coupe that will satisfy, coddle and transport you in concept car style without a doubt.
The Essentials:
MSRP: $96,510.00                             MSRP (As tested): $102,039.00
Fuel Economy (Observed): 32 MPG
Engine: 3.5 liter, V6, 354 HP (Hybrid model) 5.0 liter, V8, 571 HP (for the non-hybrid model)
Popular Options: Convenient Package, Mark Levinson Reference sound system, Cold Weather Package
visit: www.lexus.com